BEFORE YOU GO...
Check how Shufti Pro can verify your customers within seconds
Request Demo
No thanks
Cybersecurity in 2020 became the biggest challenge thanks to the COVID-19 pandemic. Global lockdown led to digital means of communication and the majority of business operations also took the virtual road. Technology is rapidly evolving and changing the way businesses operate. Cloud computing, Artificial Intelligence, and the Internet of Things (IoT) are unlocking new opportunities for businesses. Unfortunately, advanced technology is not only helping us streamline all the operations, but it is also assisting fraudsters in achieving their malicious goals. They are using AI to develop better strategies for hacking, data breach, account takeover, identity theft, ransomware, malware, and Distributed Denial of Service (DDoS) attacks. Cybersecurity threats are continually increasing and 2021 has some surprising cybersecurity trends in the pipeline. 
Eager to know about the 2021 cybersecurity trends? Read this blog to find out the top 10 cybersecurity trends.
What is Cybersecurity?
Cybersecurity is the process of protecting systems and networks from digital attacks. Also known as information security, cybersecurity practices are adopted by individuals as well as organisations to protect data available in the virtual world from cyber attacks. Elements of cybersecurity include:
Operational security 

Network security 

End-user education

Application security 

Information security

Cybersecurity Trends for 2021
Given the rapid boom in digitisation in 2020, we can expect some deadliest cybersecurity trends in 2021 as well. Let's take a look at some of the most predicted cybersecurity trends that we are expecting next year. 
On-Premises Solution for Enhanced Security 
Vendor breaches and third-party cybersecurity threats have significantly increased over time. Cloud storages are also vulnerable to threats without robust security measures. To make sure data is not accessible to third-parties, organisations will greatly focus on better substitutes of out-sourced solutions such as on-premises solutions for customer verification. Customer onboarding processes will experience more automation in the future, as on-premises IDV solutions will be in demand due to rising threats of data breaches. Using an on-premises service for verification and customer onboarding is what we can expect in 2021.  
Suggested: The Future of Customer Onboarding Post-COVID-19 Pandemic 
AI-Based Solutions to fight Cybercrime 
Phishing attacks, data breaches, identity theft, and synthetic identity fraud are some of the rising cybercrimes that have been threatening businesses for a very long time. Unfortunately, the advent of technology has made these cybercrimes more sophisticated. Nevertheless, AI-powered solutions for customer verification, fraud detection and prediction and automated data management will be in demand. AI-based customer verification solutions will help fight deep fakes, while fraud detection solutions help identify fraud risk in advance, on the other hand automated data management will be adopted to enhance cyber security and reduce data breaches that happened due to human error. 
Zero-Trust Network Access (ZTNA)
Virtual Private Networks (VPNs) were widely used by organisations to secure networking for remote working employees. Due to the pandemic, VPNs became an inadequate option for companies since every employee had to work from home. Zero-Trust Network Access (ZTNA) has emerged as a secure option during the pandemic and in 2021, the majority of the organisations will opt for ZTNAs to keep control of the remotely accessible applications. 
Better Security Measures for Remote Working 
Since work from home is becoming the new normal for many companies, the need for protecting employees and the information has become the need of the hour. The pandemic has changed the way businesses operate. Verifying employees during remote hiring will be an emerging trend to make sure fraudsters disguised as employees are not hired. Moreover, securing the remote working option will demand extra efforts from companies in terms of identity verification and transaction monitoring, especially in the finance sector. 
Blockchain will be Used for Cybersecurity 
Blockchain has become one of the widely used methods of transacting in the digital world. The technology will soon become the primary means of cybersecurity in different sectors across the world. With its right implementation, many new cybersecurity solutions can be invented to help secure businesses. By creating a standard security protocol, blockchain can secure messaging apps like Facebook. On the other hand, blockchain can also decentralise the administration in devices or systems that can result in secure IoT. 
Multi-Factor Authentication for Security
The trend for multi-factor authentication as a cybersecurity measure will increase in 2021. Mid-sized companies utilised this method of cybersecurity in 2020, but the use of multi-factor authentication will expand over all types of companies; from MNCs to startups. Why will every organisation emphasize so much on cybersecurity in 2021? The remarkable increase in data breaches is the major reason. Only in the US, 540 data breaches were reported in the first half of 2020 according to Statista. Global numbers are yet to be disclosed. Multi-factor authentication is a complex process that has added layers of security including biometric authentication and SMS-based authentication.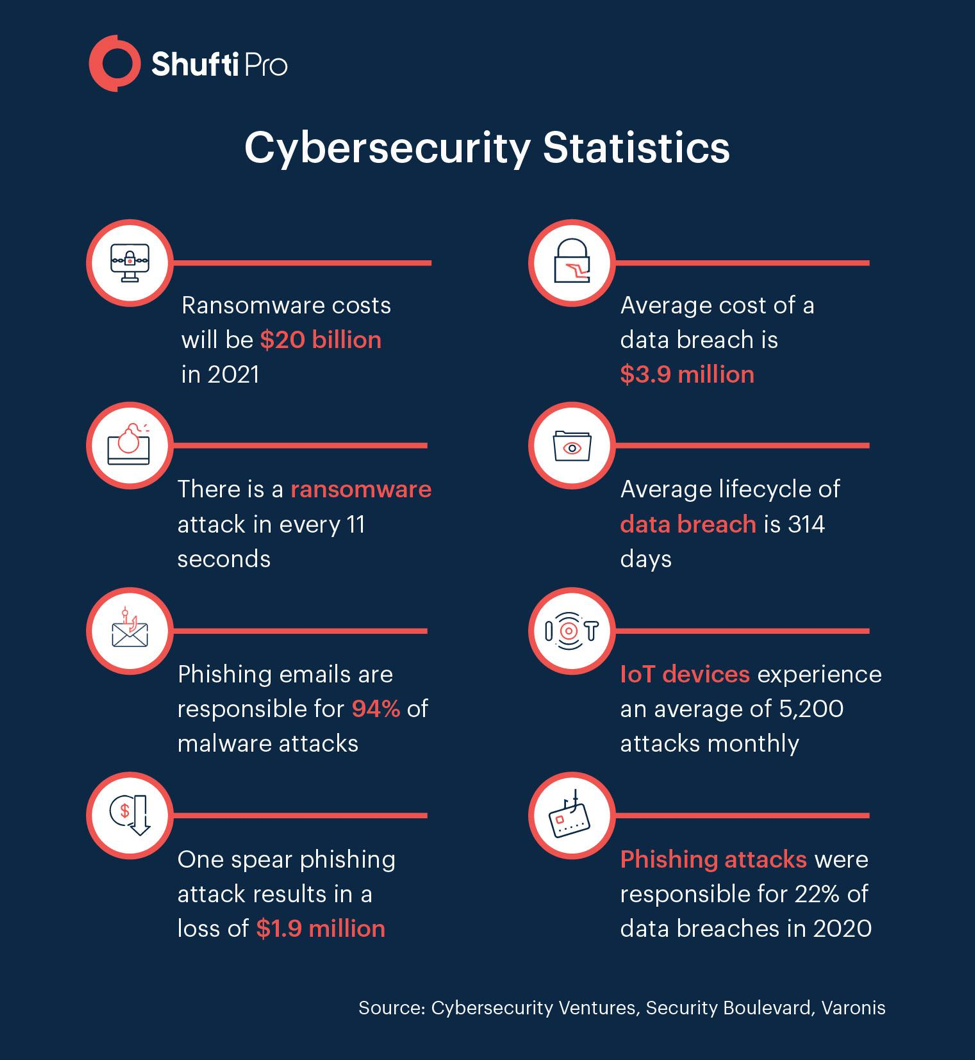 Phishing Attacks Will Rapidly Increase  
Phishing attacks are social engineering activities meant to illegally acquire information of individuals and use it for illicit activities. The attacker sends emails with naked links that redirect the user to a new page. Here, individuals are requested to submit their personal information. As soon as the process is complete, the person is left with no money in their bank accounts or a stolen identity that is used for money laundering and other crimes. Unfortunately, businesses have also become the target of fraudsters and Business Email Compromise (BEC), spear phishing, and whaling are some of the phishing attacks targeted at business entities. The trend of targeting the corporate world through phishing will significantly increase in 2021. 
Learn more: Phishing Attacks and the Role of Two-Factor Authentication 
Coercion – The New Method of Ransomware 
Previously, criminals threatened victims' relatives and close friends for the sake of money. Today, coercion has also digitised. Fraudsters threaten the victim for harming their close friends and family for the sake of information or money through digital means. Ransomware will increase in 2021 and coercion will be the new method of ransomware attacks. 
Replay Attacks Will Gain Popularity 
Digital replay attacks are also expected to grow in 2021. In a replay attack, fraudsters submit the same information with minor changes multiple times during the identity verification process. It gets difficult for the company to identify such attacks because conventional methods of verification involve humans for the process. It is nearly impossible to identify documents submitted multiple times with minor edits. For instance, the fraudster might submit the same ID card thrice by changing the date of birth and expiration date. 
Recommended: Replay Attacks – Another Rising Threat for Businesses in 2021 
Data Breaches will Continue to Increase 
Data breaches have been a threat for businesses for a long time. Unfortunately, data breaches have taken new forms and enhanced cybersecurity measures are essential for companies. Cybercriminals illegally gain access to a company's database and violate confidential information. The information acquired can be used for identity theft, synthetic identity fraud, account takeover, ransomware, and various other illegal activities. Since online forms of working and collaborating have increased in 2020, we can expect a higher number of data breaches next year.
Summing It Up
Cybersecurity has become the major target of businesses these days. Due to the coronavirus pandemic, all sectors focused on virtual means of operations. Unfortunately, cyberattacks significantly increased this year. Now, predictions for 2021 are not good either and cybersecurity measures must be more robust to protect enterprises. Companies need robust digital identity verification solutions so that legitimate customers are on board only. Lack of such mechanisms will result in more data breaches, ransomware, and identity theft. Moreover, every business is likely to adopt multi-factor authentication to make sure nobody gets illegal access to company's confidential information. Lastly, employing on-premises identity verification solutions can help your company prevent data breaches through vendors. 
Want to know more about on-premises service? Get in touch with our experts now.