BEFORE YOU GO...
Check how Shufti Pro can verify your customers within seconds
Request Demo
No thanks
With the advent of technology, industries are streamlining all their processes and ensuring higher levels of productivity every day. On the contrary, fraudsters are also benefiting from technology and developing better strategies for executing their evil plans. No matter how hard businesses try, there is always a loophole for criminals to fulfill their malicious intentions. Nevertheless, there is one way of dealing with problems – identity verification. AI-powered Know Your Customer verification is an all-in-one solution for your problems. With the help of KYC, you can verify every individual during the onboarding process and ensure that none of the fraudsters make their way through the company. Moreover, you get many options within the KYC verification like face verification, document verification, and address verification to make the process as robust as possible.
Although businesses are employing KYC checks, criminal activities are continuously increasing. Identity theft, data breach, money laundering, and terrorist financing are some of the fraudulent activities that are on the rise. Unfortunately, the majority of these crimes have been reported due to lacking customer verification procedures in companies. 
How can you enhance the security of your business? There are two ways of increasing security of your enterprise; cloud service and on-premises service. Let's take a deeper dive into both of these services.
What is On-Premises Service?
On-premises service allows companies to verify their customers and store data on their own servers. No third-party can access the customers' data, be it the service provider or vendors of the company. This service ensures that your customer onboarding process is secure and the information collected stays safe from criminal activities.
Read more: On-Premises Identity Verification – A Solution to Prevent Data Breaches
Benefits of On-Premises Service
On-premises service has several benefits for all the businesses. Cost efficiency, better security, and enhanced customer experience are few of the most important ones. Take a look at all of these. 
Cost-Effective
Unlike other solutions, this service offers cost-efficiency because you only have to invest in the software once. There are no additional costs and maintenance is also not an issue for the experts. You are already investing a fortune on customer onboarding and identity verification. Maintaining records will cost you a little more than your expectations. On-premises identity verification solution can save you from spending extra bucks on maintenance.  
Enhanced Security
The idea is to keep data secure and an on-premises service allows you to add layers of security to keep your customers' data secure. All you have to do is opt for an on-premises identity verification solution and the tech team will install the software in your server. The rest is all on you. You get complete control over the data and its security. 
Improved Customer Experience
Since you have control of all the customers' data, you can access it anytime, anywhere. Your employees can collaborate easily. Ultimately, you can cater to the queries of customers immediately without waiting for data access. Providing your customers a better experience will not be a problem at all.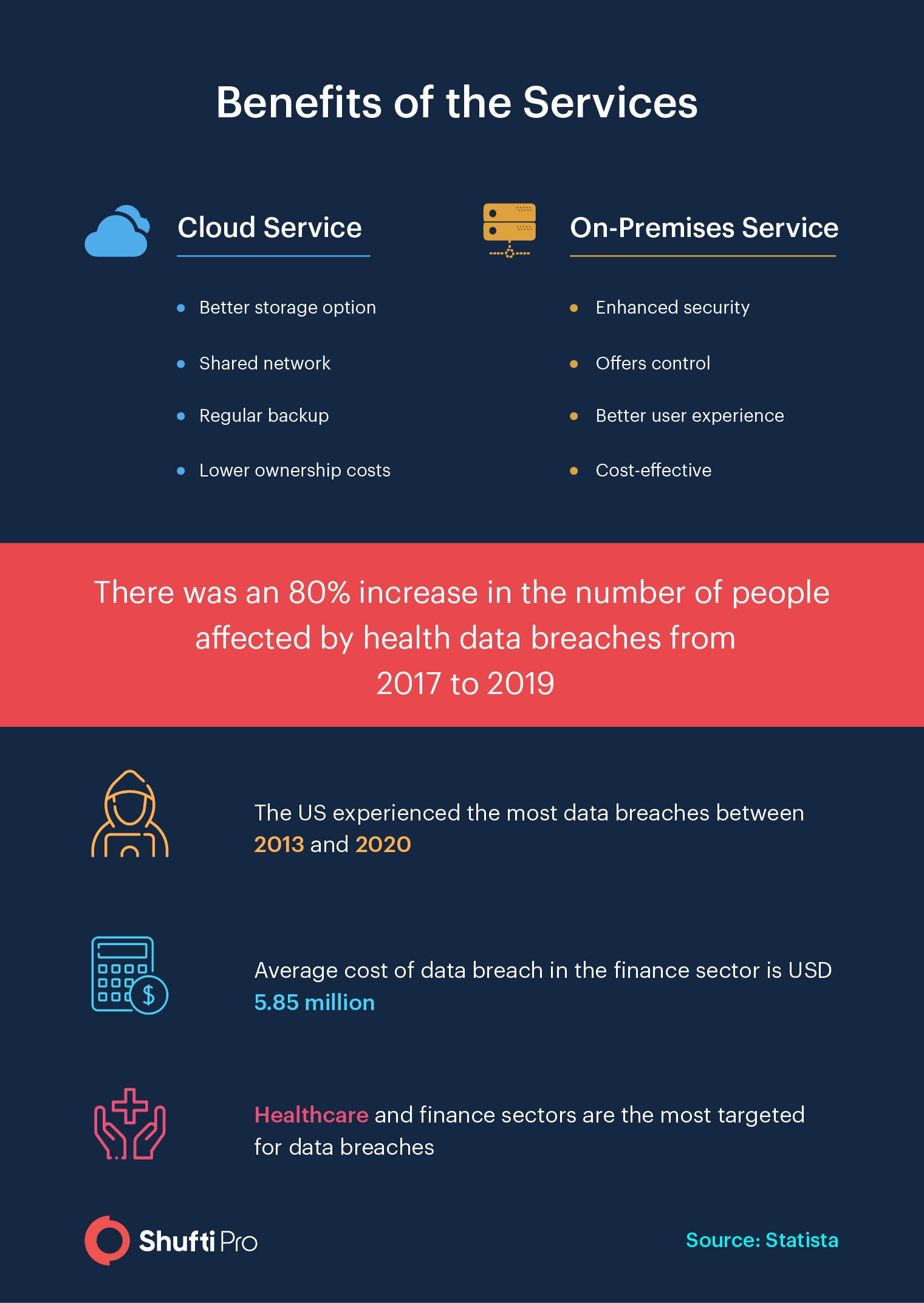 What is Cloud Service?
Cloud service refers to the use of remote servers for real-time customer onboarding. Generally, cloud IDV service uses committed servers for storing customer verification data. These servers are secured through layers of encryption and firewalls. Shufti Pro adheres to GDPR data protection standards for data protection. 
Benefits of Cloud Service
Cloud service has already taken over the world with its tremendous benefits. From increased collaboration to data protection, there are so many advantages of using cloud-based identity verification solutions. Take a look at some of them in detail. 
Greater Communication 
Collaborative environment works best for organisations in the digital world. Cloud service ensures a high level of collaboration due to shared networking. This will provide greater communication opportunities to all your employees. 
Regular Backup
With cloud storage, your identity verification data is not only available for effective KYC compliance, but you have open access to your data on our servers. This will help you maintain extensive records of every customer that interacts with you. Edit download or backup verification data and proofs with interactive back office. Try now. 
Better Storage 
Storing data gets easier when you use cloud services. The data of verifying every individual's identity demands extra storage. With cloud based IDV solutions , you get plenty of storage where verification data of every customer is updated. 
Industries that Need On-Premises Identity Verification Services
Almost every sector has become the target of fraudsters and every company needs a solution to tackle them. With the help of on-premises service, different sectors can experience full control over their customer data. According to reports from Statista, following three sectors have been the target of fraudsters and need on-premises service to stay secure in the future. 
Healthcare Sector 
As of the 2020 reports from Statista, the healthcare sector has lost approximately USD 7.13 million due to data breaches. Stolen patient records are used to execute billion dollar medical frauds, such as false health insurance claims, over the counter medicine scams, illegal purchase of controlled medicines, etc. are increasing every day. With the help of on-premises service, healthcare facilities can keep the record exposed to a few employees. This means fraudsters and any external entities cannot access it, which will ultimately reduce the risk of breaches and false insurance claims.  
Read more about the healthcare sector: Know Your Patient – A 360° view of patient identification in healthcare
Finance Industry 
Reports from Security Magazine indicate that hacking and malware are the primary cause of data breaches in financial institutions and the ratio increased to 74.5 per cent this year. According to reports from Statista, there will be a 43 per cent increase in identity fraud over the next 12 months. Hence, the finance industry needs a robust solution to onboard trustworthy customers and to achieve customer trust.. Fortunately, an on-premises service is there to help. 
Some countries have stringent KYC and AML laws which don't allow sharing customer data with third-parties, even for verification purposes. 
Government Agencies
Government agencies hold a lot of data for insurance claims, pension funds, employment funds, etc. The information can be used for identity fraud if accessible. On the other hand, many countries have stringent rules for not sharing confidential information with anyone. Hence, an on-premises service is ideal for government agencies. 
Summing It Up
Advanced technology is not only helping businesses in making all processes more efficient but it is also assisting fraudsters in achieving their goals. The finance, healthcare, and government agencies are the primary targets of fadusters and there is a need for a solution that can prevent identity frauds. All businesses have two ways of customer verification; cloud storages and on-premises service. Each of these solutions has its benefits, but the on-premises service adds an extra layer of security. 
Shufti Pro's on-premises service is a one-time installation that provides you multiple layers of security along with maintenance options to your tech team. Furthermore, you get complete control of your customers' data. 
Learn more about the on-premises service from our experts.