BEFORE YOU GO...
Check how Shufti Pro can verify your customers within seconds
Request Demo
No thanks
As novel applications and products are released every day, the use cases of face verification technology have expanded significantly in the last few years. Moreover, the rising number of identity theft and fraud have made it urgent for many businesses to deploy facial recognition systems. The global face verification market is expected to rise from $5.1 billion in 2022 to $19.3 billion in 2032.
Let's dive deeper into the blog to understand the top 5 use cases of face verification technology in the digital age.
Use Case 1:
Security and Surveillance
Face verification technology helps authorities verify individuals entering a premise whilst minimising human errors. Integrating face verification with surveillance tools boosts security across industries.
1. Protecting Storehouses
Warehouses are crucial in domestic and international supply chains, serving as storage hubs for manufactured consumer goods. Monitoring systems utilising facial recognition technology ensure that only authorised staff enter restricted areas. This facilitates in safeguarding of goods and minimises the risk of delivery disruptions.
2. Restricting Delisted Individuals from Entering a Venue
Face recognition technology empowers authorities to verify any individual and address the police if the surveillance cameras recognise a blacklisted individual or a wanted criminal. Such monitoring systems are ideal for businesses, stores, educational institutions, etc.
3. Smart Home Alarm Systems
Everyone is turning to home protection solutions that operate on face verification to secure their households. The security system activates or deactivates based on family members. When the system notices an unauthorised person on the premises, it informs the homeowner about the suspicion.
Use Case 2:
Law Enforcement
Citizens and policymakers leverage face verification technology to investigate, search for criminals and terrorists, find missing people, and fight domestic violence. More significantly, technology helps the law enforcement sector mitigate the risk of crimes by timely spotting potential offenders.
1. Assisting People with Social Needs
Facial verification technology is not restricted to identifying criminals in the legal system. Another practical use case of the technology is identifying disoriented adults suffering from illnesses like dementia, amnesia, dementia, or Alzheimer's. Integrating mobile phones with face verification apps allows police officers to access the federal photo ID database for potential matches quickly. This enables them to assist individuals in distress or need immediate support.
2. Finding Missing Persons
Face recognition technology is leveraged by law enforcement to detect missing or exploited persons. The AI-powered verification technology generates alerts when identifying potential matches, allowing law enforcement to investigate the case promptly.
Use Case 3:
Fintech Operations
The popularity of face verification technology has increased significantly, especially in making payments via digital wallet services and mobile devices. Face verification application during transactions minimises the risks of identity theft. For example, integrating face recognition in the electronic version of the Know Your Customer (KYC) has become a crucial component of global financial institutions. The solution offers enhanced protection against identity theft, quick and efficient identity verification, and secure transactions.
1. Opening a Bank Account
When customers open a bank account, they must register themselves first. Registration involves conducting eKYC, scanning the client's image, and matching it against the government database of IDs. Once the customer is verified through eKYC integrated with face recognition, they can access their account and other banking services.
2. Withdrawing Money from Cardless ATMs
Cardless ATMs are a significant digital breakthrough, helping individuals withdraw money without touching the screen. The camera on the ATM scans an individual's face, and the software then checks for a match from that bank's database to let the authorised person withdraw the money.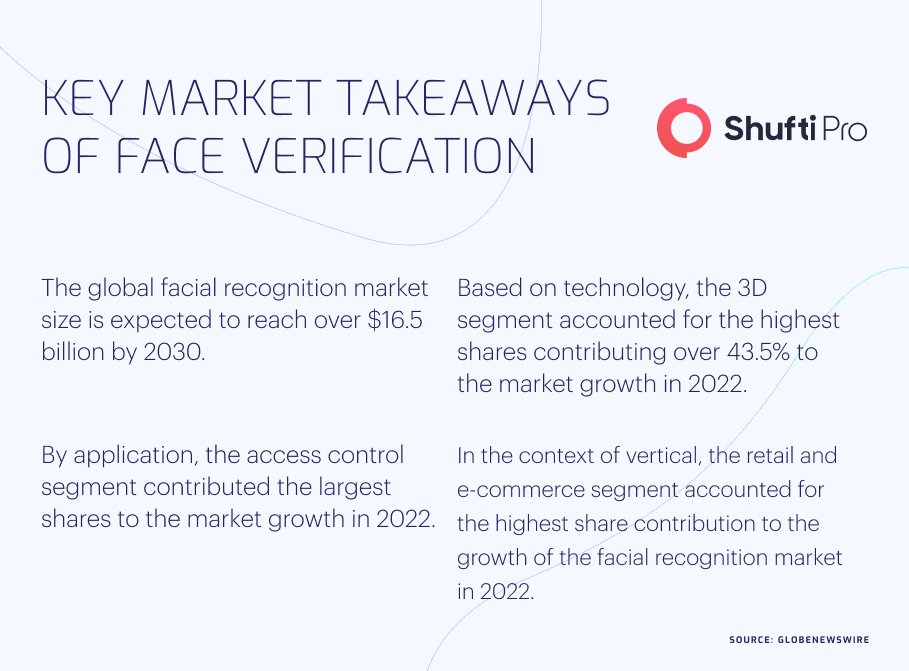 Use Case 4:
Retail
Face verification technology has become an absolute necessity to boost security and meet the evolving needs of the retail industry. Small and big retailers leverage facial verification solutions to deliver customers better services by implementing the below-mentioned practices.
1. Sentiment Analysis
One of the most critical functions of face verification technology is to analyse and understand an individual's emotions. Modern artificial intelligence algorithms read customers' feelings via facial expressions and determine products most appealing to them. Thus, retailers change their varieties based on the preferences of the shoppers.
2. Loyalty Rewards
Another impressive use case of the face verification solution is that it detects loyal customers to offer them rewards. AI cameras with face recognition technology identify frequent shoppers and facilitate specialists to introduce loyalty programmes to encourage customers to shop again.
3. Virtual Services
A specialised face verification app can prompt users to try clothes in a virtual changing room to check if they suit them. The robust technology scans a person's face to understand their purchasing preferences and offers customised suggestions to clients in real-time. One of the impressive examples of face recognition technology in the retail sector is its integration with augmented reality which enables consumers to try beauty products virtually.
Use Case 5:
Healthcare
Face verification has revolutionised the health sector. This technology goes beyond just monitoring individuals entering the facility. From timely detection of genetic diseases to accurately controlling patients' medication use, face verification is helping the healthcare sector significantly. 
1. Monitoring and Diagnosing the Sick
Face verification is combined with other technologies to diagnose a patient accurately. The solutions help gather detailed information about any patient, monitor health conditions, and even early signs of severe diseases.
2. Caretaking Robots
Healthcare systems have become automated and digitised, as evident from the modes of offering certain services. Many developed countries are embedding caretaking robots with facial recognition technology to look after sick patients at a hospital or home. The robust technology ensures customised interaction with the patient as the robot can recognise a person from their previous interaction. For example, a caretaking robot may be beneficial in ensuring that patients take their prescribed medication on time.
How Can Shufti Pro Help?
Shufti Pro offers a globally trusted face verification solution that identifies and verifies human faces within seconds, mitigating the risk of identity theft and fraud whilst abiding by global regulations.
Here's what makes Shufti Pro's face verification solution stand out:
Stronger authentication

Flexible integration options

100% automated verification

No credential stuffing

AI-powered spoof attack protection

Enhanced user experience
Want to know more about how face verification works to help businesses in day-to-day operations?