BEFORE YOU GO...
Check how Shufti Pro can verify your customers within seconds
Request Demo
No thanks
Money laundering has always remained a huge challenge for global economies, and all the major jurisdictions are working tirelessly to eradicate this menace from the system. Especially after 9/11, a huge policy shift was witnessed that entirely changed the global financial landscape, forcing organizations to enforce stringent checks on all countries. The Financial Action Task Force (FATF), a Paris-based global financial watchdog, is the leading organization working to fight money laundering. For this purpose, it has organized a large amount of data in the form of sanctions lists.
Recently, the FATF added the United Arab Emirates (UAE) to the grey list for not complying with global Anti-Money Laundering (AML) regulations. UAE, one of the leading economies in the whole region, has relatively weak anti-money laundering policies that encourage criminals to exploit loopholes and carry out financial crimes. In 2021 alone, $625 million were confiscated in UAE in connection with money laundering and terrorist financing. All such incidents of monetary scams in the UAE led the global authorities to impose sanctions on the country and ask the national government to form a comprehensive framework for curbing financial irregularities.
An Overview of Targeted Financial Sanctions in the UAE
In response to the rising money laundering and terrorist financing cases, the UAE government has legislated strict laws to regularize all businesses through targeted financial sanctions. Before even UAE's placement on the FATF grey list, United Nations highlighted the vulnerabilities in the country's financial system several times and asked the lawmakers to find solutions to this problem in the light of the Security Council's resolutions. All these efforts by global organizations led the UAE's government to issue Cabinet Resolution (74), which puts strict checks on financial organizations, corrupt politicians, and wealthy business tycoons, eliminating the chances of financial irregularities.
Not only the money laundering, but this resolution also addresses the issue of terrorist financing by including the provisions of regulatory authorities, proposing listing and re-listing of criminals under terrorist lists. It has also been stated in the act that all businesses should incorporate a culture of strict scrutiny while maintaining a record of financial transactions and failing to do so can lead to the freezing of bank accounts. The resolution requires all persons, financial companies, and non-financial businesses to comply with Targeted Financial Sanctions (TFS) obligations. It is considered that cabinet resolution (74) will ensure a transparent economic system countering financial criminals while restricting their activities.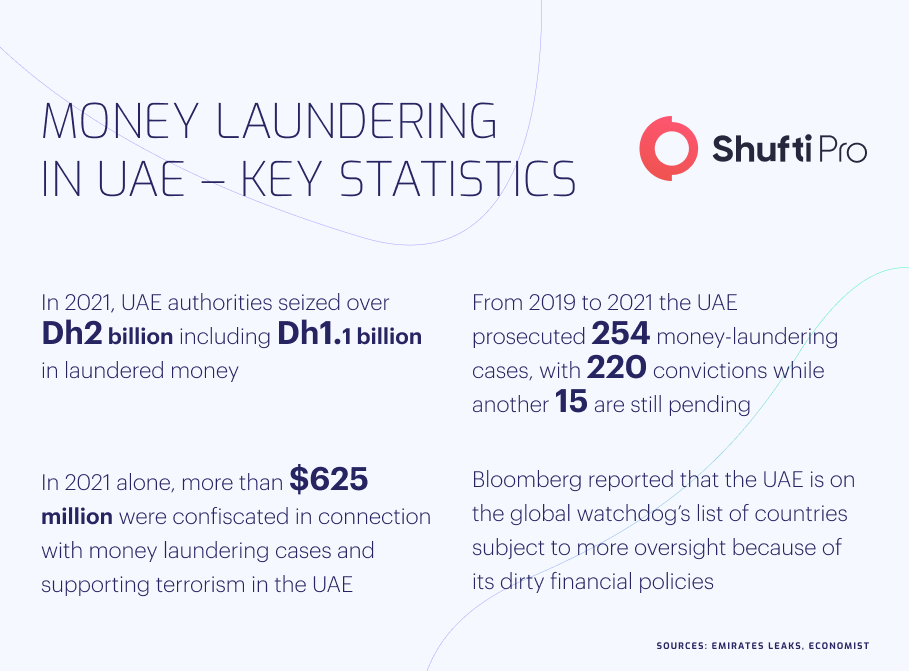 High-Profile Cases of Money Laundering in UAE
Although monetary crimes were quite prevalent in UAE, targeted financial sanctions have helped law-enforcement authorities a lot in countering the criminals and bringing them under the law. This is the primary reason that in the recent past, a large number of culprits have been penalized in UAE, and hundreds of money laundering and terrorist financing cases are pending in courts.
Authorities Fine Bank Dh19.5 Million for Violating AML Rules
The Central Bank of UAE has fined Dh19.5 million to a bank operating in their jurisdiction for not complying with the AML and Counter-Terrorist Financing (CFT) regulations. Without revealing the bank's name, authorities have stated that all the banks operating in UAE must attain certain levels of AML/CFT compliance, and any organization failing to do so can face serious consequences. The Central Bank has further stated that they will keep on monitoring all the financial organizations and put hefty fines in case of any non-compliance.
Gang Guilty of Money Laundering in UAE Referred to Court
Law-enforcement authorities in UAE have rounded up a gang of nine criminals who were laundering money collected from theft and fraud operations. It has also been found in the investigations that scammers were also involved in document forgery and defrauding banks through fake cheques. All the members of the gang have been presented in court where it has been ordered to Police to trace down all financial transactions related to money laundering by criminals.
Combating Money Laundering and Terrorist Financing through Financial Sanctions
In the form of Targeted Financial Sanctions (TSF), UAE has formed a comprehensive framework that has all the necessary provisions to counter money laundering and other financial crimes. The resolution not only presents a feasible solution to the problem but also proposes penalties for criminals making it the country's first-ever document putting strict checks on financial organizations and businesses. Let's have a look at a few significant recommendations for resolution:
Registration of Businesses
It has been made mandatory for all businesses to register their assets, details of customers, and information related to their employees on the UAE's Executive Office website. The organizations are also permitted to keep a record of all related individuals and present it to authorities in case of any violation or crime.
Screening Against Sanctions Lists
Business entities in the UAE have been instructed to consult global sanctions and Politically Exposed Persons (PEP) lists before partnering with any company or onboarding employees. The companies have strictly been instructed to carry out the screening process regularly and if any individual having a name on any sanction list is found, they must report to the law enforcement authorities.
Freezing of Accounts
Residents of the UAE have to resort to stern measures of account freezing if they are found on any sanctions list or involved in any financial irregularity. The law-enforcement authorities are quite strict on this and instruct all companies to report any such individual or activity.
Legal Requirements as per UAE's Anti-Money Laundering Law
The AML requirements in the UAE permit financial institutions especially digital businesses, to establish a comprehensive framework to counter criminals. It has been recommended to all organizations to implement a strict Know Your Customer (KYC) system through different techniques like document authentication, facial recognition, and address verification of users. As per the legal requirements of UAE's AML procedures, it is also essential for companies to appoint AML compliance officers who can help businesses to comply with global regulations while monitoring suspicious activities.
Ensuring AML Compliance Through Financial Sanctions
Undoubtedly, it can be said that targeted financial sanctions in UAE are a crucial step toward countering money laundering and terrorist financing. By implementing the resolution's recommendations, businesses can stay not only compliant with global regulations but also avoid financial losses. The global financial watchdogs, particularly FATF, European Union (EU), and Interpol, have accumulated vast data in the form of sanctions lists, which can help counter criminals while bringing them under the law.
How Shufti Pro Can Help
UAE is one of the world's largest financial hubs but also presents safe havens to money launderers and financial criminals. Combating terrorist financing and money laundering is quite crucial for the UAE government to counter illicit activities and make it a safe place for sophisticated businesses and organizations.
Shufti Pro's state-of-the-art anti-money laundering screening solutions are the most viable option for countering financial crimes and reporting any suspicious activities. Powered by thousands of AI algorithms, it has access to 1700+ sanctions lists by global financial watchdogs and screens data against them to identify criminals. Shufti Pro's AML solution is efficient enough to generate output in less than a second with 98.67% accuracy.
Want to get more information about AML screening solutions for businesses based in UAE?