BEFORE YOU GO...
Check how Shufti Pro can verify your customers within seconds
Request Demo
No thanks
Businesses must navigate a web of rules and regulations whilst onboarding customers, as one misstep could have serious consequences. This is particularly true when they are establishing a relationship with sanctioned customers. Dealing with these parties can put a corporation at risk as they potentially threaten national security. Onboarding a sanctioned customer could end up in fines, regulatory penalties, safety violations, and even charges for criminal activity. As a result, businesses must have a proactive approach to compliance and exercise vigilance when it comes to identifying and screening new customers.
Understanding the UN Sanctions List in Detail
The UN Sanctions List,  also known as the United Nations Security Council (UNSC) Consolidated List, includes individuals and organisations subject to sanction measures. The Security Council considers and formulates the sanctions issued by the UN under Article 41, Chapter VII of the UN Charter. 
The implementation of any sanction needs the existence of a Security Council Resolution that defines what concrete steps to be taken. These measures involve asset freezes, market access limitations, arms embargoes, travel restrictions, etc.
The sanctions list published by the UN is divided into two parts:
Individuals

Entities and groups
Every section's entry is arranged alphabetically. The site of the relevant UN sanctions list committee, which is in charge of the specific sanctions regime, provides more information about the basis for each sanction listing. Each member state is in charge of enforcing sanctions and penalties for non-compliance, and they have the power to impose severe monetary fines on people and organisations and bring criminal proceedings against those responsible for the violation.
Various Types of UN Sanctions 
The upholding of global peace and security is the primary duty of the  UNSC. It has 15 members, each with one vote (5 permanent members with veto power—China, France, the US, Russia, and the UK) and 10 non-permanent members. The Charter requires All UN members to abide by Security Council decisions, especially any sanctions the council imposes.
Sanctions imposed by the Security Council have several objectives. There now exist four main categories:
Diplomatic:

Terminating collaboration, violating all prudent

regulations

, including councils, embassies, and shared cultural activities.

Economic:

Trade restrictions, such as higher prices in some industries, including food, drugs, and arms.

Travel:

A country may impose various

travel restrictions

, including a total prohibition on all its citizens leaving or entering the country and restrictions on transiting through its borders. Moreover, it includes a ban on visiting rebel-held areas within the country, a ban on all air travel into or out of the country, etc.

Sports:

Sports-related sanctions ban a nation's athletes from participating in international competitions.
The actions are intended to change bad behaviour (for example, when a regime breaches human rights), reduce possibilities for undesirable behaviour, and stop other nations from taking undesirable actions.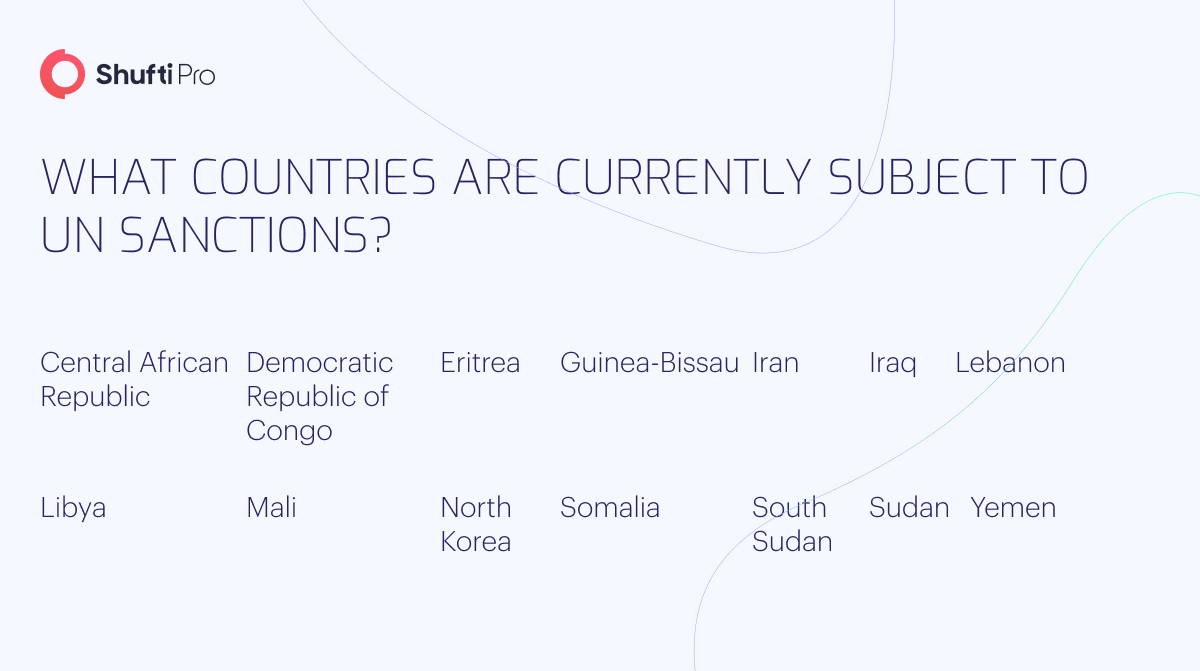 Who Has to Abide by UN Sanctions?
All the member states of the UN must comply with the UNSC Consolidated List,  which means that banks and financial firms operating in those countries must include a UN sanctions check as a component of their AML compliance programme. As the UN doesn't enjoy any direct legislative power to impose sanctions on its member states, the domestic government is expected to introduce and implement regulations. They must ensure their mandated businesses include UN sanctions screening in their monitoring processes.
Sanction Screening Services to the Rescue
Companies must have efficient sanction screening procedures to comply with AML standards and minimise the risks involved in doing business with entities or people who have been sanctioned. Consider the following best practices when developing sanction screening procedures:
Integrate Robust Screening Solutions into the Workflows:

Consider incorporating sanction checks into your systems, client onboarding,

transaction tracking

, and

risk assessment

. This can lessen the workload associated with manual screening and ensure that all pertinent assessments are carried out promptly.

Train Workforce on Sanctions Compliance:

Make sure that everyone working on the screening procedure, from compliance officers to customer service teams, has undergone the necessary training on adhering to sanctions. This can involve gaining instruction on utilising screening solutions, spot warning signs, and escalating probable matches.

Stay up-to-date with Evolving Sanctions Lists:

By subscribing to pertinent news alerts and keeping an eye on governmental sources like the United Nations, businesses may stay updated with any amendments to sanctions lists. To ensure the company is

screening

against the latest data, consider investing in a screening solution that automatically refreshes its lists.

Conduct Regular Risk Assessments:

Assess your company's risk exposure regularly to ensure your screening procedures are suitable for the risks you face. This can assist in identifying what areas of your company need more scrutiny or oversight.
Where Does Shufti Pro Step in?
Screening each client and their transactions manually can be challenging, but Shufti Pro has the ability to eliminate this hassle. Our AI-powered AML solution helps businesses identify sanctioned individuals, firms, and countries to comply with regulations.
Here's what Shufti Pro's AML solution brings to the table:
Screen against 1700+ international watchlists, PEPs lists, and sanctions lists

Perform ongoing AML checks to flag any existing high-risk client

Verify firms' registration numbers

Perform real-time checks on Ultimate Beneficial Owners (UBOs) 

Comply with AML regulations and eliminate the risk of non-compliance fines
Still confused about how an AML solution screens customers against sanction lists?