BEFORE YOU GO...
Check how Shufti Pro can verify your customers within seconds
Request Demo
No thanks
Money laundering and embezzlement are two financial offences involving the movement of significant sums of money. According to the United Nations Office on Drugs and Crime (UNODC), annual global money laundering amounts to 2-5% of the global GDP, i.e. $800 billion to $2 trillion. While these white-collar crimes threaten the global economy, embezzlement can significantly impact localisation. 
Let's dive deeper into the blog to understand money laundering vs embezzlement and the potential consequences of these illicit activities.
What is Embezzlement?
Embezzlement is the practice of intentionally misusing entrusted assets for personal gain. 
Examples of embezzlement are:
An accounting worker syphoning money from an employer's bank account and hiding the act through false invoices and payments.

An employee submitting fraudulent claims for expenses they did not incur.

A finance director uses the company credit card to purchase a personal vehicle.

Ponzi schemes are where investors are persuaded to invest substantial money into a high-return scheme. This eventually collapses due to a lack of new investors, leaving the embezzler unable to sustain payouts.
What is Money Laundering?
Money laundering is a financial crime where individuals or organisations engage in activities to obscure the true origin of funds, often generated through criminal means, to make them appear legitimate. 
Money laundering activities often entail handling substantial amounts of money, frequently reaching figures in the thousands or even millions of dollars. As a result, those engaged in money laundering endure a loss of up to 50% of the funds as part of the laundering process. 
Examples of money laundering include:
Camouflaging Drug Proceeds:

A significant drug dealer strategically purchases multiple retail businesses to obscure the origin of their wealth. They create an intricate web that conceals their illicit activities by mingling legitimate customer funds with the proceeds from drug sales.

Exploiting Illegal Logging:

A company engaged in illegal logging in the Amazon rainforest seeks to legitimise its gains. They invest the acquired funds in untested

cryptocurrencies

, aiming to move the money internationally outside the regulated financial system, thus evading scrutiny.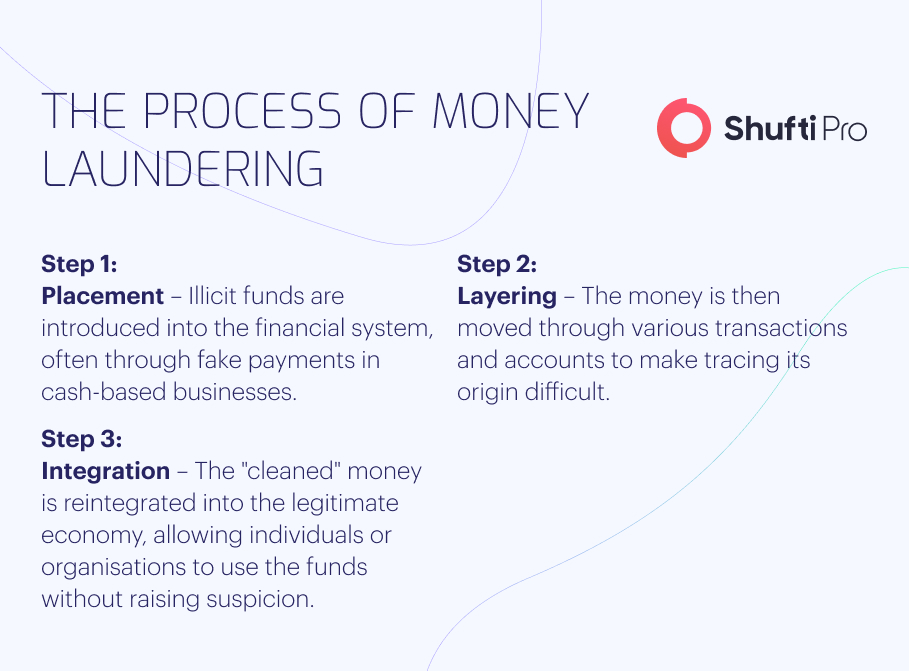 The Money Laundering Process
Placement –

Illicit funds are introduced into the financial system, often through fake payments in cash-based businesses.

Layering –

The money is then moved through various transactions and accounts to make tracing its origin difficult. This can involve moving funds between bank accounts or creating complex investment schemes.

Integration –

The "cleaned" money is reintegrated into the legitimate economy, allowing individuals or organisations to use the funds without raising suspicion.
Penalties for Embezzlement and Money Laundering
Embezzlement involves the misuse of funds by individuals with the legal authority to manage or transfer them, but they divert them for personal gain. On the other hand, money launderers engage in the illegal movement of money to distance it from its illegal source before ultimately reintegrating it into their possession or that of their clients.
Penalties for these financial crimes vary according to their different definitions and consequences. In the United States, embezzlement cases involving funds exceeding $1000 become federal offences, with a minimum prison term of 10 years and a $15,000 fine, assuming no aggravating factors exist. Money laundering penalties also depend on the amount involved. US courts impose prison sentences of up to 20 years and a fine of $500,000 or double the laundered amount, whichever is greater.
Similarly, there are heavy penalties for embezzlement and money laundering globally. It is worth considering that financial intermediaries involved in money laundering, even unknowingly, also face penalties. Countries require banks to implement adequate Anti-money Laundering (AML) compliance programmes to detect and report suspicious activity to relevant authorities. Failure to meet these compliance obligations carries significant penalties.
How to Prevent Money Laundering and Embezzlement?
Develop and implement robust AML strategies and protocols tailored to your organisation's risks and compliance requirements.

Conduct comprehensive due diligence through

Know Your Customer

(KYC) procedures to verify customers' identities and evaluate the legitimacy of their activities.

Establish efficient

transaction monitoring

systems that promptly identify and flag any suspicious transactions or activities in real time.

Maintain a robust internal control framework and regularly conduct audits to ensure strict adherence to AML policies and procedures.

Provide extensive training programmes to employees, giving awareness about

money laundering

and embezzlement risks and equipping them with the necessary skills to identify and report suspicious activities.

Promote a culture of vigilance and compliance throughout the organisation, highlighting the significance of adhering to AML regulations.

Collaborate closely with regulatory authorities, financial institutions, and law enforcement agencies, fostering information sharing and intelligence exchange on emerging trends and industry best practices.

Leverage advanced technologies, including artificial intelligence and data analytics, to enhance the effectiveness of AML measures and improve detection capabilities.

Stay current on evolving AML regulations and adopt preventive measures to ensure ongoing compliance.
How Can Shufti Pro Help?
Shufti Pro offers an AI-powered AML solution to 230+ countries and territories and supports 150+ languages.  Our robust AML screening services verify customers within seconds to protect businesses against money laundering and embezzlement. Not only the AML screening solution helps companies to prevent illicit activities, but it also ensures compliance with AML regulations.
Want to have a tailored AML solution that better meets your business needs?