BEFORE YOU GO...
Check how Shufti Pro can verify your customers within seconds
Request Demo
No thanks
The gaming and gambling industry has demonstrated exponential growth in the past decades and is expected to generate record-breaking international revenue in the coming years. With its current global market size of 59 billion US dollars estimated to proliferate up to 92.9 billion US dollars by 2023, the sector continues to dominate regardless of the economic value. Mass adoption of online gambling platforms has left brick-and-mortar casinos in a tough spot, as they have been facing a decrease in visitors due to the COVID-19 situation. 
People are now accustomed to online gambling platforms and find it convenient as transportation costs are saved. In addition to the convenience, online gambling platforms also provide privacy and updates to games, making the experience much more vibrant as compared to land-based casinos. That being said, the temptation of easy money not only attracts individuals and businesses to online gambling platforms but also makes them vulnerable to financial criminals that exploit online payments and transactions for their illicit motives. 
What are the AML regulations for the gambling industry?
Gambling operators are obliged to comply with laws for preventing money laundering and terrorism financing just like financial institutions. Casinos and online gambling platforms are high-risk areas for financial crimes and are required to monitor transactions and report suspicious activities. Moreover, gambling platforms are also required to perform due diligence to verify players' identities.
Macau is known for being one of the major markets for gambling, as indicated by the numbers:
The gross revenue from gaming and gambling in Macau is 61 billion MOP

The gross revenue from roulette in Macau is 188 million MOP

There are a total of 41 casinos in Macau (Statista)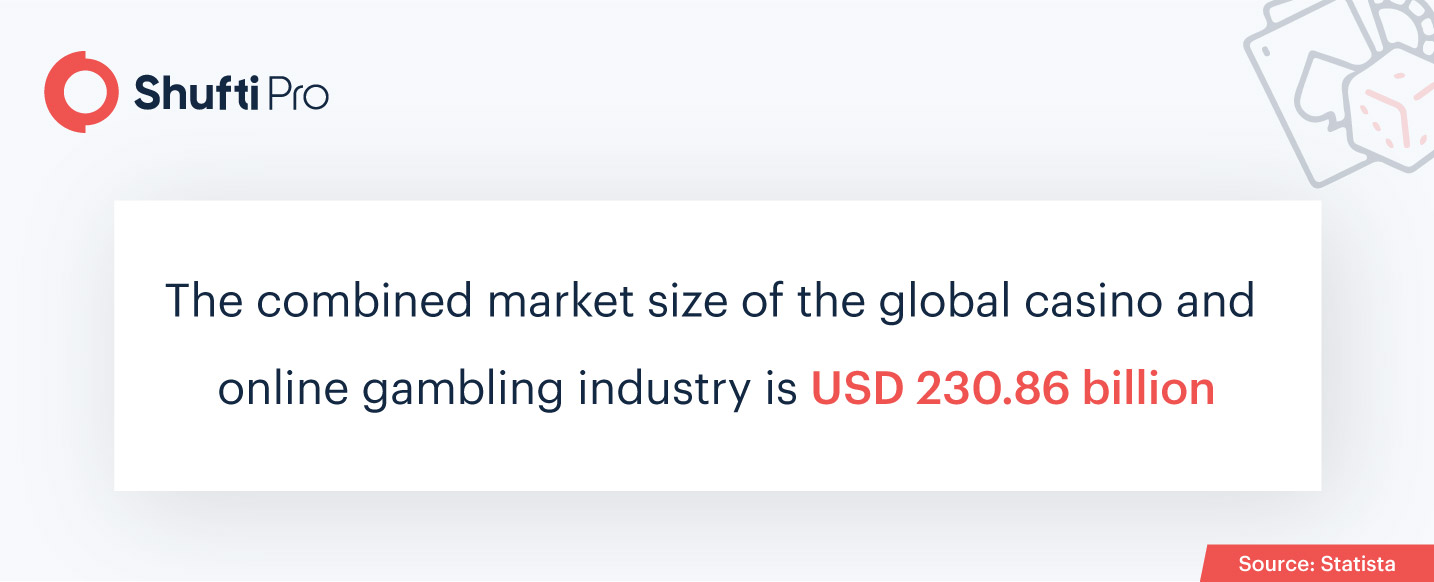 United States
As per the American Gaming Association, the revenue generated by gambling in the US soared up to $13.6 billion in mid-2021, creating a new gambling industry record. This is a 22 percent increase from the $11.1 billion record of 2019, indicating how the gaming and gambling industry has recovered from the downfall brought forth by COVID-19. The collective amount from the states had already totaled $25 billion in the second quarter of 2021. By the end of 2021, the gambling revenue is expected to reach beyond the $44 billion mark, which will make this year the highest-grossing year since gambling was legalized.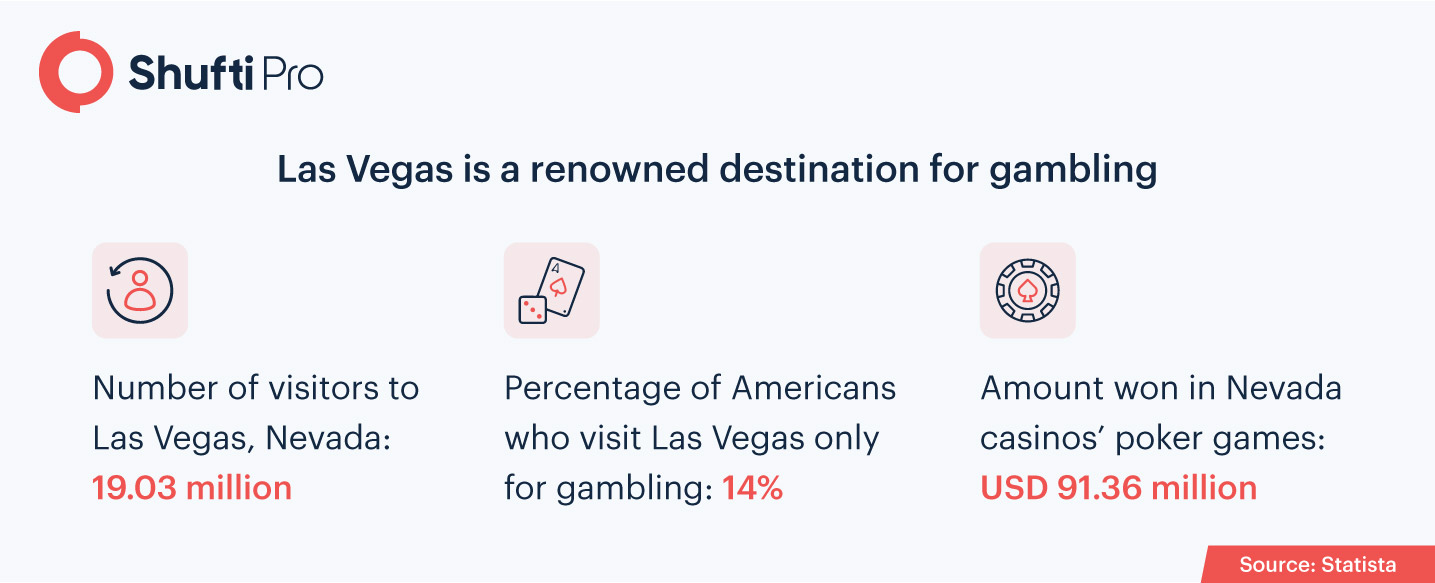 State-wise Statistics
22 of 25 states with casinos generated higher revenue in 2021 compared to 2019

Nevada generated the highest revenue of $3.46 billion, a 17% increase from 2019

Pennsylvania came in second with $1.21 billion, with a 44.6% increase from 2019

New Jersey reported a total collection of $1.11 billion, up 35.5% from 2019
The United Kingdom
According to CNBC, there was a 261.9% increase in UK players visiting online gaming platforms in 2020, and a staggering 46% of the UK's population engaged in gambling activities in the first quarter of 2021. According to the Gambling Commission, the total gross gambling yield (GGY) in the UK was £5.9 billion in the period of April to September 2020, where online casinos accounted for £5.51 billion.
AML Regulations for Gambling Operators in the UK
Licensed gambling operators in the UK are required to implement appropriate AML procedures to prevent money laundering both on-premises and online. Furthermore, the Gambling Commission requires reporting suspicious activities such as gambling with large amounts in order to prevent such illicit activities. 
The authority has also made the rules for players' identity verification and customer due diligence more stringent. This is because lack of verification and monitoring has led to several instances of money laundering, where gambling operators have to face hefty penalties.
In May 2021, a prominent gambling name InTouch Games was fined £3.4 million for AML failures. Another UK-based gambling platform, Double Diamond Gaming was fined £247,000 for violating the Gambling Commission's regulations.
Australia 
Australia has the largest number of gambling enthusiasts in the world with a total of 6.8 million, which makes a little more than 39 percent of the population. Australians play on a daily basis and more players are seen at online gambling platforms as compared to real casinos. In 2021, 900 Australian players were banned from visiting casinos as a result of different gambling crimes. 
Australia is one of the gambling countries where players are not obliged to pay taxes, which means whatever they win is theirs to keep. That being said, Australian authorities received upto 6000 gambling scam reports in just the first three months of 2020, indicating that financial crimes go hand in hand with increasing gambling revenue.
Singapore
Singapore is not far behind in terms of gambling enthusiasts, as almost 52% of the people there gamble every now and then. In 1923, gambling was made illegal in Singapore as a result of increased financial crimes and addiction. Despite the fact that casinos are not legalized in Singapore, there are specific places where gambling activities still take place. The country is actually trying to bring down this number by putting a fee on entering casinos.
Canada
Canada falls behind in regulations pertaining to gaming and gambling. With the majority of casinos located in British Columbia, Quebec, Ontario, and Alberta, the country's gambling industry generates profits of up to $13 billion a year. This being the reason partly because Canada's casinos do not impose any limits on gambling, and partly due to gambling addiction in people. However, gambling addiction is seen in only 0.6% of the population, or 250,000 people, which is lower as compared to other countries.
Financial Crimes in the Gambling Industry
Although AML regulations do apply to the gaming and gambling sector, the varying payment methods including cryptocurrencies provide anonymity to players, hence creating opportunities for financial crimes like money laundering and terrorism financing. Taking advantage of the loopholes in the AML measures implemented by online gambling platforms, money launderers spend their illegally obtained funds to get clean returns. 
Considering the rise in money laundering through online gambling platforms and casinos, the Gambling Commission raised the amounts of fines to a record-breaking high in 2020. In the first quarter of 2020, gambling operators were fined upto £27 million for insufficient AML procedures. 
The total fines in 2018 counted up to

£18

million

In 2019, the total slightly increased to

£19

million
As a result of violating the Bank Secrecy Act, The Bicycle Hotel & Casino in Bell Gardens, Los Angeles was recently fined $500k for AML failings. The casino reportedly failed to provide customer transaction reports (CTRs) and Suspicious Activity Reports for Casinos (SARC) when transactions of $100 million were performed back in 2016.
It all Boils Down to…
In light of the numerous record-breaking AML fines that have been imposed by regulatory authorities on both online and land-based casinos, implementation of AML compliance regulations has become the need of the hour. To assist gambling operators, Shufti Pro offers an AML solution that enables the screening of individuals and entities against 1700+ global watchlists.
Want to learn more about AML Compliance for online gambling platforms?