BEFORE YOU GO...
Check how Shufti Pro can verify your customers within seconds
Request Demo
No thanks
With Russia's attack on Ukraine, the international financial landscape is facing concerns of compliance with the numerous sanctions being imposed by western governments. In such a situation, prominent financial institutions become a source for the flow of money belonging to wealthy politicians and businessmen. 
Major financial hubs like New York, London, and Luxembourg play a vital role to establish a financial order where illicit activities are reduced to the minimum. Sanctions are applicable to businesses operating in all industries that are at risk of violating international regulations. These include real estate, gold, oil and gas, shipping, investment firms, and trust organizations.
How Businesses and Financial Institutions are Affected
Today's constantly shifting and unpredictable financial paradigm requires businesses to be more vigilant than before to ensure compliance with international standards. Diving deeper into the numerous sanctions that are being introduced as a result of Russia's attack on Ukraine, this blog covers the latest measures being taken by different nations throughout the world.
Sanctions from the UK
The first wave of sanctions from the UK came when the country announced sanctions on senior military personnel in Belarus for their involvement in Russia's invasion of Ukraine. Followed by that, the UK also targeted the Central Bank of the Russian Federation to "prohibit any UK natural or legal persons from undertaking financial transactions involving the CBR". 
Furthermore, a law to prevent Russian 'dirty money' from flowing through the UK's financial system was in the works for quite some time and has now been fast-tracked. This legislation is aimed at preventing money laundering by foreign oligarchs, in particular wealthy Russian businessmen and politicians. Financial institutions and businesses operating within the UK will now be required to ask for proof of identity to prevent being used as a source of illicit activities.
Suggested read: The UK Introduces Beneficial Ownership Register for Overseas Entities
Sanctions from the European Union
The flood of sanctions currently being imposed on Russia is not only coming from the UK but from the whole European Union. The EU has imposed a list of economic sanctions along with individual sanctions on Vladimir Putin, Sergey Lavrov, and the members of the Russian State Duma. In addition to these sanctions, the EU is taking steps to ensure that Russian citizens do not take the road towards cryptocurrencies or digital assets to bypass the ongoing financial crisis.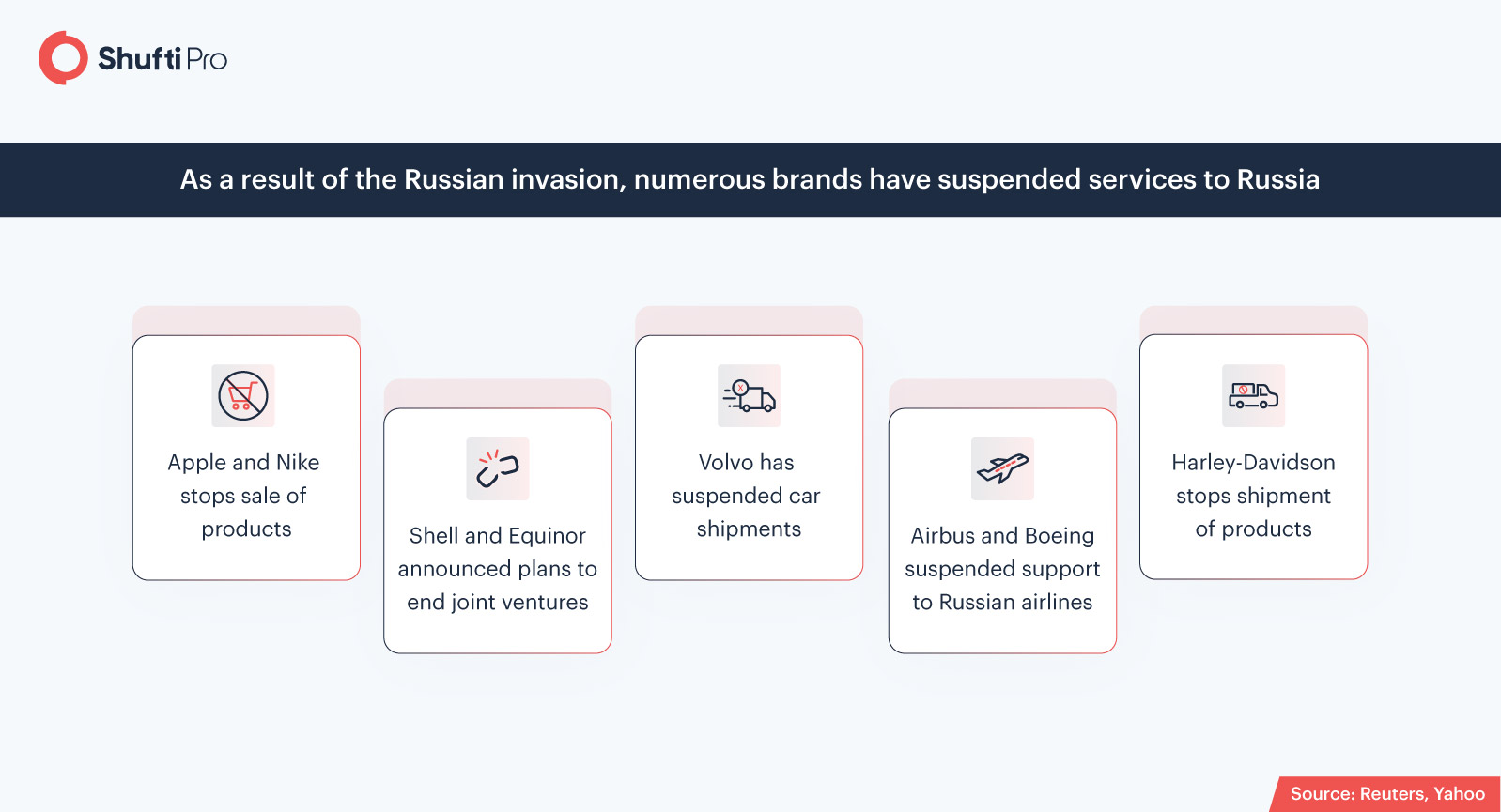 What Businesses Must do to Ensure Compliance
It is more important than ever for businesses to consider the loopholes that might lead them into problems with sanctions. These sanctions are formulated for the purpose of preventing companies from intentionally or unintentionally facilitating the activities of already sanctioned individuals. As a result, anything from having a sanctioned entity on board as a customer or allowing an illicit transaction that facilitates crime can lead a business to get sanctioned.
For instance, a financial institution may be facilitating a seemingly legitimate company in its transactions and payments but the company itself can be involved with or linked to a sanctioned entity. This results in the financial institution facing sanctions. The wide array of possibilities and risks of sanctions breaches and the hefty penalties of consequent regulatory actions is leading businesses to adopt online Know Your Customer and AML Screening solutions.
Know Your Customer 
Understanding the relationships between businesses and their customers is not enough when it comes to sanctions of this level. Knowing the customer's customer is also crucial in order to completely eliminate the risks of sanctions. To put it simply, sanctions risks can arise due to 1 in 20 interlinked business entities. That being said, there are always solutions to business problems – AI-driven Know Your Customer verification. KYC verification enables businesses to conduct customer due diligence and determine whether a potential collaboration is worth having or not. By incorporating the right background screening measures, businesses can also identify the direct and indirect connections as well as risks within a business network. 
On the other hand, businesses that struggle with outdated customer due diligence systems or do not have such measures are at the greatest risk of getting sanctioned. Businesses that do not carry out due diligence or keep a record of the ultimate beneficial owners (UBOs) are like sitting ducks for financial criminals like money launderers who are always looking for such a source to obscure the origins of their illegally obtained funds. Companies often fail to identify the real beneficial owners of a collaborating business because their ownership structure is opaque or there is a complex division of beneficiaries. 
Utilizing the power of machine learning algorithms in AI-based KYC verification can enable businesses to implement a customer due diligence process that can help them identify third parties vendors and suppliers that the potential customers deal with. The lack of AML screening means businesses have to rely on manual methods for verifying background information and transactions of the companies they wish to collaborate with. However, manual verification makes it difficult to determine whether the companies linked with their potential customer are present on global sanctions lists. Unless AI-driven AML screening is deployed, the background data of the customer is always inadequate, meaning that the company can easily become the victim of fraud.
Considering the present situation of sanctions on Russia, companies that have inadequate verification measures are at great risk of non-compliance and breaching sanctions. The consequences are huge fines and a permanently stained reputation. According to industry experts, businesses should not only perform AML screening of clients against UK sanctions but also against EU and US sanctions programs. Although US sanctions normally do not apply directly to the companies operating in the UK, the current situation can lead the US to impose extra-territoriality sanctions. 
Dealing with penalties and sanctions from US authorities is a much more serious case as compared to the national regulatory actions within a particular country. The US Treasury Department, in particular, is far ahead of other authorities of its kind in terms of both weaponizing the dollar to the extent to which it can target non-US companies for AML failures.
What Shufti Pro Offers
Shufti Pro allows businesses to identify the loopholes within their system and fill them using robust KYC verification and AML Screening solutions. By incorporating these verification measures, customer data can be seamlessly screened against the evolving global sanctions lists.
Want to learn more about our Know Your Customer solution for your business?