BEFORE YOU GO...
Check how Shufti Pro can verify your customers within seconds
Request Demo
No thanks
Data security and identity verification have come a long way since the inception of knowledge-based authentication, passwords, pins, patterns, and much more. Due to the constantly increasing risk of account takeovers (ATOs), spoofing attacks, phishing attempts, changing regulatory landscape, and business policies, conventional security approaches are no longer useful. Thus, biometric authentication has come to light, and most data security experts, as well as businesses are implementing this newer and better means of verification. According to Global Markets Insights, the global biometric market is expected to top $50 billion by 2024.
Biometrics authentication is also becoming a shield against financial crimes, identity theft, spoof attacks, and ATOs. In addition, biometric identification removes friction from onboarding procedures, creating a seamless and more user-centric pathway as compared to old-school practices.
A Short Overview of Biometric Authentication
Biometrics are defined as the unique behavioural and physical traits of someone that permit businesses or law enforcement authorities to identify each person's identity. Most often, biological markers are biometrics, such as facial imprints, fingerprints, voice, eyes, iris, veins, and DNA, which are used for identifying someone's identity. On the other side, behavioural characteristics like eye movement, the size of the nose, lip movements, and keystrokes on a device are also used for biometric identification. The first and foremost aim of using biometrics is to make security systems foolproof whilst securing people's data and personally identical information from data breaches, unauthorised access, and identity theft.
How Does Biometric Authentication Work?
Biometric authentication works by extracting people's unique physical or behavioural traits to verify their authenticity. When a customer tries to access their accounts [or even a secure building], they are required to provide a biometric sample, such as a fingerprint or a facial scan.
The biometric sample is then compared with the stored data in the companies' database, and if both biometric samples match, access is granted to the customer. This whole process ensures that only legitimate users are granted access.
The technology behind this revolutionary biometric identification involves advanced artificial intelligence and machine learning algorithms that are trained on billions of datasets to recognise unique biometric or behavioural patterns and traits from the provided samples. However, due to self-learning models powered by emerging technologies behind the scenes, the effectiveness and accuracy of biometric verification automatically increases, making it increasingly challenging for fraudsters to impersonate legitimate customers. 
Facial Recognition: A Value-Adding Security Check 
Face recognition is one of the most commonly used forms of biometric identification. It's considered and used as a standalone data security system. Simply put, facial biometric recognition prompts customers to capture an image using a smartphone or web camera. The system automatically authenticates the user's identity by analysing the unique facial traits and geometry. This biometric identification method validates the identity by cross-matching the facial imprints stored in the database with the images provided during the onboarding.
Fortunately, in today's digitised world, smartphones are equipped with facial biometric technology, allowing users to access their phones more seamlessly without providing passwords. Anything that holds transformative power and can remove friction from the identity verification process is a plus for the governments across nations trying to digitise the onboarding journey.
As per the Research Gate, facial recognition technology is more reliable and secure than other biometric authentication methods because this variant is less intrusive and can precisely verify the customers' identities with the highest level of accuracy, making it one of the most prominent and widely used security and identification systems.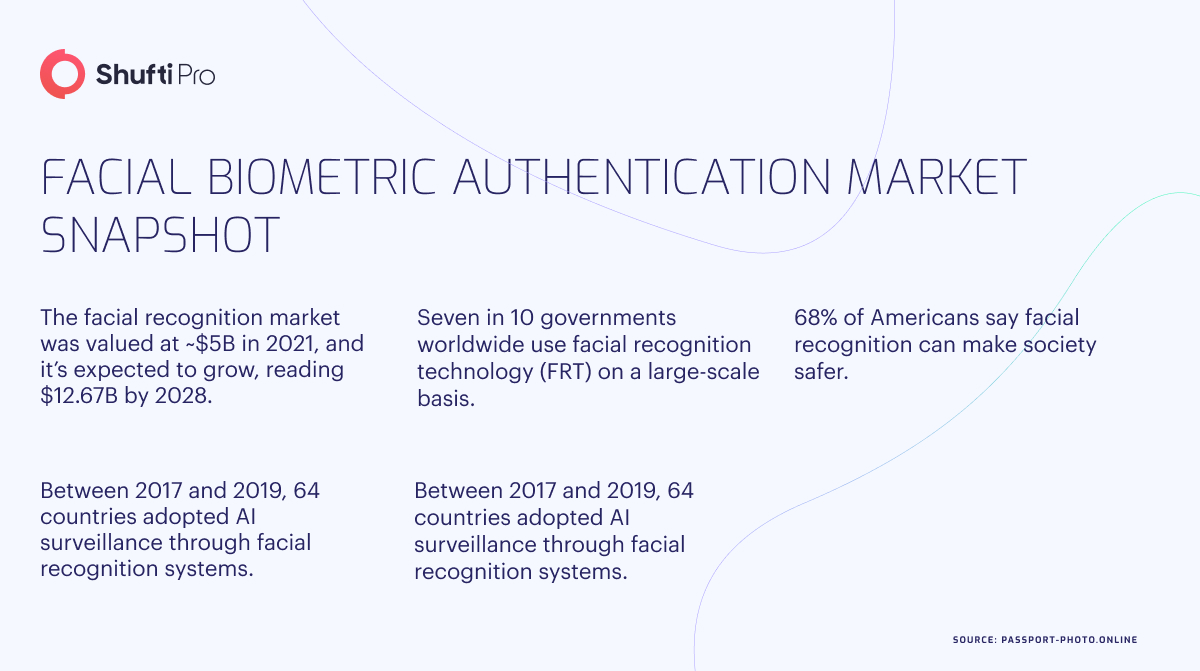 Is Biometric Authentication Secure?
Biometric identification systems use the physical and behavioural characteristics of the person, which are unique, but this doesn't guarantee they can't be manipulated. For instance, modern generative AI algorithms have been proven to create fingerprints that can be used to carry out malicious activities with the intention of exploiting security systems. These remain fringe cases, however, beyond the capabilities of hackers working through a list of billions of potential victims worldwide.
The most critical factor in the biometric authentication system's security is how the data or information is stored. For instance, the data is saved in a centralised database, and in case there are some issues, primarily a data breach, hackers can access all the biometric records stored on the database. One such incident happened in 2015 when the US government's Office of Personnel Management (OPM) breach led to the theft of 5.6 million citizens' fingerprints. In addition to this, there also lies the significant risk of data being intercepted through Man-in-the-Middle (MitM) attacks instead of being used for account takeover fraud.
Thus, even though biometric identification methods are far better and safer than old-school verification solutions, requiring the sharing of and securing the information creates the same shared secret approach that backs password security checks.
Challenges in implementing Biometric Authentication Solutions
Here are some challenges businesses might find whilst implementing biometric authentication:
Privacy: almost every country has data privacy laws and regulations abiding businesses to store and use customers' information with utmost responsibility whilst ensuring that the information remains intact. However, biometric identification handles highly private data that require strict security protocols. Companies need to have AI-backed and robust biometric authentication systems in place to ensure their customers' privacy concerns are met effectively.
Biometric Data Theft or Forgery: Like passwords and knowledge-based authentication, biometric data is also prone to theft or forgery. However, it's not easy to replicate the biometric trait of victims with the highest precision, yet it's not impossible. Modern-day criminals use illegitimate fingerprints, face masks, and voice recordings to manipulate security systems.
​Accuracy and Error Rate: Biometric authentication solutions are not perfect and are subject to positive and false negative errors. Other than this, biometric solutions are also famous for generating biassed results. This means in some cases, legitimate customers can be restricted whilst accessing their own accounts and vice versa. These errors need to be eliminated in order to ensure a seamless customer experience.
The Benefits of Biometric Authentication
Biometric authentication solutions have become the most perfected security and identification systems to date, where fraud is growing exponentially, instead of relying on or circulating around passwords, businesses are moving towards biometric authentication, utilising human biometrics as passwords. Here are some key advantages of using biometric authentication your business might need to know:
More Secure than Passwords: The first and foremost advantage of biometric identification is that it's more reliable and secure than old-school authentication solutions. Passwords can easily be guessed, stolen, or forgotten, leaving important information unguarded, whereas biometric data is unique and is hard to temper or replicate, making security fool-proof. This means it's challenging for fraudsters to access accounts or information guarded by biometric checks.
Seamless Onboarding: Biometric identification is incredibly more robust and easier to use than inputting pins or passwords. Customers are just required to scan their face to verify their identity prior to accessing accounts or personal information. This saves a lot of time whilst removing friction from sign-ins, check-ins, and onboarding.
Enhanced Security: Biometric authentication checks add an extra layer of security that conventional means of securing data lack, or put it simply, can't even match. Since every person has a unique set of biometric traits, it's pretty much impossible for anyone else to access someone's accounts without authorisation. This means that customers' personally identifiable information remains intact whilst ensuring a state-of-the-art experience.
Overall, biometric identification solutions offer a wide range of benefits that make it the only option for businesses worldwide; with its enhanced security measures, improved speeds, and convenience, biometric authentication has become the most preferred security solution in today's digital world.
Go Passwordless with Shufti Pro
Digital fraud, identity theft, and financial crimes are here to stay, and businesses need to take adequate measures to mitigate as well neutralise the impacts of these surging crimes. To do so, companies should not look further; biometric authentication is systematically designed to secure business operations, customers' information, and digital identities from emerging risks or external threats. The fact is true that knowledge-based authentication, passwords, pins, and tokens are no longer viable in this digital age. Biometric checks are the new norm as they use people's unique biometric samples to grant access or identify their identities.
Shufti Pro, a full-scale identity verification service provider, offers state-of-the-art, fool-proof facial biometric recognition solutions that help businesses fight fraud. Our solution has innovative features like liveness detection, anti-spoofing checks, ongoing transaction authentication, and more. The perfect blend of artificial intelligence, machine learning algorithms, and biometric technology makes our solution accurate and reliable. Our services are expanded across 240+ countries and territories, with the support of 10,000+ ID documents in 150+ languages – a perfect solution for global industries.
Want to stay ahead of criminals and offer customers a next-generation experience? Get in touch with our experts today!