Blog
Cyber Monday Scams on the Rise Due to COVID-19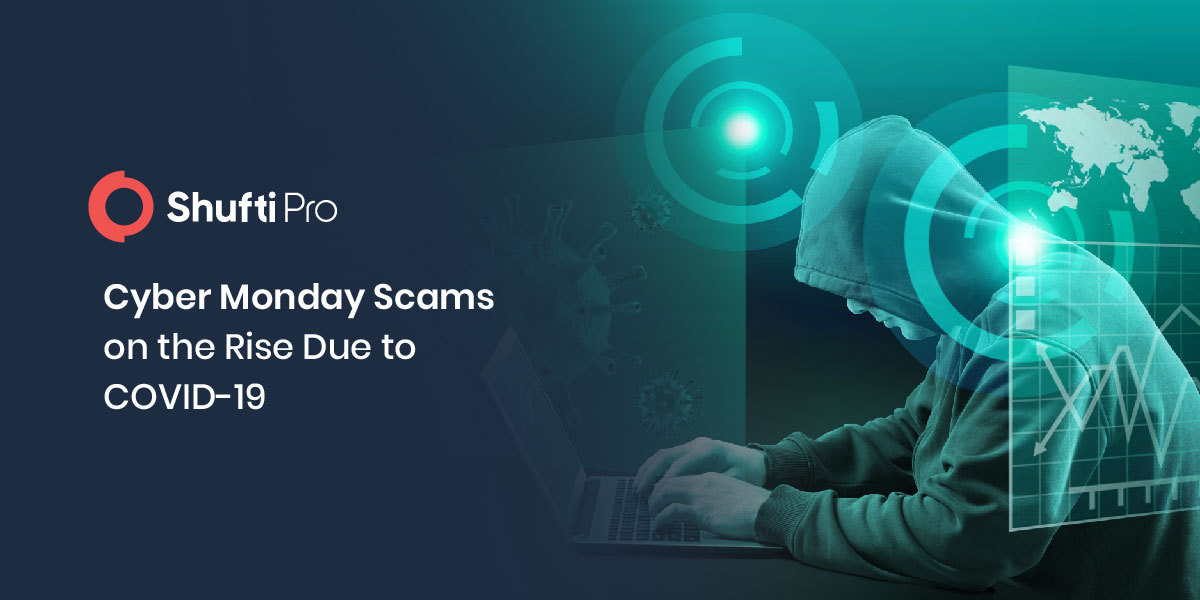 Thanksgiving – a day that reminds us of all the bounties of Mother Nature that we should be thankful for. This year, everybody was most thankful for living a healthy life despite the terrifying situation across the globe. Now, it's Cyber Monday – the most awaited day of the year since it brings a wide range of sales on everything. Due to the pandemic, the majority of people are considering online purchases. Only 16 per cent of the visitors are planning on in-store purchases worldwide. This pandemic is not only a threat to health, but it is also threatening businesses. Unfortunately, cyberattacks have significantly increased during the coronavirus pandemic. Businesses have suffered from some great data breaches this year. Identity theft, account takeover fraud, chargebacks, gift card fraud, and phishing scams are on the rise. With Cyber Monday in full swing, eCommerce platforms are at risk of these criminal activities.  
The pandemic locked everybody in and provided fraudsters with a great chance to execute their malicious plans. All the businesses are now worried about the potential cyberattacks that could hit them. Let's take a look at some of the Cyber Monday scams and a potential solution for eCommerce platforms. 
What are Cyber Monday Scams?
The Monday after thanksgiving is what people call Cyber Monday. It brings great opportunities for people to purchase their favourite products and gifts for the holiday season, but it also brings several scams for online businesses. Some of the common Cyber Monday scams are:
Gift card fraud 

Credit card fraud 

Phishing attacks 

Chargebacks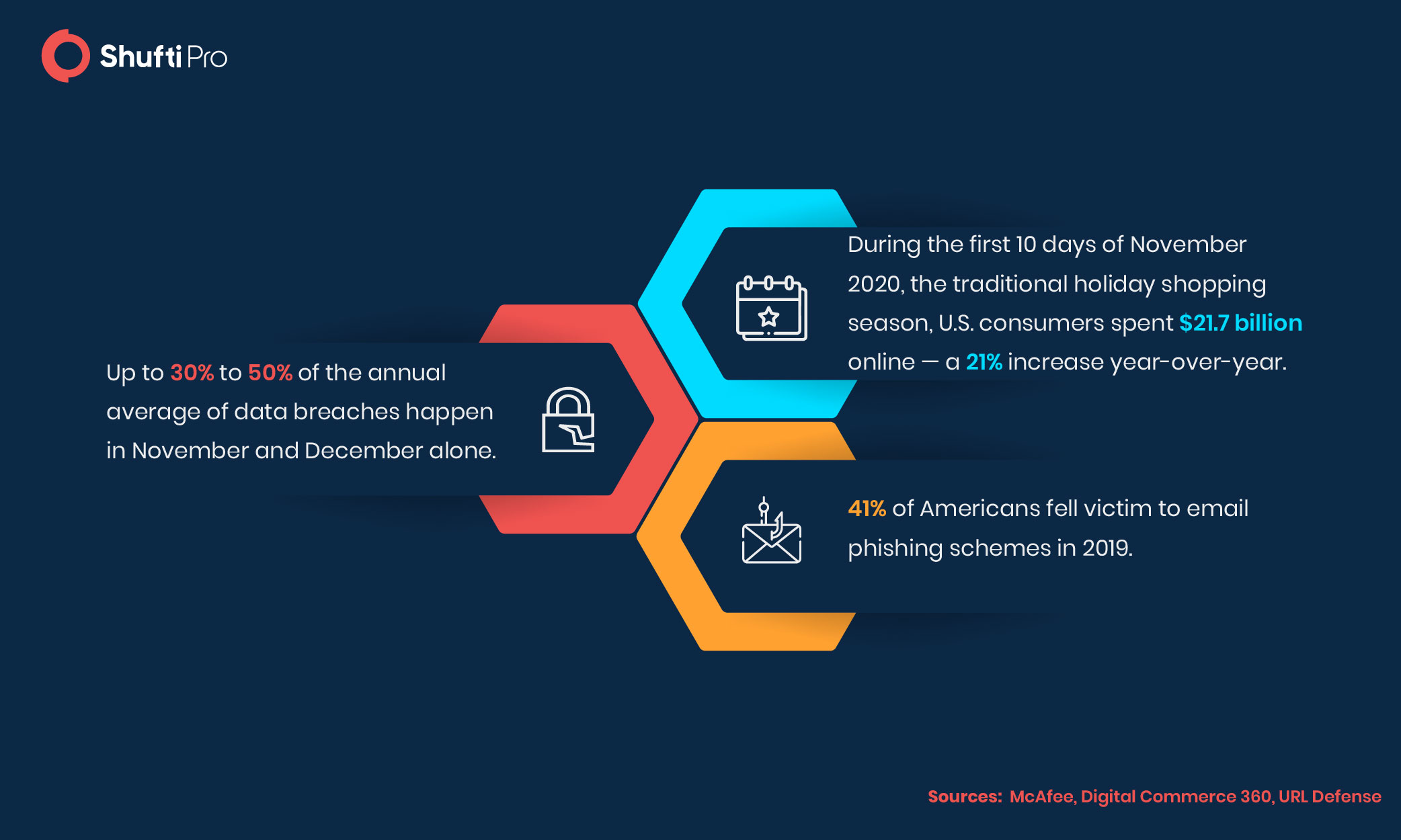 Account Takeover Fraud
An account takeover fraud occurs when a fraudsters use a chunk of the victim's identity such as the social security number (SSN) to access the account and use it for illegal activities. Cyber Monday deals are pretty compelling for the buyers. Your business will suffer the loss of chargebacks after that because the original holder of the account will never allow illegitimate transactions for a purchase they never made. 
Being a merchant, you can identify scammers in no time. All you need is a robust identity verification system that will authenticate the customer before completing any transactions. 
Read more: Account Takeover Frauds – Impact, Causes, and Prevention
Identity Theft
Identity theft is the most common scam of all the Cyber Monday frauds and accounts for 71 per cent of all the attacks. Generally, it is a part of another illegal activity. Fraudsters use stolen identities, email accounts, names, IP addresses, and even personal devices to fulfil their financial or personal gains so that everything seems legitimate.  
Chargebacks
One of the most common frauds during cyber Monday deals is chargebacks. You have delivered your product honestly and on time, but the customer claims for a chargeback. The general statement is that the card was stolen. How do you believe someone now? It's difficult, so all you can do is take precautionary measures to avoid this fraud as much as you can. 
Gift Card Fraud
Gift cards make it easy to share your emotions and celebrate your favourite festival. However, this has become a great opportunity for fraudsters. According to Deloitte's annual holiday survey, around 48 per cent of the customers are planning to buy a gift card, either physical or digital, to avoid the spread of the virus. Fraudsters are all set to mess with gift cards now. Gift cards are hard to trace and easy to cash, and for the same reason, gift card fraud is increasing. 
Online businesses have also reported that some fraudsters make a purchase online and as soon as it is confirmed, they ask for a refund in the form of a gift card. Apart from these two methods, fraudsters also use social engineering techniques to steal the security numbers of gift cards and use them afterwards for ransomware. 
Fake Credit Card Payment
Cyber Monday embraces fake credit card payments and e-commerce businesses need to watch out for credit card scams. Stolen credit cards become the source of payments for fraudsters. You have to bear with chargebacks. On the other hand, there may be a fake credit card used for checking out and the payment is never made after the purchase. People love to avail deals and discounts and this scam has made it easier for scammers.    
Phishing Attacks
Emails are generally sent to you for acquiring access to your bank account and for an online business, this is not good news at all. You will receive millions of fake emails from fraudsters mentioning great supplier deals and a link that will redirect you to another site. This website will ask for your company's information to proceed but it is the exact amount of information that they need for data breach later. Never respond to emails like these, especially for availing the Cyber Monday deals.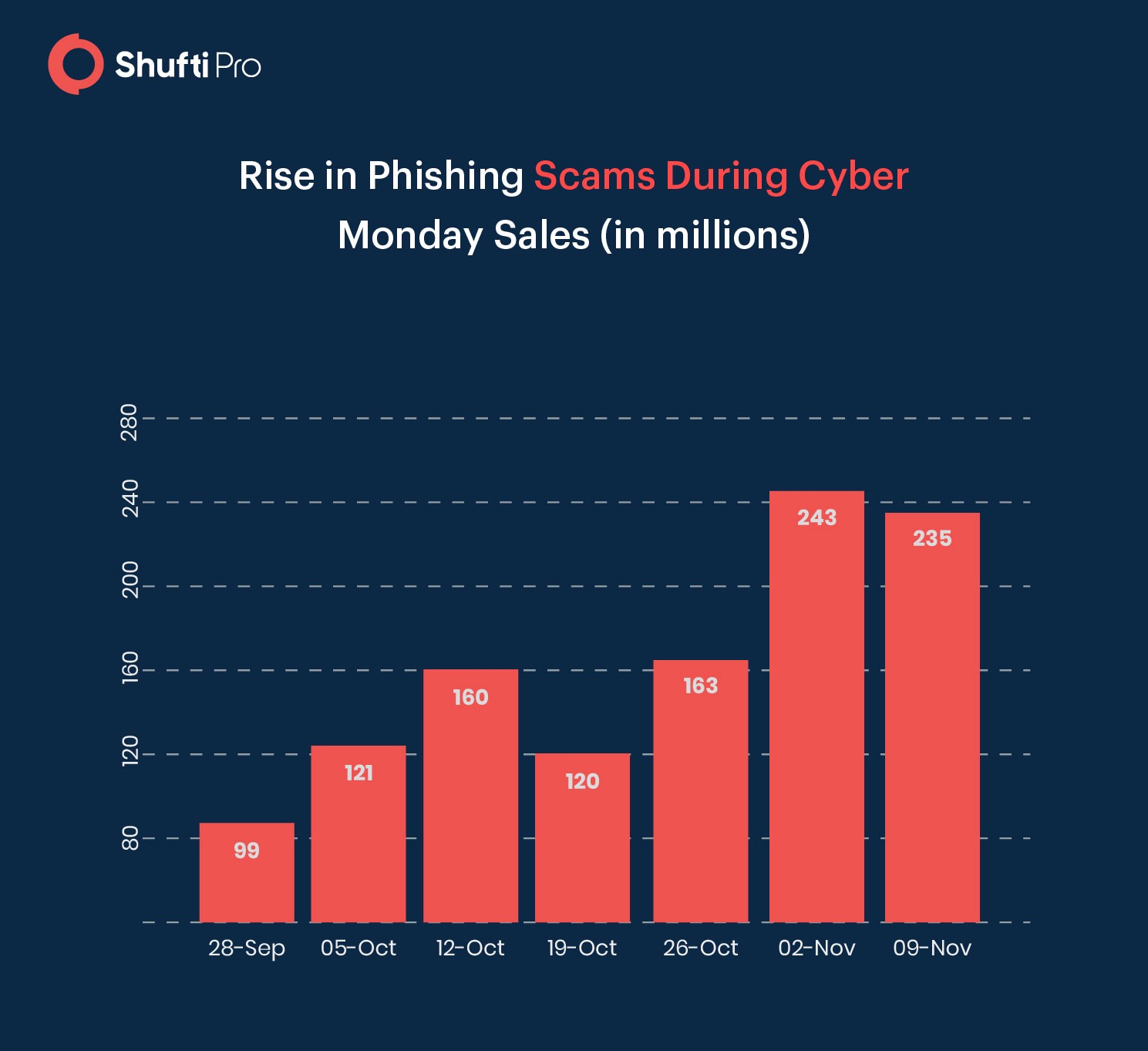 Solution for Online Businesses to Prevent Scams
The holiday season brings many bad news for the online businesses and the eCommerce sector needs better solutions to combat these frauds. There are two potential solutions that can help your online business stay safe during Cyber Monday. Let's have a look at them:
Biometric Authentication
Biometric authentication is one way of dealing with fraudsters. Biometrics are not restricted to fingerprints, but it entails a lot more than that. You can verify the faces of the customers before completing any transactions. It will help you tackle spoof attacks and deep fakes. Gaining unauthorised access is not a big deal for cybercriminals but biometric authentication helps your businesses in fighting frauds like identity theft and account takeover (ATO). 
Learn more: Biometric Authentication Technology – Everything you Need to Know
Identity Verification
Cyberattacks are on edge due to which identity verification is spiking in demand. Furthermore, Know Your Customer verification is an obligation for all the online platforms. Complying with the KYC regulations from the FATF and FinCEN is not easy. Adding KYC verification can help you combat fraud and comply with these regulations. Identity verification is a simple three-step process that will not only secure your business, but it will also protect your business from chargebacks and phishing attacks. 
Summing It Up
Fraudsters nowadays have become more sophisticated than what one could have expected. With the help of advanced technology, they are targeting businesses and are successful in identity theft, account takeover, and phishing attacks. Unfortunately, the pandemic has fanned the flame and there is a significant increase in all these attacks. Cyber Monday is an exciting day for people but eCommerce businesses have to experience many scams as well. Fraudulent activities will make it difficult for any business to survive, but with identity verification and biometric authentication, you can secure your e-commerce platform for sure. 
Get in touch with our experts to know more about identity verification.
Disclaimer:
No warranty is herein provided that the information contained in this document is accurate, up-to-date, and/or complete. In no circumstance(s), does such information constitute legal or any other advice. Any person who intends to use, rely, pass-on, or re-publish the information contained herein in any way is solely responsible for the same. We suggest to verify the information and/or obtain
expert advice
independently if required.