BEFORE YOU GO...
Check how Shufti Pro can verify your customers within seconds
Request Demo
No thanks
In the highly digitized world, businesses are partnering with each other to serve mutual interests, commonly known as Business-to-Business (B2B) relations. In all such partnerships, it is quite crucial for all the involved parties to remain vigilant while interacting with each other. Due to the increasing cybercrime percentage, B2B bondings are also greatly affected, and criminals are using sophisticated techniques to defraud other businesses while exploiting loopholes. The primary reason behind B2B fraud is that companies are far away from each other and do not incorporate the right solutions to verify the other party.
A survey has shown that 68% of the B2B firms in retail and manufacturing are unsatisfied with the fraud solutions and termed the overall system to be highly vulnerable to scams. So in such a situation, it has become essential for all B2B companies to find the perfect solution which is available in the form of Know Your Business (KYB). Through an efficient KYB, businesses can verify identities, documents, and information about the higher management of other companies, which can eventually end in making a secure bond.
Know Your Business – An Overview
Know Your Business (KYB) is a verification procedure that is widely used to determine the legitimacy of other companies, ownership structures, and official documents. KYB process enables organizations to establish whether they are dealing with an authentic company or just a shell company that has its presence only on paper. KYB also makes sure that the partnering organizations are not involved in illicit activities through various checks, particularly Anti-Money Laundering (AML) and Know Your Customer (KYC). With the B2B model picking up the pace, KYB has become need of the hour which can help firms to maintain secure digital business relations with other companies.
In the US alone, B2B e-commerce revenue reached $6.7 trillion in 2021, and due to this high inflow of money, criminals have found attractive crime opportunities in this sector. The KYB process is getting advanced with time and there are multiple factors, including identity verification, document authentication, and Ultimate Beneficial Owner (UBO) checking, which are used to verify the credibility of other businesses. Once any organization manages to pass through these stringent screening measures, there remain fewer chances of that particular company doing any fraudulent activity in the future.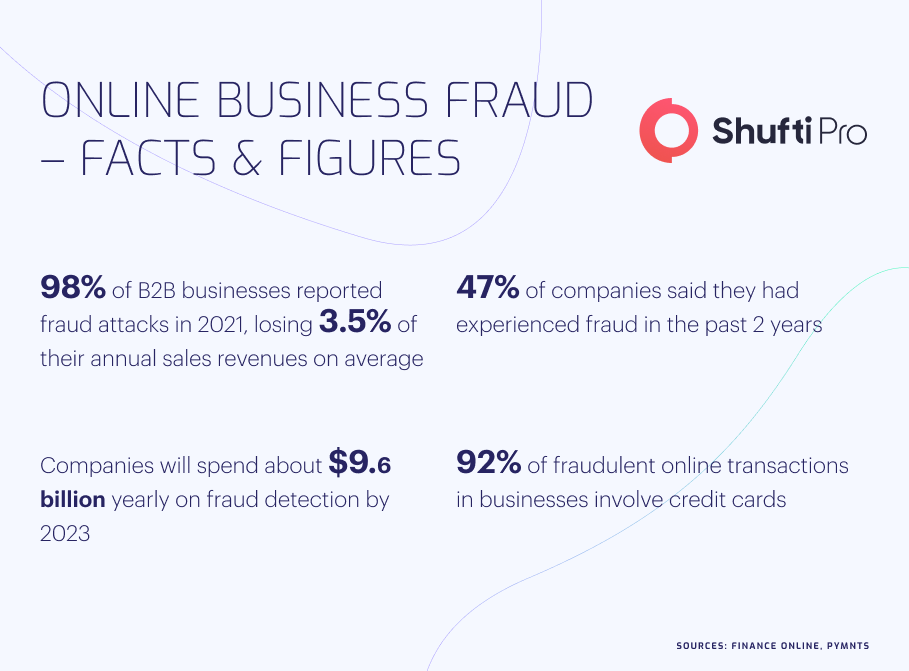 How Law Enforcement Authorities are Countering Criminals
Rapid digitization has made the world a global village which has eventually aided criminals in carrying out fraudulent activities and get away without any trial. All the major jurisdictions have now legislated strict cybercrime laws empowering law enforcement authorities to counter criminals and put them under the law.
Let's have a look at some of the high-profile criminal cases which have surfaced in the recent past:
Russian Nationals Arrested in US for Money Laundering Through Shell Companies
Five criminals belonging to Russia have been arrested in the USA who were involved in money laundering through shell companies. The authorities have revealed that scammers conduct a lot of illicit financial transactions using fake companies which were just present on paper. Police have also stated that two other gang members managed to fly to other countries, and efforts are going on to extradite them back to the US. All the criminals have been charged in court, where investigations are still going on to decide their penalties.
British Shell Companies Linked to 52 Money Laundering Scandals
UK law enforcement authorities have revealed that shell companies belonging to their country have been found to be involved in 52 money laundering scandals worth 80 billion pounds. Investigations are underway to dismantle the gang involved in these fraudulent activities, while the UK Treasury has ordered the security agencies to conduct an audit of all the online companies and verify their authenticity.
Global Regulatory Authorities Monitoring Online Businesses
While the crime percentage is increasing in the digital sector and businesses are facing billions of financial losses in B2B relations, lawmakers across the globe are struggling to fix this issue. It is entirely in the interest of the states to regularize this sector as it has the potential for considerable investments.
Let's study the prevailing laws monitoring B2B relationships in different countries:
United States
Federal Trade Commission (FTC) is the primary authoritative body responsible for enforcing regulations in B2B companies. As per the law, it is mandatory for the firms to get registered through the FTC and then start their operations. It is also crucial for all digital businesses to verify their partners through AML and KYC screening measures and make a record of financial transactions.
United Kingdom
All the B2B companies in the UK are subject to competition laws, and it is essential for involved parties to carry out stringent monitoring of their partners. The Sales of Goods Act (1979) applies to B2B firms, which has made it mandatory for all the stakeholders to keep a record of other company's information, including UBOs, addresses, nature of business, and records of financial transactions.
Canada
Canada is regulating the whole B2B business relations through Anti-Spam Law which has termed any financial irregularity in the sector a criminal offense. In the recent past, several companies in Canada have been asked to stop their operations for not completing the minimum AML and KYC requirements.
Safeguarding Businesses Through Know Your Business (KYB) Solution
rapid digitization across the globe has encouraged companies to form a virtual bond with other businesses and cooperate with each other to serve their mutual interests. Although this model has helped the firms to successfully meet their targets, it has also encouraged the bad actors to get involved in criminal activities due to the loopholes present in the system. Know Your Business (KYB) is the most viable option for the whole B2B sector to identify the true identities of their partners, the nature of businesses, and past records of their financial activities. Once any business partners with another one after following the KYB protocols, there remains less chances of any fraudulent activity.
What Shufti Pro Offers?
Safeguarding the B2B companies' reputation is quite crucial for the whole sector to ensure global compliance and transparency in the system. The B2B concept is growing in the whole world and it is the right time for companies to invest in KYB measures.
Shufti Pro's state-of-the-art KYB solution is the ideal option for B2B companies to secure their assets and maintain a good reputation in the market. The KYB solution is efficient enough to conduct the KYC and AML screening of other companies while authenticating all financial details of other firms. Shufti Pro's KYB screening measures generate results in a matter of seconds and provide output with ~99% accuracy.
Are you ready to explore more features of our KYB solution for B2B companies?