BEFORE YOU GO...
Check how Shufti Pro can verify your customers within seconds
Request Demo
No thanks
2020 was all about surviving the pandemic, but it has also kickstarted a new wave of innovation. As we enter the new year, there is an influx of businesses shifting to the digital space to survive market competition. Even smart payment solutions like Google Pay and Apple Pay which allow performing transactions on a smartphone have become old news. 2021 has come with an increased drive for digital-only systems to replace conventional banking and financial norms which are in practice for a long time now.
The finance sector was quick in adopting recent advances in technology. Fintech companies are now trusted partners of more than 60% of the financial institutions out there in the market. Fintech services incorporate Know Your Customer (KYC) standards which are essential for any business entity to fulfil Anti Money Laundering (AML) obligations.
What is KYC/AML Compliance?
KYC/AML compliance is a set of legal requirements to verify the true identity of a business' clients. It takes into account an authentic proof of identity such as a government-issued document, to assess customer credibility, and the risk involved in onboarding, to prevent potential cybercrime.
Current Landmark of Fintech and KYC
The fintech sector has matured with new technologies driving innovation. Possible instances of cybercrime can now be prevented by systems powered by artificial intelligence. In 2018, a staggering $218 billion in fintech investments were recorded, which laid the foundation of better and improved financial systems in the coming years. Government bodies, online businesses and service providers of financial technology make up the most part of the market.
Institutional players like banks are investing a good deal of money in Regulatory Technology (RegTech) to make sure they live up to the global KYC standards. Investors have shifted their targeted audience from B2C to B2B considering the opportunities financial technology has to offer. Moreover, the need for increased compliance and change in consumer behaviours has forced online businesses to practice secure customer onboarding.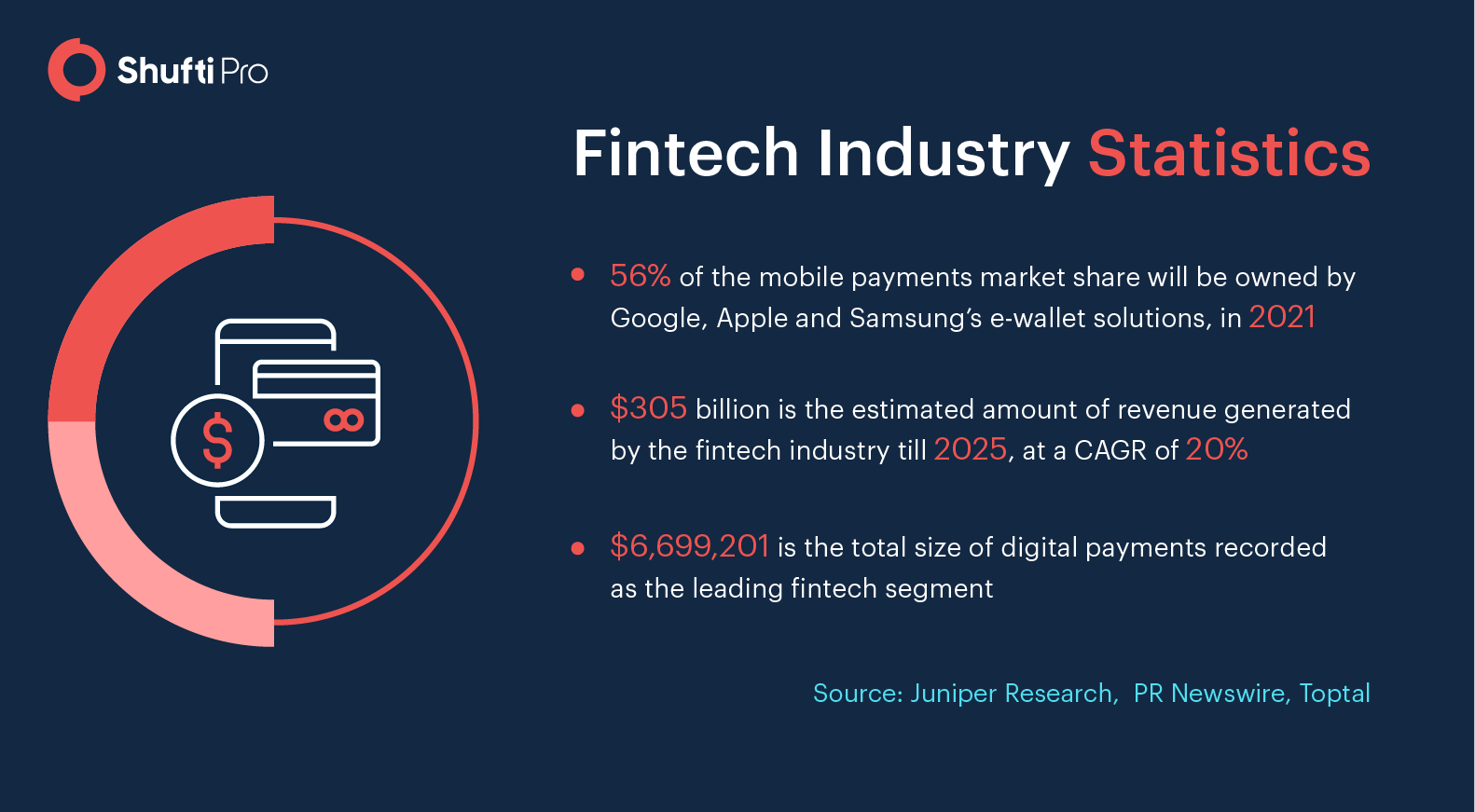 The fintech market is prone to a lot of changes and technology is one of the reasons. Due to the constantly evolving nature, it allows enterprises to verify customers with confidence. The traditional KYC measures, which were once used by organizations to verify customer identity, have now made their way in the digital landscape. KYC verification is now performed in real-time over the internet, regardless of where an individual is present. Since KYC is an obligatory requirement for financial firms to mitigate fraud and money laundering, fintech solutions address the problem in light of regulatory compliance.
Lack of KYC/AML Infrastructure
Since financial businesses involve a good deal of monetary activities in daily operations, they need to perform proper KYC and AML checks. Fraudsters associate ties with business entities to launder dirty money through their platforms and conduct a series of cybercrime.
KYC/AML regulations are a good bet when it comes to preventing the illicit flow of money.
Regulatory authorities have been imposing heavy penalties to financial firms who fail to meet KYC/AML requirements in the recent years. A study by Thomas Reuters lists instances highlighting the importance of KYC and AML requirements:
The national fintech charter by the Office of the Comptroller of Currency (OCC) of the U.S. imposed stringent regulations on companies providing digital-only full banking services in 2017. 

A digital currency operator in 2015 was fined $700,000 by FinCEN for not investing in an adequate

AML screening

program.

A fintech for consumer lending services was penalized $6 million by the Consumer Financial Protection Bureau (CFPB) for not following proper KYC standards while onboarding external borrowers.
Fintech's Role in Customer Onboarding
Today, with advances in technology, associating ties with customers and other businesses has become secure and smooth. Gone are the days when a manual verification was mandatory to complete a customer onboarding process.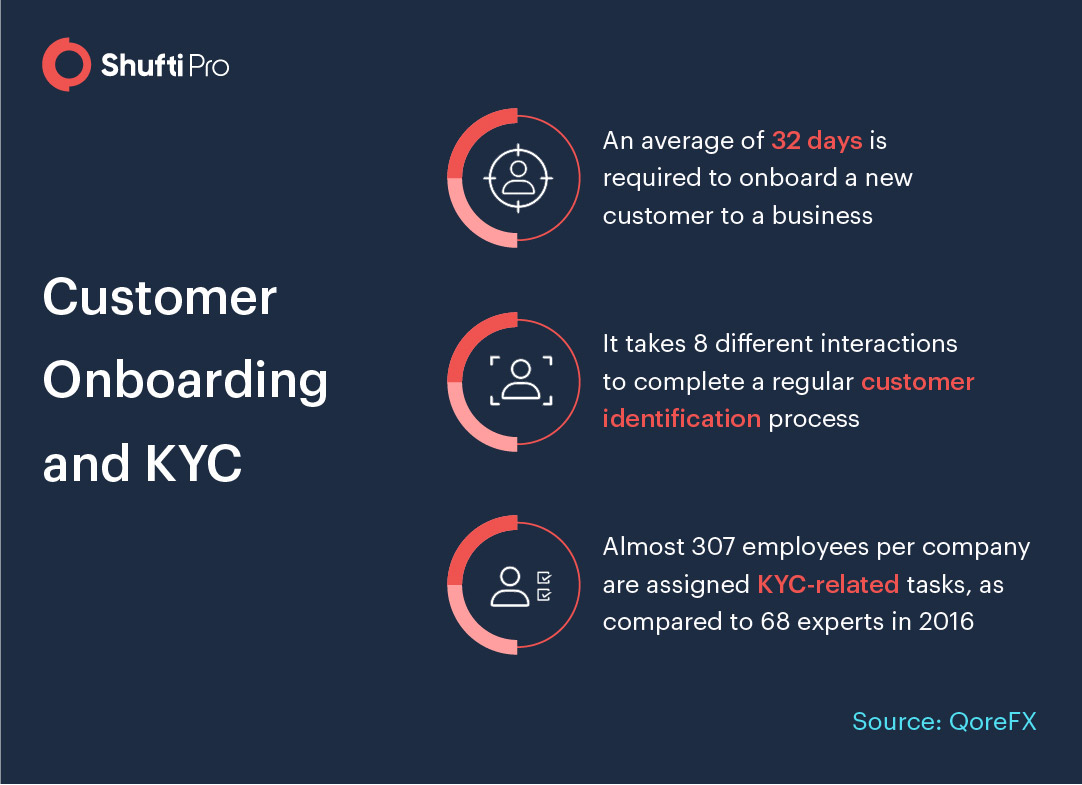 Artificial Intelligence
Banks and fintech businesses are moving towards AI-powered solutions to speed up their customer onboarding procedures. In this COVID-struck time, financial firms are banking on new and improved technology to maximize their sales. With the power of machine learning and AI, fintechs can monitor suspicious transactions, and effortlessly engage with new prospects at the same time through digital KYC. 
Biometric Security 
Financial services have seen a surge in demand over the past few years. This calls for digital advances that empower KYC to better assess customers and take down identity fraud. In 2021, fintech firms are adopting biometric authentication technology like facial and fingerprint recognition as a more accurate and reliable means of meeting KYC standards. 
Regulatory Technology
The growth in fintech has enabled global regulators to develop regulatory technology for the better compliance. To better practice AML compliance, Regulatory Technology (RegTech) has become essential for online businesses, and fintechs are no exception. Undoubtedly, technology brings innovations, but it creates a new avenue for cybercrime as well. Regulatory service providers are striving to combat potential threats and risks by creating reliable solutions. 2021 could prove to be a year of collaborations between fintech providers and regulatory bodies, as they look forward to making the financial industry a safer place.
It all comes down to Shufti Pro…
An effective KYC verification process is the need of every fintech business in the industry. In order to meet the constantly evolving regulatory requirements, financial businesses need a solution that can facilitate them to meet KYC and AML obligations in the best possible way. Shufti Pro offers digital KYC verification to onboard customers by verifying their true identity, in light of global AML compliance. With a global support of more than 3000 documents and 150 languages, we offer real-time KYC services. Shufti Pro incorporates reliable and quick data protection to provide fintech companies with a safe and secure channel for customer onboarding.