BEFORE YOU GO...
Check how Shufti Pro can verify your customers within seconds
Request Demo
No thanks
Optical Character Recognition (OCR) has revolutionised how businesses gather, process, and analyse written information. By employing OCR technology, companies can enjoy a streamlined, efficient, and simplified data entry and analysis approach. The global OCR market size was $10.63 billion in 2022 and is forecasted to reach $36.73 billion by 2032. This substantial growth signifies the importance of OCR. The question arises: How can businesses in various industries effectively harness this technology? Let's dig deeper into the blog to learn more about OCR technology.  
Understanding OCR Technology
OCR technology identifies and retrieves text from different sources, like images, scanned documents, and other written materials. Advanced OCR technology uses sophisticated algorithms to analyse the pixels in an image and convert them into editable and searchable text. This OCR algorithm employs two primary techniques for text extraction:
Pattern Matching:

Initially, the software identifies and isolates individual characters, or "Glyphs," from the image. Subsequently, it compares these Glyphs with similar characters stored in its repository.

Feature Extraction:

The OCR algorithm employs a feature extraction technique upon successful pattern matching. This technique dissects the Glyphs obtained from pattern matching into several distinctive features, including lines, line insertion, and closed loops. The algorithm then uses these features to check its database's closest matching or similar glyphs.
How Does OCR Technology Work?
The OCR process involves several fundamental steps: pre-processing, segmentation, recognition, and post-processing. Familiarising oneself with these steps enables a deeper understanding of OCR technology and facilitates informed decision-making for businesses seeking to enhance efficiency and streamline operations through OCR solutions.
Step 1: Pre-processing –

This initial step prepares the image for OCR data extraction by addressing issues such as noise, distortion, alignment, contrast, and brightness. These enhancements ensure optimal image quality for accurate text recognition.

Step 2: Segmentation –

The image is divided into smaller segments, like characters, words, and lines.

By isolating these components, the OCR software can analyse and process them individually, enhancing the accuracy of text recognition.

Step 3: Recognition –

OCR algorithms identify and extract the text using pattern recognition and machine learning techniques. The technology carefully analyses the segmented elements and compares them to predefined characters stored in its repository or training data.

Step 4: Post-processing –

Following the recognition phase, the

OCR technology

performs post-processing to rectify any errors or inaccuracies that may have occurred during recognition. This process may involve correcting spelling mistakes, eliminating unnecessary characters, and formatting the text to align with the original document's appearance.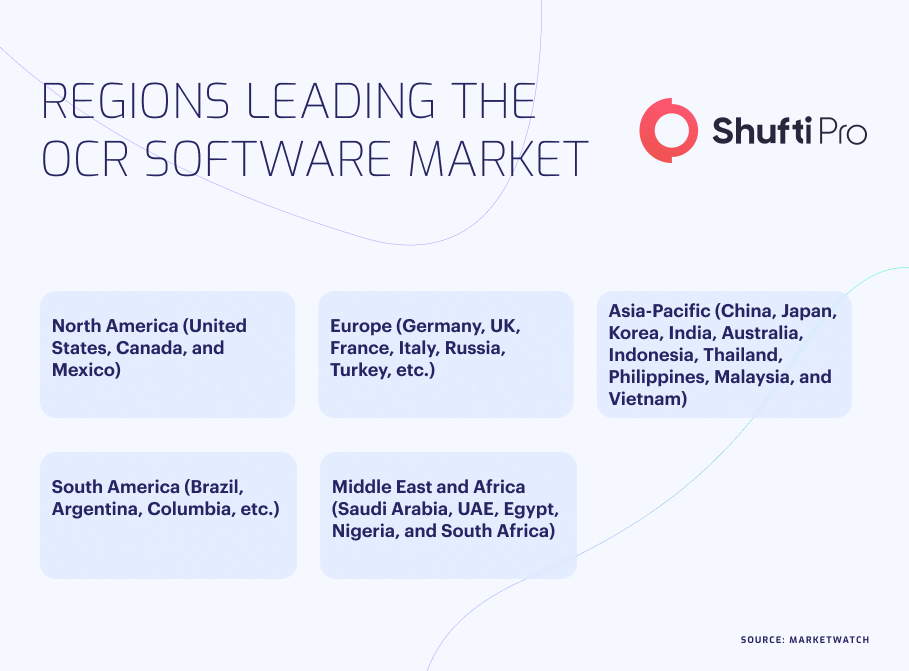 How Does OCR Technology Improve Business Efficiency?
OCR technology has applications in different industries, including healthcare, retail, banking, and government, facilitating efficient document management, text-based search, and automated data entry. This technology continuously evolves, offering enhanced recognition accuracy and quicker processing times, allowing businesses to automate document-driven workflows and improve operational efficiency. 
Here's how an OCR technology benefits your business:
Accelerate Work Production through Automated Image-to-Text Extraction:

The image-to-text converter facilitates automated data extraction from image files or scanned documents with written or printed text. Once the text is extracted, it transforms into a machine-readable format, enabling seamless data gathering, processing, and analysis in subsequent stages.

Enhance Business Efficiency by Streamlining the Accounts Payable (AP) Process:

Businesses can significantly streamline their AP process by employing OCR technology to digitise invoices. Invoices are scanned and converted into editable PDFs, removing the need for manual data entry. Furthermore, the OCR image-to-text converter comprehends the information, reducing the likelihood of errors that often occur during manual processing. This streamlined approach enhances efficiency for businesses and their employees.

Enable Real-Time Accessibility and Improve Productivity:

OCR technology empowers businesses by providing instant and real-time access to information, resulting in increased productivity and efficiency. With

OCR

, firms can extract desired data in real-time, irrespective of time or location boundaries. Consequently, data searching becomes effortless for businesses, virtually eliminating the risk of errors.
The Processes and Workflows OCR Technology Improves
Document Management
Retrieving data quickly and accurately required significant effort. However, with technological advancements and OCR technology's implementation, documents are scanned, indexed, sorted, and stored without manual labour.
For instance, hospitals used to rely on paper-based medical files. If a doctor had to compare current test results with historical information from years ago, they would have to search the relevant archives manually. Not only this, but they have to make copies of the pertinent material and physically file it for reference. However, with the integration of OCR, a computer system can swiftly search and compare the necessary information. These improvements in document management directly impact the efficiency of various sectors, including but not limited to law, transportation, finance, and nearly every industry.
Expense Management 
OCR technology significantly enhances the process of extracting receipt data for expense reports, particularly in expense management. Various segments within expense management derive notable benefits from OCR data extraction technology. 
These segments include:
Bill Payments
OCR technology proves valuable in automating bill payment tasks. Once an invoice is submitted, OCR billing technology swiftly reads and organises it in the appropriate location. This structured approach extends to files, papers, and even email chains, facilitating easy retrieval of essential information when researching a bill. Optical character recognition technology further enables quick access to invoice details.
Employee Reimbursements
Submitting reimbursement receipts can be time-consuming for employees, and the risk of losing them is high. Additionally, the associated administrative efforts and time investment can be substantial. However, expense management software integrated with OCR technology simplifies the process. Employees can simply capture a picture of the receipt, and the OCR technology swiftly scans and extracts the necessary data. This guarantees quick reimbursement and easy administration of business expenses.
Invoice Management
OCR technology rapidly converts paper bills into digital versions, eliminating the need for labour-intensive manual data entry. In addition to reducing manual labour, this streamlines the expenditure management process by making it easier to reconcile expenses automatically. Furthermore, invoice scanning centralises data, allowing real-time access and expediting document searches. This proves advantageous for accounting teams handling payments, as invoices of any format can be easily searched with a few clicks. Using OCR solutions, teams can achieve more quickly, with fewer chances of errors.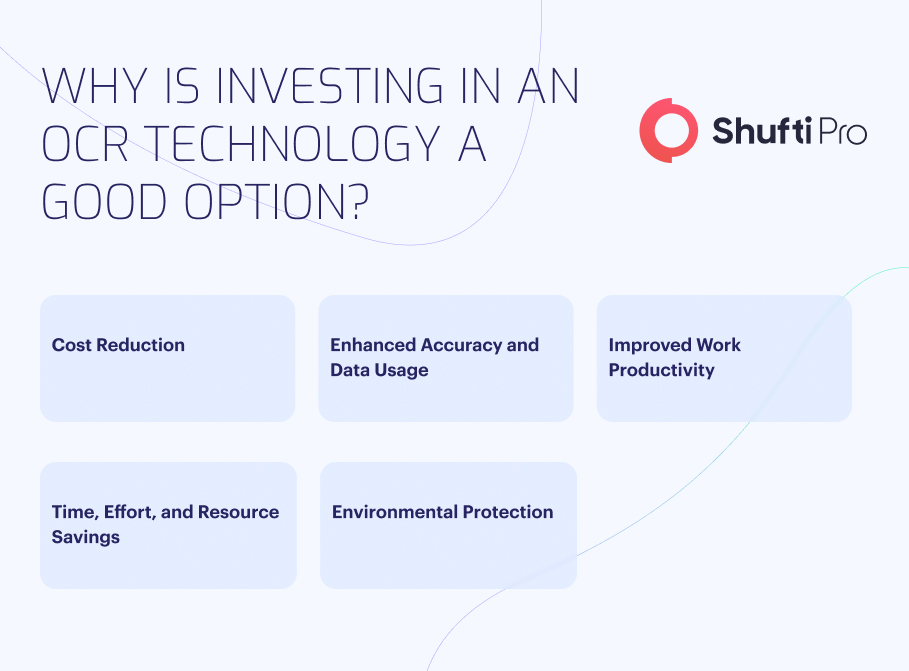 Why is Investing in the OCR Technology a Good Option?
OCR is a good investment for business in this age of digitisation, and here's how: 
Cost Reduction
Automation has reduced the need for data entry clerks. For instance, when customers pay their utility bills online, they must upload their recent payment-in-full statement. From there, the system takes charge of the remaining process. OCR technology has effectively eliminated the necessity for hardworking professionals to engage in task completion physically.
Enhanced Accuracy and Data Usage
Inaccuracies often arise as a standard issue throughout the data entry process. However, the advent of automated data entry solutions has revolutionised the speed and precision of data input. Customer satisfaction relies on offering them instant access to comprehensive solutions for their inquiries. Online OCR technology plays a vital role by ensuring document legibility and expanding the utility of the information.
Improved Work Productivity
OCR technology significantly increases business productivity by facilitating efficient and instantaneous data retrieval. As a result, employees can devote more attention to tasks with more significant business impact. Furthermore, employees don't have to leave their desks to get the necessary files, reducing the number of visits to the central records room.
Time, Effort, and Resource Savings
OCR technology can extract data from structured documents that conform to standardised templates, such as government-issued passports and licenses. It also extracts data from pictures, PDFs, and handwritten notes, helping firms with administrative tasks. By automatically retrieving data from diverse document types, OCR technology saves companies money, effort, time, and resources.
Environmental Protection
Implementing more sustainable practices within a company often requires substantial costs and efforts. However, online OCR technology yields considerable benefits and provides a straightforward avenue for organisations to enhance their environmental friendliness. The excessive use of staples, tape, ink, and other unnecessary office materials becomes redundant as printed papers can be responsibly disposed of and recycled.
How Can Shufti Pro Help?
Shufti Pro offers an OCR solution to 230+ countries and territories. Our robust OCR for business solution is designed to tailor your needs.
Here's what makes Shufti Pro's OCR solution stand out: 
Quick image-to-text data retrieval

Scans structured and unstructured documents

Supports multilingual documents

Covers 150+ languages 
Still confused about how OCR technology helps businesses automate their operations?