BEFORE YOU GO...
Check how Shufti Pro can verify your customers within seconds
Request Demo
No thanks
Transition is the only thing that is inevitable in the universe. Every passing day is changing our lives, especially online operations, that have revolutionized the whole way of our lifestyle. Internet usage has opened up a myriad of opportunities for businesses to grow and all services backed by e-commerce practices have a huge potential to excel in the present world.
The COVID-19 pandemic proved to be a turning point for online operations which uplifted the use of on-demand services. The market for on-demand apps is expected to touch $335 billion in 2025 but monetary and identity frauds are still prevalent in these services. The need for a practical Know Your Customer (KYC) solution has become mandatory for all on-demand service providers to keep criminals away from this sector.
On-Demand Services: The Future of the World
Although the COVID-19 pandemic put huge pressure on the health sector across all countries, it revolutionized several businesses as well. During the lockdowns, on-demand services were the most feasible solution for the people stuck at home even after the lockdowns people are preferring to use online services as compared to on-site ones. 22.4 million consumers are using on-demand services annually with a spending of more than $57.6 billion.
The on-demand economy is swiftly taking place of brick-and-mortar business models. Alone in the US, 86 million citizens have used online services which is 42% of the adult population and 22% of them are doing business through different platforms. The on-demand services are almost covering all the daily necessities of human beings including; food, grocery, transport, fuel, and many more. Based on all these facts, it would not be wrong to say that the on-demand sector is future of the world and time is not far away when all remaining industries will also onboard internet marketplace.
Prevailing Identity Fraud in On-Demand Services
The usage of contactless payments is accelerating globally and alone in the US more than 80% of consumers used digital transactions. With an increasing number of customers choosing digital platforms for services, identity fraud has also become prevalent. According to statistics, more than 20% of e-commerce complaints were related to identity thefts in 2020. Identity fraud is not just limited to stealing the details of victims but it further leads to several scams including; fake credit cards and loans, bank account openings, social media scams, and many others.
A survey clearly shows that identity theft is the second biggest fraud for Americans to worry about. On-demand service providers need consumers' information to ensure a smooth flow of services but lack of stringent security checks encourages imposters to abuse the system.
KYC Regulations for the On-Demand Sector
Know Your Customer (KYC) measures are the only practical solution possible to restrain criminals onboarding the digital platforms and keep identities of customers safe. KYC measures will not only ensure the identity verification of the customers but will also reduce the risk of financial crimes.
With high potential for growth in the on-demand sector, it has become imperative for businesses to ensure a risk-based approach that can discourage imposters to carry out monetary crimes. The online marketplaces alone have 16.3 million users exposed to criminals and ensuring KYC measures can be the only solution to safeguarding their identities.
Financial Crimes in On-Demand Services
On-demand services do not only pose identity threats but monetary scams are also alarming in number. Online payment fraud in digital businesses was estimated to be $20 billion in 2021 and criminals are using several techniques to get money out of the system illegally.
Chargeback Fraud
Chargeback also known as friendly fraud is one of the most common scams carried out by criminals. All the on-demand services are under a huge threat of chargeback fraud where the consumers fraudulently complain to their bank that they did not make the payment or mention any other reason.
Banks initiate a chargeback process once they receive the request and the seller loses money despite providing service to customers. The chargeback requests are generally initiated through stolen credit cards which are around 30% of all the chargeback requests.
Terms of Service Fraud
This type of fraud is commonly associated with exploiting the terms of services like return policy, vouchers, etc. Many legitimate customers often get involved in terms of service fraud due to loopholes in the system.
Imposters visit different platforms to get an idea about lenient T&Cs or ongoing offers and vouchers. Once they get the idea, they try to abuse the system by making purchases and then requesting refunds for several fake reasons.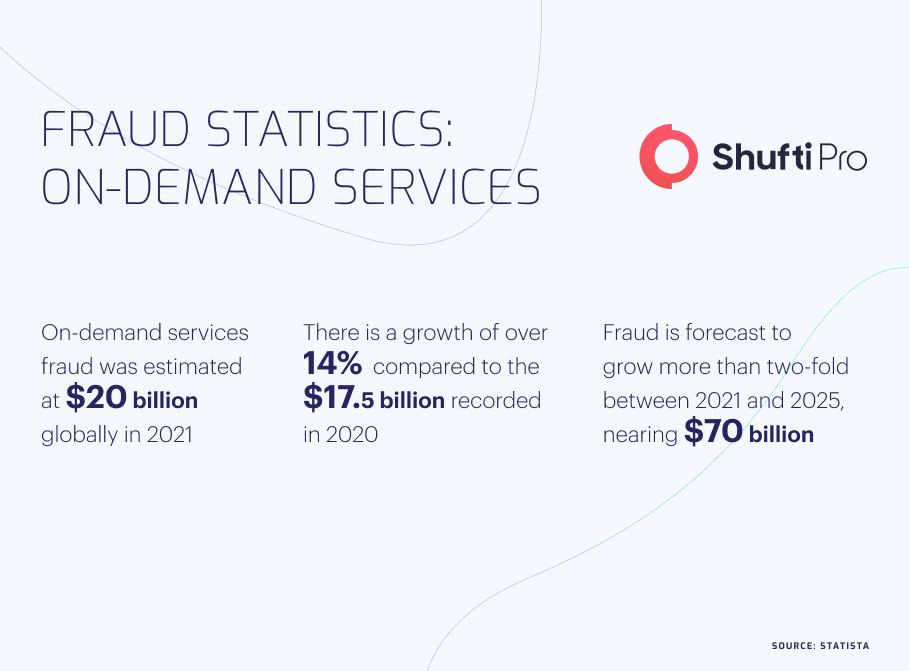 Global Efforts to Eliminate Frauds in On-Demand Services
Due to the surge in on-demand services, all the countries are doing legislation to curb fraud in online businesses and discourage the bad actors to stay away from the system. Eliminating monetary and identity fraud has become essential to ensure transparency for protecting consumer rights.
USA
In the USA, Federal Trade Commission (FTC) is mainly responsible for monitoring fraud in on-demand services. FTC has termed online businesses to be the most vulnerable sector to criminal activities and issued Protecting Consumers Online guidelines to secure the whole platform.
FTC has recently imposed restrictions on an independent sales organization selling credit cards to scammers and also blacklisted several financial companies involved directly or indirectly in scams.
UK
UK government has also raised its concerns over the increasing fraudulent activities on the on-demand services and recognized the importance of KYC measures in this sector. The government has also highlighted the importance of digitization of all financial matters to keep scammers away.
Although all these measures have not been implemented yet, they are in the pipeline and soon to be made laws. Robust KYC measures will give a boost to on-demand businesses by protecting consumers from identity theft and financial losses.
How Shufti Pro can Help?
Efficient identity verification measures are the only solution to curbing fraud in on-demand services. Not only it will be securing the customers from identity theft and financial losses, but will also help online businesses to grow in a safe environment.
Shufti Pro is offering robust Know Your Customer (KYC) verification services can assist businesses in securing their platforms from criminals. Fully automated KYC solution takes the data in huge chunks and processes it to analyze risk factors. Shufti Pro is a trusted platform providing its services in 230+ countries supporting more than 150 languages. Powered with thousands of AI models, KYC solution will give the output in less than a second with 98.67% accuracy.
Want to learn more about our KYC solution for your on-demand businesses?