BEFORE YOU GO...
Check how Shufti Pro can verify your customers within seconds
Request Demo
No thanks
The post-COVID-19 era has witnessed a remarkable surge in the e-sports and gaming sectors. This thriving industry has not only captivated players but has grabbed the attention of criminals. Gambling regulators across the globe had a busy year in 2022, issuing a total fine of $269,532,490 to several land-based and online gambling operators. This is where Know Your Customer (KYC) verification comes to the rescue. 
Fines Imposed by Gambling Regulators Worldwide (MAY 2023)
Let's have a quick recap of financial penalties imposed by gambling regulators in the UK, the US, Canada, Sweden, and Australia in May 2023:
Netherlands gambling regulator has fined Lotteries £215,794 over offering unlicensed online games.

UK Gambling Commission has fined Paddy Power £490,000 over

sending push notifications to devices of clients

who had previously excluded themselves from gambling.

Sydney's Downing Centre Local Court has charged Betchoice AU$60,000 over illegally promoting gambling inducements to New South Wales's residents.

The Investigations and Enforcement Bureau (IEB) of the Massachusetts Gaming Commission (MGC) has fined MGM Springfield $45,000 for giving access to the Casino gaming floor to those under 21.

The UK Gambling Commission (UKGC) has fined Skill On Net Limited £305,150 over Anti-money Laundering (AML) and social responsibility failures.

de Kansspelautoriteit (KSA), the Netherlands gambling authority, has charged Merkur Casino Almere €45,000 for giving access to the casino to a self-excluding gambler.
Key Failings Identified by Regulators 
Accepting wagers before having a license to do so

Reaching and promoting services to self-excluding gamblers

Marketing to youngsters

Spamming

Violating  advertising rules 

Social responsibility failings

AML failings

Accepting prohibited wagers

Violating local

gaming laws

by giving bonuses

Failure to control overspending and putting limits on accounts

Failing to identify clients at risk of gambling-related threat

Inadequate anti-money laundering measures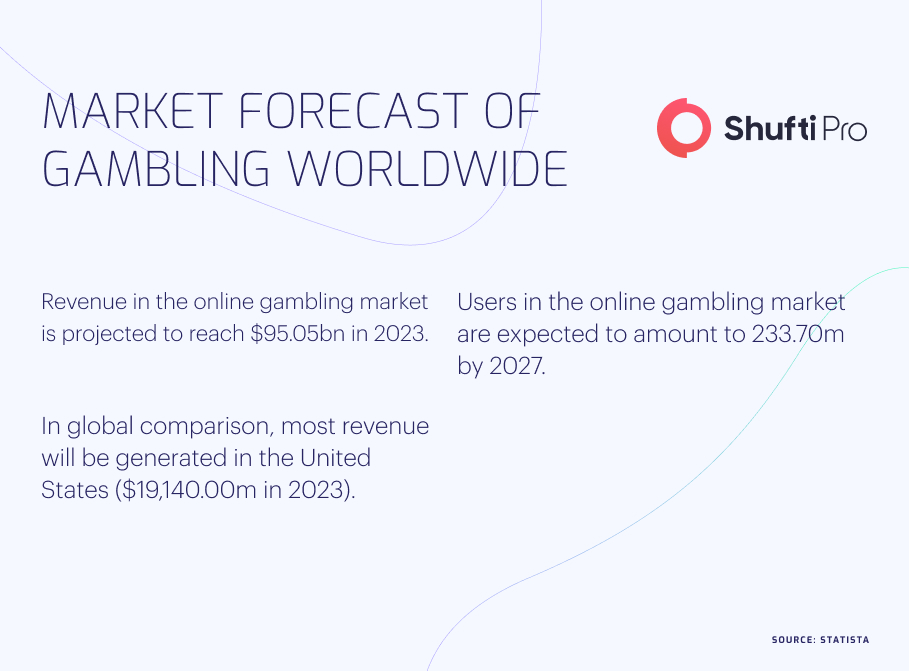 How Do Scammers Perpetrate Fraud in the Gambling Sector?
With technological advancement, scammers are also becoming smarter to bypass security checks and commit online gaming fraud. The gaming sector is the latest hotspot for criminals to fulfil their illicit intentions since the COVID-19 outbreak.
Here's how scammers perpetrate online gaming fraud:
Bonus Abuse:

Scammers and organised groups target the referral programmes of gaming operators and sign-up incentives. Bonus abuse can cost online

gaming firms

more than 15% of their gross revenue.

Multi Accounting:

Scammers use techniques such as smurfing, matched betting,  and affiliate fraud to exploit multiple accounts.

Affiliate Fraud:

Criminals use multi-accounting strategies to manipulate PPL (Pay-Per-Lead) and CPA (Cost-Per-Action) models. This results in giving rewards to non-existent players or generating low-quality traffic from those with no intention of making transactions on your gaming site.

Account Takeover:

Scammers get lists of login credentials from data breaches or phishing activities to gain unauthorised access to user accounts and consume their funds.

Chargeback Fraud:

This scam arises due to two main reasons. Firstly, scammers utilise stolen credit card details to make fraudulent transactions. Secondly, friendly fraud occurs when the player intentionally manipulates the chargeback process to nullify their unfavourable bets by asking for a chargeback.
The Hidden Costs of Gambling Fraud
With every passing year, the gaming sector witnesses a surge in fraudulent activities, costing them in different ways as:
1. Long-term Chargeback Losses
The consequences of chargebacks go beyond just financial implications. The process of analysing and disputing chargebacks demands significant time and effort. This may overwhelm the risk team and has a high volume of requests, putting an additional operational strain. Furthermore, excessive chargebacks can damage your relationship with card companies, putting your firm in an unfavourable standing. Also, the excessive chargebacks cost your firm a significant amount.
2. Wasted Marketing Budgets
Bonus abuse and affiliate fraud are the main culprits here, as they may considerably reduce your Return on investment (ROI). The considerable time and effort put in to create an appealing strategy for attracting new players become useless when targeted traffic fails to convert into desired actions or valuable engagements.
3. Regulatory Fines
Although esports gaming is relatively less scrutinised than conventional online gambling, regulators are expected to crack down on the sector increasingly. Several countries, such as Sweden, have started efforts to enforce more stringent regulations and impose hefty fines to protect gamblers.
4. Damaged Reputation 
Establishing safety and building trust is critical for every firm operating in the iGaming sector. Account takeovers not only cost the users financial losses but also reflect a susceptibility in the firm's security measures. Thus, players promptly express their discontent on digital forums, damaging your company's name.
How to Prevent Fraud in the Gaming Sector?
KYC verification helps the gaming industry check the players who they claim to be by acquiring accurate personal information and authenticating their identity using official documents. This prevents players from creating fake accounts or using gaming companies for illicit activities. Not only does online gaming fraud detection help the sector keep scammers away, but it also protects the industry from heavy non-compliance fines.   
How Can Shufti Pro Help?
Shufti Pro offers AI-powered KYC verification services to gaming operators in 230+ countries and territories and supports 150+ languages. The robust verification solution verifies players within seconds, helping gaming firms protect themselves from fraudulent activities. Our KYC solution also helps the gaming sector abide by global regulations and avoid fines.   
Still confused about how a KYC verification solution mitigates the risk of fraud in the gambling industry?