BEFORE YOU GO...
Check how Shufti Pro can verify your customers within seconds
Request Demo
No thanks
The online gaming sector has revolutionized altogether along with emerging technologies. With advancements in the digital arena, developers are designing new games providing countless sources of entertainment for players. Not only gaming platforms, but their customers are also vulnerable to becoming victims of fraud through online gambling and betting activities. The lack of regulatory oversight has caused an influx of money into the gaming sector. With so much money on the table, money launderers have also found their way into the system using a myriad of techniques to exploit loopholes converting illicit money into legal assets.
It is estimated that there are over 1 billion online gamers worldwide currently which is expected to surpass 1.3 billion by 2025. Unlike financial organizations, the online gaming sector has not imposed stringent regulations that have encouraged criminals to carry out illicit activities and often get away without a trace. Thus, implementing a practical Anti-Money Laundering (AML) solution is crucial to curb prevailing financial crimes and identify scammers.
Money Laundering Risks in Online Gaming
Not long ago criminals used to abuse banks, insurance companies, and the real estate sector with creative money laundering gimmicks. These institutions have since taken strict measures against financial criminals, leading them to find more feasible solutions. Online gaming and gambling have presented an ideal opportunity for carrying out monetary scams as these sectors lack adequate regulations and have a high potential for disguising illicit funds. Global authorities, particularly the Financial Action Task Force (FATF), Interpol, and European Union (EU), have highlighted the online gaming sector to be highly vulnerable to money laundering and terrorist financing, encouraging all member states to swiftly take firm action against all these platforms.
When gaming, players regularly use convertible and nonconvertible virtual currencies by entering their banking and credit card details. Scammers take advantage of this vulnerability by using advanced techniques to steal confidential user information and perform money laundering through these accounts. The whole sector desperately needs a viable solution that can highlight any suspicious activity to halt scams and eliminate criminals.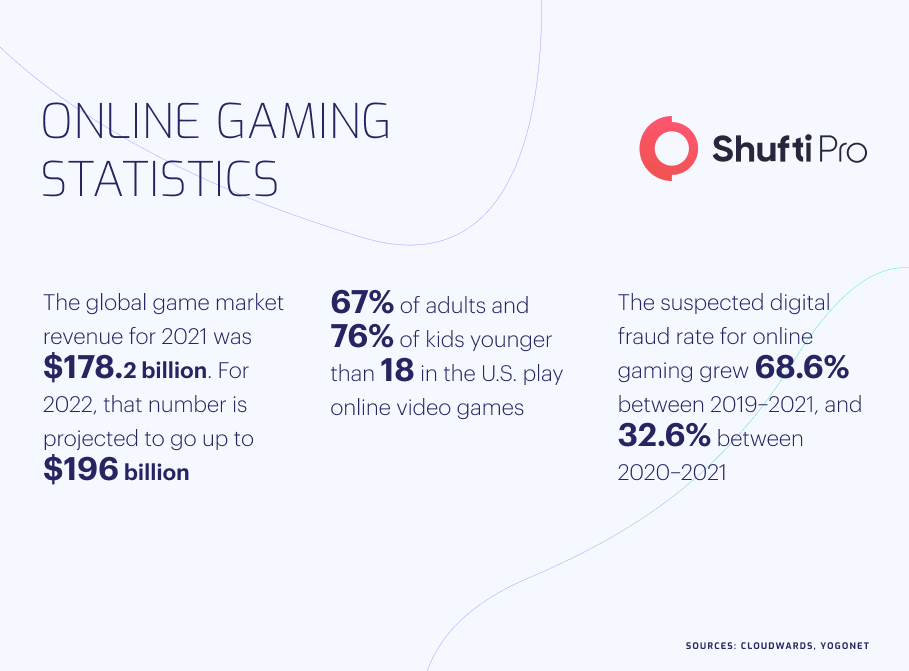 High-Profile Crime Cases in Online Gaming
Due to a rising crime rate, all major jurisdictions are forming a comprehensive framework to address the primary challenges associated with money laundering in the online gaming industry. This is why several cases have been witnessed in the recent past where law-enforcement agencies arrested the criminals behind online gaming scams and presented them to the appropriate courts for a fair trial.
Interpol Arrested a Gang Involved in Online Gaming Fraud
Interpol and law enforcement agencies from 22 other countries conducted a financial raid to arrest a gang involved in money laundering through online gaming and gambling platforms. More than 1000 arrests have been made across different countries where over $27 million in illicit funds were intercepted. The authorities have registered more than 1600 cases against gaming criminals and presented them in court. Interpol has blocked over 2350 bank accounts used in financial crimes where investigations are still going on to identify more fraudulent transactions.
Gang Facing Charges of Online Gaming Fraud in London
London Police have arrested a number of criminals involved in different scams related to online gaming and betting. The investigations revealed that scammers were using stolen identities and stolen credit card details to make fraudulent transactions on various gambling platforms. The criminals made several transactions of $5000 and used forged documents to onboard gaming sites posing as legitimate users. Since the investigations are still ongoing, the court has yet to penalize the culprits.
Global Regulatory Authorities Monitoring Online Gaming
Although a lot more needs to be done to address financial crime in the online gaming industry, some countries have already enforced strict regulations to monitor illicit activities prevailing in the gambling and betting sector. FATF has regularly raised serious concerns about money laundering risks and instructed all member-states to ensure compliance with global standards. Let's have a look at the efforts by a few countries to curb financial crimes prevalent in the online gaming industry.
Canada
All online gaming service providers must get a license from the Alcohol and Gambling Commission to offer online gambling services. Besides this, the criminal code of Canada also declares money laundering illegal, which could result in imprisonment of up to 15 years along with hefty fines. Canadian law enforcement agencies in various states have recently conducted joint operations to identify all the betting platforms operating from their territory and made serious efforts to apply standardized regulation and compliance along with continuously monitoring their activities.
Australia
Money laundering is strictly prohibited in Australia as it is one of the countries that has strongly acted on the FATF's guidance against financial crimes. The Interactive Gambling Act is the primary document that sets the rules for online game providers and offers licenses to operate within the territory. Moreover, it has also encouraged Australian citizens to report any suspicious activities on online gaming platforms through a live portal.
UK
Online gaming and gambling are legal in the UK but strictly monitored by the United Kingdom Gambling Commission (UKGC). It is the primary authoritative body that is responsible for overseeing all gaming activities and providing licenses to service providers in the country.  Interestingly UK has quite a different stance towards online gaming compared to other countries, as the authorities believe users should have the right to entertain themselves through gambling and betting. Even still, they have implemented strict laws to curb money laundering and terrorist financing through these platforms.
Securing and Ensuring AML Compliance in Online Gaming Industry
Post 9/11 global financial watchdogs have become quite vigilant to curb money laundering and terrorist financing from the system. Although several sectors like Banking and Fintech are leading the charge, industries such as online gaming and gambling still have a huge exposure to monetary scams. It is estimated that online gaming and betting users will steadily increase in the coming years making it mandatory for stakeholders to form a comprehensive framework, halting criminals and financial crimes right in their tracks.
Implementing comprehensive Customer Due Diligence (CDD)is quite crucial for the gaming industry at this very time as criminals brazenly onboard the system using fake and stolen identities. Moreover, screening user data against sanctions lists by FATF and Interpol is also mandatory to counter money launderers and terrorist financiers. By implementing these steps, online gaming service providers can ensure compliance with global regulations and secure sophisticated user assets.
How Shufti Pro Is Serving The Gaming & Gambling Industries
Combating money laundering and terrorist financing in the online gaming and gambling industries are crucial for ensuring transparency in the system. The online gaming sector is only going to grow over time, making right now the best time for companies to invest in anti-money laundering solutions to curb financial crimes.
Shufti Pro's state-of-the-art anti-money laundering solutions are the most viable options for online gaming companies to stay compliant with global regulation standards. Powered by one of the most robust AI-backed AML Screening algorithms, it has access to 1700+ sanctions lists and screens data against them to counter criminals. Shufti Pro's AML solution for the gaming sector is efficient enough to generate results in just a few seconds with ~99% accuracy.
Ready to get more information about how Shufti Pro's AML solutions can help your online gaming or gambling business?