BEFORE YOU GO...
Check how Shufti Pro can verify your customers within seconds
Request Demo
No thanks
Modern gaming is the most recent evolution of this industry that has become the attraction of global gamers. The gaming market is one of the largest industries in the world, with more than 2.5 billion players. In 2019, players spent over $152 billion on games, with estimates that this figure will rise to nearly $200 billion in 2022. However, new products, payment methods, and technologies have made the business more vulnerable to criminal abuse than ever before. Remote gaming's rise, fueled by the COVID-19 epidemic over the last year, has increased the risk of financial crimes in gaming businesses. while also drawing authorities' attention to social responsibility. 
One of the most vulnerable areas for money laundering is in-game currencies. They can gain currency in a game by completing levels or selling products on the site, but it can also be bought with real money in many circumstances. Criminals might utilize illicit earnings and stolen information to download games and create bogus accounts. Therefore, the industry is becoming subject to anti-money laundering and know your player regulations, the global regulatory authorities are now paying more attention to making the digital ecosystem secure while also drawing gaming service providers' attention to social responsibility. 
Emerging Financial Crime Risks in the Gaming Industry
The global gaming and gambling industry is shifting towards digital platforms as a result of global digitization, from the world's most opulent casinos to high-street betting shops. Although remote gambling also known as iGaming is not a new concept in the market, it has existed for many years with little to no regulatory oversight. Therefore, online gaming and gambling platforms are providing services like sports betting, bingo, and other number games with more typical casino offers, rather than merely blog-like websites with virtual casino slot machines and table games. From the comfort of one's own home, customers can be onboard into private lounges by hosts. However, cutting-edge gaming technology, whereas making operation seamless yet has emerged with heaps of drawbacks. The nature of remote gaming, at its most fundamental level, makes it more difficult to play along with hard for businesses to restrict criminals.
 Although not all financial crime is the result of a grand scheme orchestrated by an organized crime group, it becomes more difficult to understand how customers fund their gaming activities. In addition to this, it gets also quite hard to determine whether there are any potential proceeds of crime involved when gamers do not have to physically present in betting shops or land-based casinos.
Furthermore, in order to stay up with market trends, many operators now accept payments via innovative ways such as prepaid cards, giving customers more options for concealing their cash' source. Although the gaming and gambling industry is still hesitant to embrace virtual currencies. In this regard, the Gambling Commission of Great Britain has highlighted several incidents of clients declaring crypto-asset investments during the source of funds checks. This type of transaction raises the risk of money laundering, increasing the likelihood of operators breaking AML requirements.
Similarly, the European Central Bank has also signified the importance of digital currencies in assisting criminals to carry out money laundering activities. Furthermore, cyber-attacks and software manipulation are common on iGaming websites. The threat of phishing and credential stuffing attacks is also on rise. Additionally, minors are also getting vulnerable to gaming fraud and crimes, anyone less than the age of 18 who has access to a smart device and an internet connection can sign up for an iGaming site, and many of them manage to avoid due diligence or further verification. Individuals with addiction issues frequently struggle to break free from these platforms, and some resort to illicit activities to fuel their addiction.
Hackers Hit Popular Video Game, Stealing More than $600 Million in Cryptocurrency
Hackers stole $625 million in bitcoin from popular video game Axie Infinity, according to the game company's management on Tuesday, marking one of the greatest crypto-thefts to date amid escalating instances of such crime.
According to the firm, the heist occurred last Wednesday when hackers gained access to a portion of Ronin, the game's underlying blockchain. The flaw was only found Tuesday, according to Sky Mavis developers, who manage both Axie Infinity and Ronin.
"There has been a security breach on the Ronin Network," the company said in a post in its newsletter. "We are working directly with various government agencies to ensure the criminals get brought to justice."
Online Gaming Company Fined €386,000 for AML Failings
Online Amusement Solution Limited, a gaming service provider, was fined more than EUR 386,00 by the Financial Intelligence Analysis Unit (FIAU) for failing to adhere to anti-money laundering rules. According to the FIAU, the gaming company was also fined as the company failed to report suspicious activities and also didn't incorporate monitoring politically exposed people on its gambling sites.
The FIAU stated that it was evident that Online Amusement Solution Limited was not monitoring or investigating players' transactions efficiently. The absence of automated triggers meant that the company was unable to identify any instances where an industry-wide threshold of €2,000 was reached.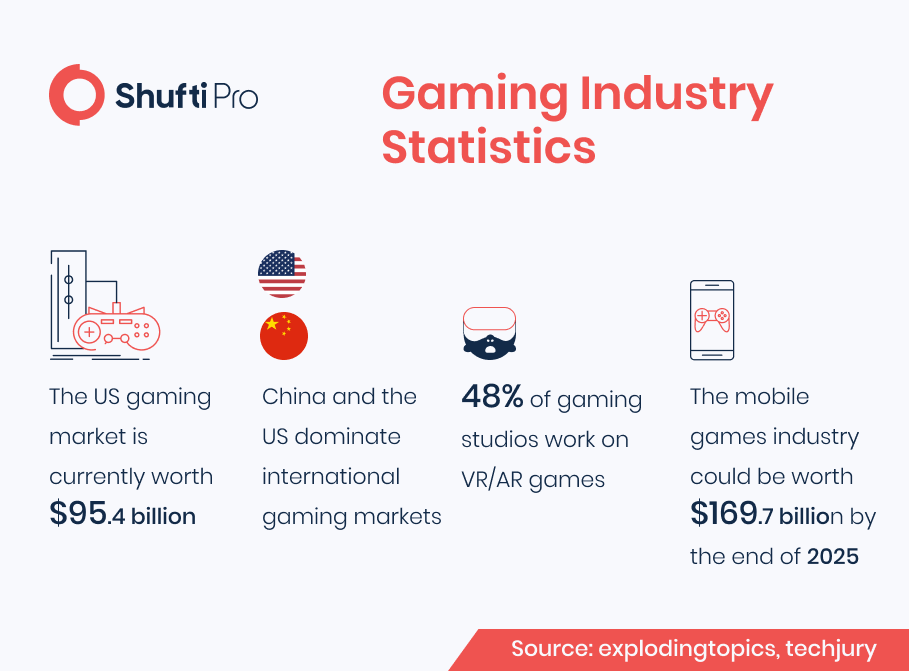 Gaming Industry Regulations 
The gaming industry is struggling to fight money laundering and terrorist financing. Thus, the regulations in some jurisdictions including European Member States like the UK, France and Germany have come up with various regulations to secure their gaming industry. For instance, in the UK the Gambling Commission has set some new standards to make digital gaming and gambling activities safer and fairer. According to the new regulations, the gaming service operators must authenticate the gamers' age along with their source of money. Thus, the gaming operators are ordered to use AI-based identity verification or biometric authentication solutions for customer identification. Additionally, the country will continue to practice these standards in accordance with the Sixth Anti-Money Laundering Directive Requirements.
In Germany, the legal regulatory framework for controlling gambling businesses is known as the Interstate Treaty for Gambling. However, this framework may have distinctive traits for each of the 16 different federal states. Thus, sports betting and other gaming service providers have demonstrated that they are willing to provide transparent and secure services according to the country's anti-money laundering regulations. In the light of Germany's AML Act, businesses need to determine the true identities of gamers and ensure minors don't get on board. Video verification is also essential in order to stay put with the online gaming regulations.
How Shufti Pro Can Help
Overcoming the risk of financial crimes particularly money laundering, identity theft, terrorist financing and much more is affecting the gaming industry and putting its repute at stake. However, new emerging technologies like AI are enhancing customer identity verification as well as AML screening solutions, ensuring that gaming services remain secure.
Shufti Pro's all-in-all AML screening service can be an ideal solution to outlaw the cheating problems in online gaming. The system is powered by thousands of AI algorithms that can render 98.67% accurate and real-time verification results in less than a second, hence it is a perfect fit for the fast-moving e-gaming industry.
Want to know more about AML/KYC services for the gaming industry?