BEFORE YOU GO...
Check how Shufti Pro can verify your customers within seconds
Request Demo
No thanks
When it comes to investing funds, real estate is considered the safest sector to invest in because it has very low volatility, high inflation, and equity building. Surprisingly, this sector was least affected by the COVID-19 pandemic. The market remained stable amidst the lockdown. According to Statista, the UK's real estate sector generated 542,000 jobs and totalled a turnover of more than £68.1 billion in 2020.
Real estate is a safe haven for laundering money and illegal transfer of funds, it is the first choice to hide their ill-gotten funds. To fight money laundering and other crimes, customer due diligence (CCD) in the real estate sector is inevitable.
What is Customer Due Diligence for real estate agents?
The fourth anti-money laundering directive was the first regulation that addressed the real estate sector (non-financial businesses), requiring all agents to have a CDD policy. Agents involved in sale or purchase of property as well as the agents involved in renting have to undergo CDD.
Money laundering and Tax Evasion in Estate agency Businesses
Money laundering is a process of cleaning illegal money and other assets or removing the link with criminal sources. Although there are numerous methods of money laundering, listed below are a few examples of how the real-estate sector is exploited: 
Purchasing a property using illicit funds and then selling it or renting it out, which gives the UBO seemingly legal sources of funds

Complex company structures concealing criminals from high-risk countries and multiple bank accounts to hide the beneficial ownership and original purpose behind the transaction

Paying estate agency or letting agent a large amount through a direct payment method and then reclaiming it

Using mortgage fraud operation money for purchasing properties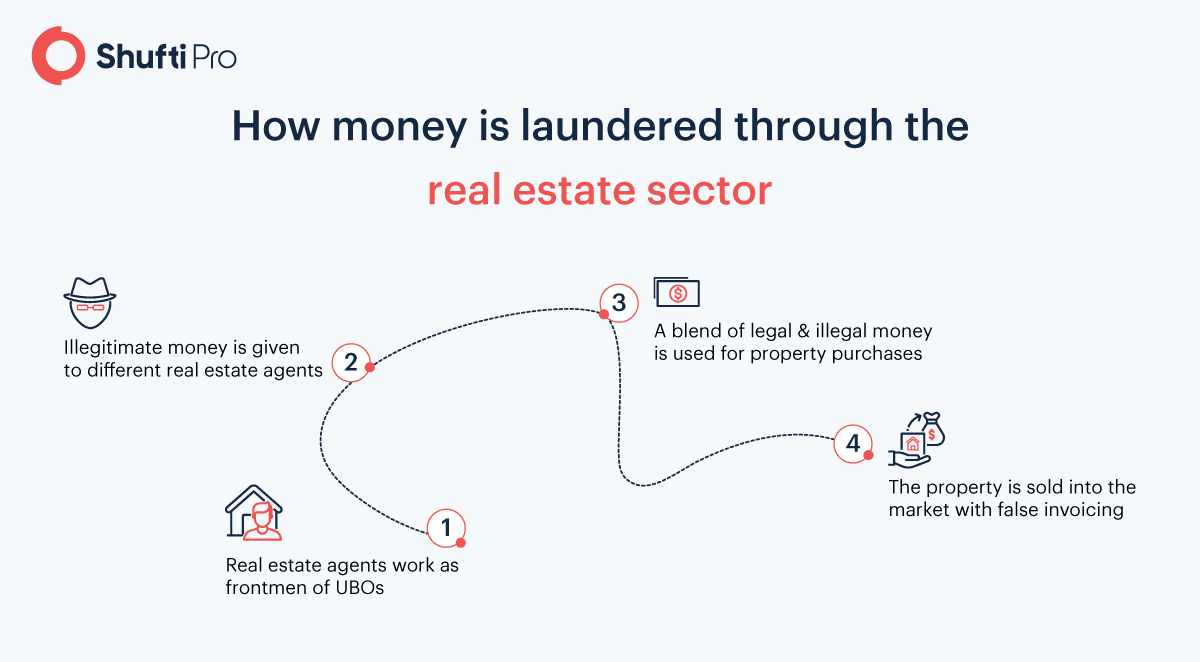 Most estate agencies may not manage clients' money, but have the information of both parties involved in the transactions and what are the sources of funds – sometimes the auctioneers handle the deposits  
Money laundering is often backed by tax evasion which is another criminal offence, for instance, setting the sale price of a property under the tax (Stamp Duty) threshold by faking the price of furniture and other valuables of properties. In most cases, the money originating from corruption leads to tax evasion. 
Why Does the Real Estate Sector Need Customer Due Diligence?
Most of the real estate deals are made through cash or/and through loans or withdrawals from a financial institution. The financial organizations are regulated by anti-money laundering and counter-terrorism financing laws that monitor the potential risks of financial crimes through real estate. 
The real estate agents have to  comply with AML/CTF measures if they are:
Representing a person (client) who is purchasing or buying real estate

Taking cash deposit on behalf of someone who is buying real estate
Risk Exposure
Real estate deals involve huge amounts of cash that hide the information and source of funds, facilitating the laundering of ill-gotten funds through shell companies and agents. The sector has many issues like third-party transactions, deals more than the market value, deals with clients living in overseas or sanctioned countries. These issues increase the risks of financial crimes in real estate transactions.
Compliance Requirements
Know your customer, know your business, and Ultimate Beneficial Owner (UBO) verification compliance is obligatory for the real estate sector under the AMLD6. Furthermore, investigation of transactions involving heavy cash, scrutiny of incomplete deals, and disclosure of sources of funds are the ways real estate agents can prevent money laundering. If real estate agents or agencies fail to meet regulatory compliance, they could face civil sanctions or penalties.
Compliance Gaps
Using cash in real estate deals is the biggest compliance gap, as it enables ill-gotten funds to be integrated into the economy. Moreover, renovations increase the market value, a little transparency in transactions, weak ownership structure and one property that has different owners living in multiple countries makes this industry vulnerable to money laundering. The real estate sector needs to address these gaps to combat money laundering and identifying crimes.
How to Perform Customer Due Diligence in Real Estate Dealings?
In the first step, the client's data is recorded. The client refers to a natural person or legal company that employs real estate agents for buying or selling a property

In the second step, the information recorded in the initial step is verified through a government-issued

identity document

– as per the requirements of

6AMLD

. It also allows making a copy of clients' IDs and keeping the record of that data for five years. Note: This doesn't violate the privacy laws

If the real estate agents are employed by a corporation, they have to verify the ultimate beneficial owner –  the person who has control of decision-making of that organization 

In the third step, the participating entities are checked whether they are listed on regulatory watchlists,PEP (Politically Exposed Person) or sanctions

The agents can create a risk profile of clients. It is essential that agents must perform ongoing monitoring of clients to keep intact state-of-the-art risks assessment requirements

Furthermore, high-risk entities should be verified and screened through

enhanced due diligence

and suspicious events should be reported to the regulators under the suspicious activity reporting (SAR) requirements
What Shufti Pro Offers for the Real Estate Sector
Shufti Pro's AI-powered Know Your Customer, Know Your Business and AML Screening solution enables the real estate sector to breeze through customer due diligence and complies with global regulations. The solution verifies customers by authenticating their identity documents and performing facial recognition on the photo ID and the real-time selfie proof. Shufti Pro's IDV solution identifies t high-risk entities through robust AML screening allowing service providers to build trust and transparency in business and customer relations.
Know more about how Shufti Pro's solution works for the real estate sector!