BEFORE YOU GO...
Check how Shufti Pro can verify your customers within seconds
Request Demo
No thanks
A key component of enhancing customer service and reducing fraud is gathering and validating addresses. These services and checks can be carried out through address verification systems, helping to prevent businesses from approving a new account with an inaccurate address or paying for a package that will be returned as undeliverable. 
Additionally, confirming the address will let businesses know if the provided address is legitimate, and evaluate its format across different databases. In some nations, addresses must be formatted in a particular way, and verification allows companies to check the formatting. Juniper's research revealed that between 2018 and 2023, retailers lost $130 billion in digital CNP fraud. Learn why address verification is a must for businesses and how it will secure business operations in 2024. 
Why is Address Verification Important for eCommerce?
Due to the price difference that e-commerce companies must pay between residential and business locations, address verification for retail is crucial. Residential deliveries can significantly increase the company's expenses. However, there are various ways to save on delivery expenses.
Accurate Cost Calculation
Avoid losing money by billing consumers for the incorrect type of address. Ensure clients know the difference between the two and which type of address belongs to them. Make a brief note to clarify the difference between residential and commercial rates at the register.
Route Arrangement 
Some carriers may charge an additional fee for reshipping an item that was delivered to the incorrect address. Address correction charge, a cost to be paid for deliveries sent to the wrong address was introduced by UPS and FedEx in 2020. The cost of delivering packages to the wrong address is approximately $18.
Data Information
Address verification process checks to ensure the entered address is properly formatted so carriers may process packages more quickly and deliver packages to customers. This reduces the amount of unsuccessful delivery.
Which Industries Need Address Verification?
 E-commerce and Retail
Accurate address information is crucial for e-commerce companies' successful order fulfilment and effective shipping. Online address verification lowers the possibility of unsuccessful deliveries, unwanted returns, and related expenses. Online businesses can increase consumer satisfaction, expedite operations, and increase their bottom line by verifying addresses at the point of entry.
Financial and Banking Services
For the banking industry to avoid fraud and comply with legal obligations, precise address information is crucial. Address verification is a solution used by banks, insurance firms, and credit bureaus to confirm the identification of clients, evaluate risk, and ensure that messages are delivered to the correct recipients.
Government and Public Services
Address verification is used by government organisations to send crucial papers like tax forms, maintain correct voter registration data, and allocate resources efficiently. Additionally, it is essential to ensure that emergency personnel reach their destination quickly.
Medical and Health Services
Accurate patient information is crucial for delivering high-quality care in the healthcare sector. Address verification aids medical professionals in confirming patient identities, contacting patients for appointments, and sending invoices to the proper address.
Using Marketing to Engage Customers
Businesses can improve their marketing efforts by using address verification. Companies can send tailored marketing materials, incentives, and event invites by keeping up-to-date customer addresses. In addition to increasing the likelihood that customers will engage, this reduces wasted resources on letters that cannot be delivered.
How does Address Verification Work?
To ensure that the location and phone numbers gathered are accurate, standardised, and current, digital address verification services are used. This process can no longer be carried out manually due to the massive amounts of information available on the internet and mobile phones. As a result, many businesses rely on software programmes that provide accurate spelling and suitable address formatting. These solutions can also function in real-time.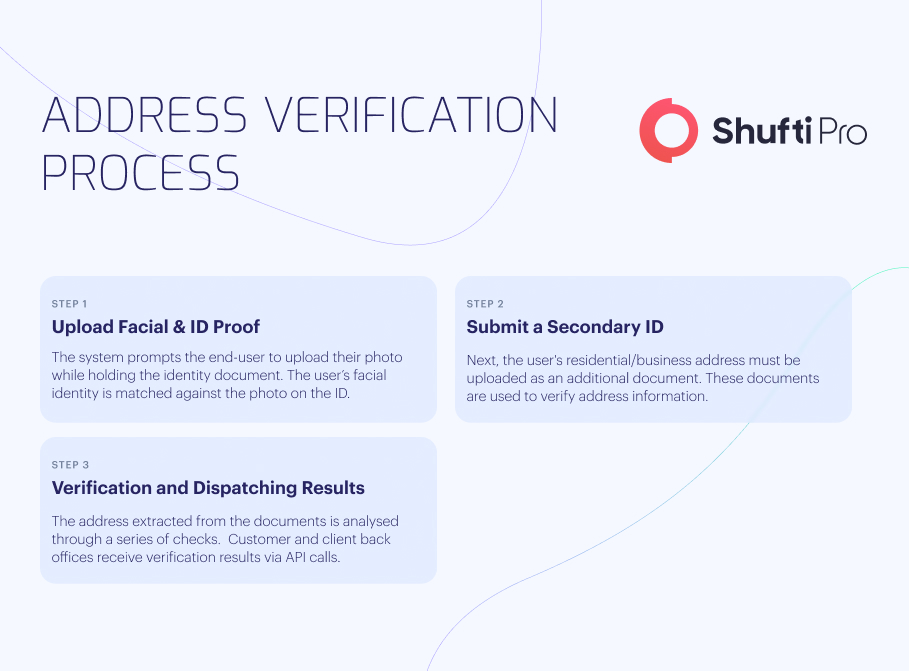 Companies should always validate their data at the point of entry to ensure that it is accurate and ready to use. All systems, including websites, phone centre, content management systems, and databases, will receive accurate data from this.
The Benefits of Address Verification
More than 90% of organisations use address verification to enhance their financial performance. Additionally, a lot of businesses view it as one of the most crucial resources that enables them to boost sales and provide better customer service. Other than that, address verification offers the following benefits.
Increases Customer Contentment
People frequently make mistakes when writing down their names or addresses. Any errors in formatting and typing can go unnoticed. This could cause individuals to enter the incorrect address when ordering a package for a company or delivering one to a customer. It might be time-consuming to correct a package that was given to the incorrect address. As a result, the clients businesses work with can become irritated with incorrectly delivered packages.
The company has to implement an address verification solution to fix this. Address confirmation can be carried out manually by asking clients to confirm their addresses at least once, comparing an address to a template, or continuously verifying addresses by having packages passed through different persons. Businesses can also use address verification services, which can be integrated into a company's database or network. This solution offers tools to look for formatting and typing problems.
Reduces the Amount of Returned Mail
Receiving a lot of returned mail could cost businesses a lot of money, reputational damages, and even compliant penalties or sanctions. The fact that so many packages are being returned proves that the packaging and distribution procedure has to be changed.
Online Address verification enables businesses to avoid the costs associated with excessive package returns. Businesses might anticipate a decline in returned packages after manually or electronically verifying an address. Additionally, if the general public or past clients learn about the continuous influx of returned mail, it could be the firm's end. 
Opens Marketing Opportunities
Businesses may occasionally want to promote their goods by mailing flyers or samples to customers on their mailing list. However, the strategy could backfire if a client's address contains a formatting or typing issue. Address verification can help businesses guarantee that their marketing efforts are reaching the right audiences and running more smoothly.
Additionally, online address verification allows for a more consistent marketing approach. Companies may then compile all genuine email addresses into a mailing list and launch a marketing campaign whenever they need to after completing email address verification. Address verification might be a solution to this problem, giving firms better access to more marketing options.
Improves Businesses Delivery Speed
People prefer to receive their purchases quickly. This is why express delivery is generally preferred. No matter how quickly businesses pack and sort their items, if they're dealing with an incorrect address, their package may take forever to arrive. Therefore, ensuring quick delivery involves more than just the best of intentions.
By carefully reviewing the information provided by the consumer, including their addresses, businesses can make sure that delivery happens quickly. When they ship a package, delivery services may occasionally try to fix formatting and spelling issues rather than returning it as returned mail. This can take a long time, which might cause a person's package to arrive very late.
Time and Cost Savings
Company databases will have no inaccurate addresses, which will cut down on unnecessary deliveries. This will reduce costs and save time.
Enhanced Client Services
Only by employing address verification services will businesses be able to deliver packages, mail, or others promptly and accurately. As a result, businesses should keep updating the wrong addresses. Ensure that the addresses in their client databases are always current and accurate.
Making Informed and Accurate Decisions
An organisation must maintain precise information on its client to comprehend them and always make educated judgments.
Increased ROI
As previously noted, data correction can decrease costs during data acquisition. Efficiency in mailing can not only help businesses cut costs on postage and printing but also get rid of address-correction fees. The company's sales and marketing campaigns will yield bigger profits, which is another essential factor.
Bottom line 
Having a standardised and verified list of customer addresses is advantageous for any business that mails customers anything, whether it's a real product, card, advertisement, or bill. To meet KYB and KYC regulations, some organisations, including financial institutions, may additionally need to gather and verify customer addresses.
The collection and validation of addresses can be assisted by an address verification service, which also provides features like address autocomplete to speed up the process. However, an identity verification solution is useful when they want more proof that the person they're dealing with is not the wrong guy.
How Can Shufti Pro Help?
Shufti Pro's address verification ensures data accuracy and efficiency in real-time. We provide immediate address validation and standardisation, ensuring that they follow formats and providing precise location information up to 6 decimals to over 240+ nations and territories whilst maintaining compliance. Our address verification solution prevents shipment losses, brings them down to 3%, and boosts annual revenue up to 13% whilst maintaining 99.77% accuracy and compliance. 
Confused about how to verify address and maintain stringent jurisdiction compliance in 2024?