BEFORE YOU GO...
Check how Shufti Pro can verify your customers within seconds
Request Demo
No thanks
Financial technology commonly known as FinTech is rapidly growing across the globe with a lot of potential for huge investments and adoption. Especially COVID-19 has kickstarted a new wave of innovation in the financial sector where businesses are adopting FinTech due to cost reduction and increased efficiency. Financial technology has set new standards of financial services easing the operations for customers.
Currently, the FinTech industry is worth $180 billion and is expected to reach $213 billion in 2024. Huge stakes of investments and growth potential have led the criminals to use FinTech companies for identity theft, money laundering, and other financial crimes. In 2021, payment fraud against FinTech companies soared by 70% with massive attacks against digital wallets and cryptocurrency exchanges. Securing financial companies from all these threats is critical to making the financial sector safe and efficient for the customers.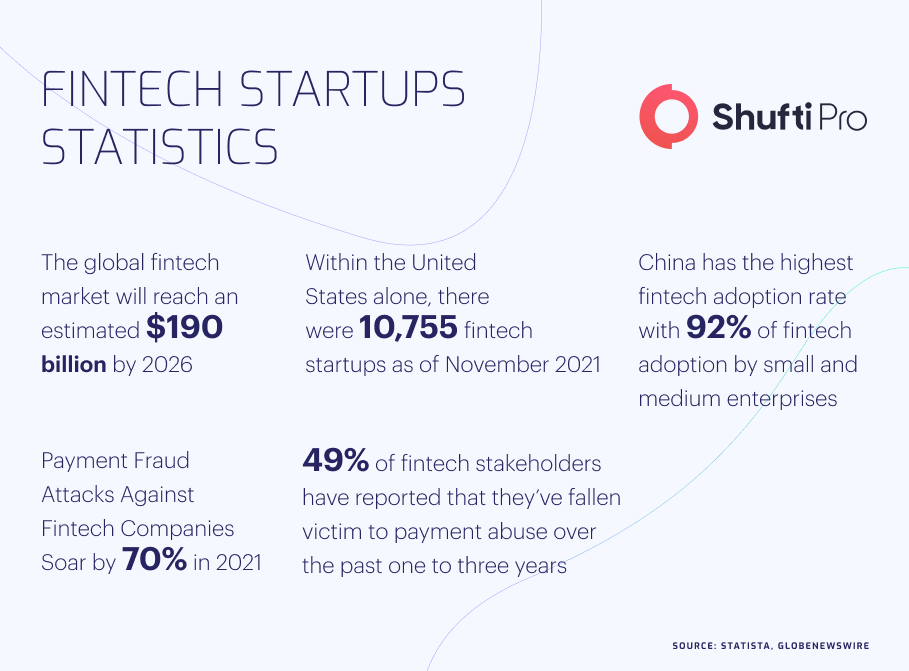 Evolving Crimes in FinTech Industry
Emerging technologies have also evolved the nature of crimes due to which FinTech industry is facing huge threats in the form of money laundering and identity theft. Digital financial technology has set high standards of customer services but is also prone to risks of criminal activities. FinTech is future of the digital world and it is quite critical to safeguard this industry by implementing stringent identity verification checks. 
It has been estimated that 10% of the revenue of FinTech companies is getting consumed by managing fraudulent activities. Despite all the efforts, financial crimes are prevailing and numbers are rising every year. Especially money laundering has become a huge risk as it is further supporting heinous crimes like terrorism. Financial Action Task Force (FATF) has raised its concern over the money laundering activities in the FinTech sector and advised all countries to devise a framework to curb criminal activities from the system. It is need of the hour for FinTech industry to stay compliant with international regulations to keep bad actors away from exploiting the loopholes.
Recent Fraud Cases in FinTech Sector
Every coming year the FinTech industry is witnessing more cases of fraud and highly digitized operations are getting exploited by criminals. All the responsible countries along with global watchdogs are working tirelessly to eradicate money laundering and financial crimes by legislating laws. Many cases have surfaced showing the commitment of global institutions to penalize criminals and curb criminal activities in the FinTech sector.
Paypal Admits 4.5 Million Accounts were Illegitimate
In the wake of rising FinTech crimes, Paypal, the leading FinTech giant, has investigated and revealed that 4.5 million Paypal accounts were illegitimate. Paypal's Chief Financial Officer John Rainey has further reported that 25% of Paypal's profit has been dropped after banning all these accounts with the expectation of slow growth in 2022 and coming years.
All these crimes were initiated after the Paypal run marketing campaigns that offered $5 or $10 for new account holders. Criminals exploited this Paypal scheme by using bots and different software to claim the prize money. Paypal has now implemented strict measures to halt all the bad actors taking advantage of the system using fake accounts.
UK Seizes Funds Linked to $150M Fraud From Fintech Firm QPay
UK's law enforcement agencies have seized $2.61 million funds from a London-based fintech firm QPay that were linked to a $150 million US fraud conspiracy. QPay was offering underwriting services in Europe and it was found to be involved in illegally routing the funds of $150 million through different accounts in several countries without any financial purpose.
The company was eventually using the illicit funds to carry out money laundering by investing illegally into online gambling, and debt collection companies. US authorities are also investigating this scam and reported that all transactions involved high risks of money laundering and illegal businesses.
Global Regulations Monitoring Fintech Industry
The rising number of fraud cases in FinTech sector has compelled global watchdogs to formulate strict frameworks for curbing money laundering, identity theft, and other prevailing financial crimes. UK, USA, Europe, and FATF have passed landmark legislations that have the capacity to secure the financial technology industry.
Financial Crime Enforcement Network (FinCEN) USA
FinCEN is the primary regulatory authority in the US to enforce anti-money laundering laws over FinTech companies. With the collaboration of other organizations, FinCEN has amended the Bank Secrecy Act (BSA) and introduced customer due diligence requirements for the financial industry. It has been mandatory for all the companies to gather beneficial ownership information from stakeholders and instantly report to FinCEN in case they have recorded any sort of suspicious activity.
European Banking Authority
The European Union (EU) has acknowledged that FinTech is the fastest growing sector with the potential of changing dimensions of the whole financial sector. EU has further admitted the vulnerability of the sector and lawmakers have formulated certain laws to monitor digital financial companies. Several initiatives have been taken including; data protection, intra-EU payment services, crowdfunding, and regulatory sandboxes.
Furthermore, other laws like payment services, and crypto-assets have been implemented in the FinTech sector to halt identity fraud and money laundering.
Recommendations by FATF
The Financial Action Task Force (FATF) has termed FinTech sector as their top priority and several roundtables and meetings have been conducted with member states to develop a constructive dialogue. FATF has recommended stringent measures of identity verification in the financial sector to identify the bad actors and implement anti-money laundering (AML) and counter-terrorist financing (CFT) measures to eradicate financial crimes.
Role of Shufti Pro in Helping  Fintech Startups to Fight Crimes
Implementing identity verification and anti-money laundering measures is quite critical for the FinTech sector. Financial technology has elevated the user experience and set high expectations by providing exceptional services thus revolutionizing financial transactions. Money laundering, terror financing, and identity theft are the most prevailing crimes in FinTech which are causing financial damages and negative user experience.
Shufti Pro's state-of-the-art Know Your Customer (KYC) and AML screening solution powered by thousands of AI algorithms can help FinTech companies stay compliant with global AML/KYC regulations. By incorporating KYC measures, financial industries can identify the true identities of customers in less than a second and report any suspicious activity. Shufti Pro's AML solutions screen the data against 1700+ global watch lists and generate output with 98.67% accuracy. AML screening solution is compliant with global regulations which helps the businesses to work under laws and secures from sanctions.
Final Thoughts
The Fintech sector is one of the fastest growing sectors and it has helped in elevating user experience with exceptional services. At the same time, it has also become a safe haven for criminals who are exploiting loopholes in the system using different fraudulent techniques.
It is need of the hour to implement robust KYC and AML screening solutions in FinTechs to secure users' identities and finances. Regulations proposed by FATF, FinCEN, and FCA have helped a lot to curb fraud and these practices should be endorsed by identity verification checks to keep bad actors stay away while onboarding.
Want to know more about the KYC and AML services for FinTech firms?