BEFORE YOU GO...
Check how Shufti Pro can verify your customers within seconds
Request Demo
No thanks
Scammers are searching for businesses to exploit, and financial firms with loopholes provide them with fertile ground to perpetrate crime. eCommerce lost $41 billion to digital payment fraud globally in 2022, predicted to increase to $48 billion by 2023. These alarming statistics signify why transaction monitoring is necessary for the financial sector and other businesses in this digital age. 
Understanding Transaction Monitoring in Detail
Transaction monitoring is proactively and reactively spotting unusual transactions and flagging the questionable ones for manual inspection. Transaction monitoring is a necessary and mandated procedure for companies that transfer funds on behalf of clients or enterprises. People who are found to violate the Anti-money Laundering (AML) regulations are subject to severe fines.
‍Consider that you run a bank but don't have an action plan for monitoring transactions. It means suspicious transactions could occur without anyone noticing, resulting in a significant loss of funds from a customer's account. The client would stop trusting the bank, accusing it of dishonesty, and report the matter to the authorities for retribution. Consequently, you might be held accountable, your bank would receive a fine, and your company would likely be in danger. Thus, it is clear why financial companies need a solution for tracking shady transactions.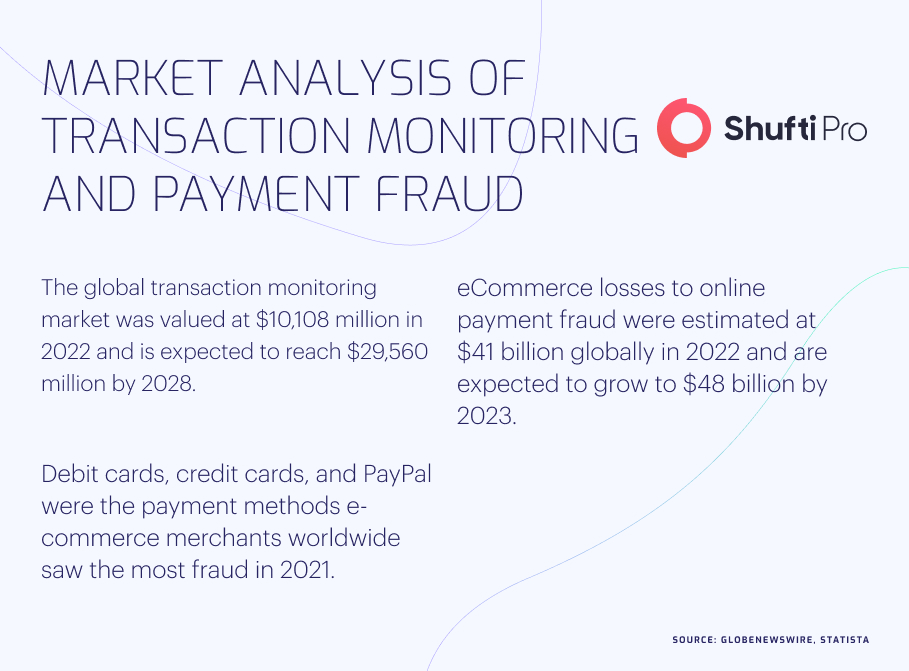 Who Needs Transaction Monitoring?
The legislation requires every business that moves money to take the necessary precautions for safeguarding clients from hacking, fraud, and other financial crimes. ‍
Money Services

Traditional Banks‍

Money Transfer Companies‍

Financial Services

FinTechs‍

Lending Companies‍

Exchanges

Cryptocurrencies‍

Brokerages

Insurance Companies‍

Legal Professionals‍
What Can Transaction Monitoring Detect?
A robust transaction monitoring solution may detect the following:
Money Laundering

— Concealing the source of funds after a person or organisation acquires funds through illicit means. A criminal launders cash through a three-step procedure: placement, layering, and integration. Money is first placed in a business (placement) and covered up (layering) using accounting strategies before being utilised for other payments (integration).

Terrorist Financing

— Funding people or organisations engaged in terrorism. The FATF blacklist comprises a list of nations that are deemed non-cooperative in the international fight against terrorist financing.

Fraud

—

Scammers have developed new methods for committing fraud via new technologies and advancements.

Some common tactics scammers employ are identity theft, fabricated insurance claims, and dump schemes.

Bribery and Corruption

— Transaction monitoring can identify potential bribery by observing specific indicators, like unusual cash payments and round-sum expense payments.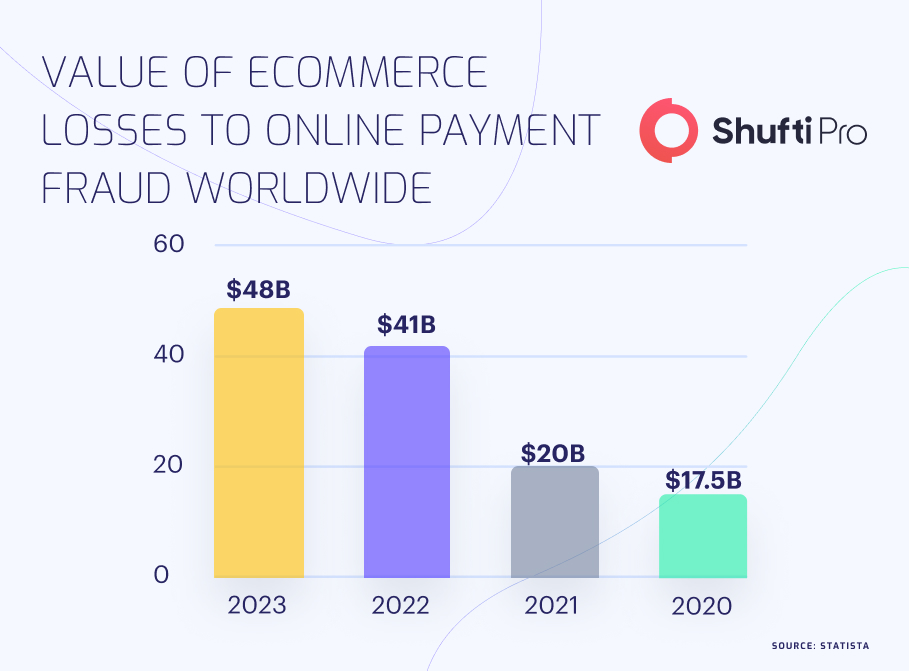 How Do Regulated Companies Monitor Transactions?
Whilst regulated businesses are required to monitor transactions, they can choose how to do so. To assure the best outcomes, businesses frequently conduct transaction monitoring using a combination of manual processes and automation, using various tech-led solutions.
Here are concise, step-by-step instructions for accomplishing thorough transaction monitoring:
Assign a risk value

— based on present and historical circumstances, such as industry and geography, various clients pose different levels of AML risk.

Create Risk-based Rules

—Financial organisations should establish specific guidelines for each group according to the risk value. These regulations ought to be flexible and dynamic.

 Set up Alerts

— An alert needs to be sent out when your AML policies are violated. This doesn't necessarily indicate that there has been criminal conduct but rather that a review is required.

Assign Your Compliance Team

— Following the activation of an alert, the transaction may be suspended, awaiting additional compliance or risk personnel review.

Create a Suspicious Activity Report

— A SAR should be made if there is any indication that a financial crime has occurred. The relevant Financial Investigation Unit (FIU) should be informed about the issue.
Why Do Businesses Need Transaction Monitoring?
Besides preventing fraud, transaction monitoring offers businesses other benefits.
1. Expansion of Financial Transaction Circle 
Monitoring criminal activity has become more difficult for financial institutions due to the swift expansion of financial transactions. It is challenging to monitor all transactions and spot any suspicious activity due to the daily increase in the volume of financial transactions. The management of electronic transactions might also demand additional effort. Therefore, it is more important than ever to have an AML monitoring solution to monitor all transactions, regardless of volume or complexity.
2. The Necessity to Comply With Changing Regulations 
Money laundering, terrorist financing and other financial crimes are putting a dent in business reputations. Regulations continuously evolve to deter fraud, but they come with risks. Moreover, each nation has unique AML and Countering Terrorism Financing (CTF) regulations that businesses must follow.  
Financial companies must be able to respond swiftly to changes in AML legislation to remain compliant. AML transaction monitoring solutions help verify that all transactions are compliant by giving financial institutions real-time updates on regulatory changes. These solutions help financial firms stay up to date on rules and deploy a robust compliance solution.
3. Detection of Financial Crimes 
AML transaction monitoring solutions aim to identify and stop financial crimes, including money laundering and terrorism financing. These solutions analyse transaction data and spot suspicious transactions using cutting-edge algorithms and technology. The banking sector can more effectively identify and stop financial crimes from occurring through AML transaction monitoring solutions.
4. Access to Necessary Information
Financial institutions can access various information, including watchlist data, transaction data, and client information, with AML transaction monitoring solutions. This information is essential for banks to recognise and stop illegal financial activity. For instance, watchlist data assists financial institutions in screening transactions against a database of entities and people deemed to be high-risk. By accessing this data, financial institutions may make well-informed transaction decisions whilst ensuring they adhere to AML requirements. Additionally, companies should be able to understand and use the AML transaction monitoring system. Businesses can largely avoid their workload with an AML compliance staff skilled in developing the correct data and saving time. 
5. Avoiding Risks and Financial Sanctions
Failure to monitor AML transactions adequately is the most damaging factor for businesses.  Companies have paid a high price due to the numerous money laundering incidents and are now more conscious than ever of the necessity of implementing efficient AML transaction monitoring. 
Financial institutions can reduce the dangers of engaging in illegal financial activity and lower their chance of facing financial penalties by adopting AML transaction monitoring solutions. They support financial organisations in maintaining a robust compliance programme and adhering to regulatory requirements. AML transaction monitoring systems can give financial institutions the evidence and data to support enforcement actions if a financial crime is discovered.
How to Choose a Transaction Monitoring Provider?
Implementing transaction monitoring solutions comes with some risks. This includes selecting an unreliable provider or utilising a manual transaction monitoring system incapable of handling consumer traffic.
In accordance with the guidelines for the UK financial sector, AML transaction monitoring systems must:
Flag unusual activities and transactions for further examination

Promptly submit such cases for review

Take appropriate action based on the findings
Companies run the danger of facing fines from the government, as well as the spread of criminal behaviour if they fail to execute transaction monitoring. Therefore, businesses should have a set of specifications that work for them when selecting a transaction monitoring service provider.
Businesses can consult providers to decide on an appropriate transaction monitoring solution by having the following queries:
How does the solution empower businesses to adopt a risk-based strategy for clients and transactions? 

What kind of money laundering and financing of terrorism does the system address?

How rapidly is the system able to adopt new typologies?

Before being turned on in the system, how can the solution be tested?
This is not a comprehensive list of all possible inquiries, as each list will be specific to a company. However, it offers insight into what a business should consider when picking a provider of transaction monitoring.
An Efficient Transaction Monitoring Solution
Select a solution that suits your risk-based approach and accommodates various customer and transactional types.

Look for systems that are simple to install. These may include programmes that allow setting rules without code, offering technical integration assistance, etc.

Some solutions offer reports with comprehensive analytics to make reporting tasks for businesses more accessible. This makes it simpler to alert regulators to dangerous behaviours leading to fraud, tax evasion, money laundering, and other financial crimes.
What Does Shufti Pro Bring to the Table?
Shufti Pro offers a robust AML transaction monitoring solution to help you detect suspicious transactions and ensure your systems comply with regulatory standards. Available in 230+ countries and territories and screening against 1700+ global watchlists, we help financial firms keep fraudsters at bay.
Still confused about how an AML transaction monitoring solution works?