BEFORE YOU GO...
Check how Shufti Pro can verify your customers within seconds
Request Demo
No thanks
The automobile industry is the world's biggest revenue-generating sector. In the global automotive industry, there is never-ending unpredictability and risks of financial crimes. Hence, these companies are facing numerous challenges with several threats of money laundering across multiple countries that are essential to the automobile companies. The growth of the automotive industry is dependent on recent advances such as maturing of the sharing economy, artificial intelligence, and automation in production lines. Light-vehicle sales are forecasted to grow about 9% in 2021. Despite the ongoing coronavirus pandemic, the industry is expected to sell more than 83 million units in 2021, down from about 90.3 million light vehicles in 2019.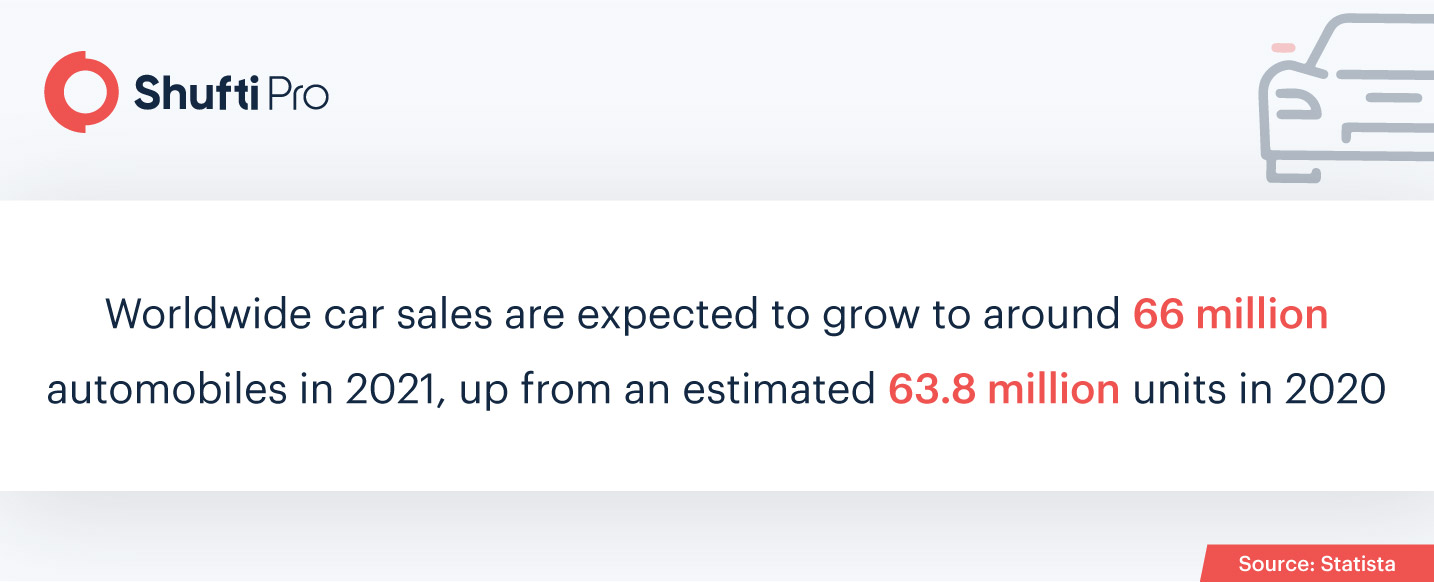 How to Counter Money Laundering in the Automobile Industry?
To counter the possible risk of money laundering, the automotive companies have to establish Anti-Money Laundering (AML) programs along with Know Your Customer (KYC) checks. This will allow them to identify the money launderers before they cause trouble for the business.
Insights into the Canadian Automotive Industry
The Government of British Columbia (BC) released its second report on money laundering on  May 7, 2019. The report focused on the luxury automobile industry and its involvement in financial criminal activities. It is written by retired senior RCMP officer Peter German and is Canada's first comprehensive look at money laundering in the luxury car industry.
The mechanics of money laundering are broadly defined as the purchase of automobiles with illegitimate capital, thereby transforming the illicit gains into a legal asset that will serve to conceal the source of the money. Criminal and terrorist groups are commonly using perplexing techniques to move capital around the world.
The report is divided into five chapters, each focusing on the different aspects of how organized crimes are being carried out in the luxury automobile industry across Canada.
International and domestic:

  Automobiles are being used as money laundering conduits both locally and cross-borders. The report highlights the link between the disproportionate number of luxury vehicles not recovered by

law enforcement bodies

and vehicles illegally exported by criminal groups. Money launderers often cross paths, taking advantage of slack legislative regimes that allow automobiles to be exported from ports with the minimal examination.

Crime Vehicles:

Due to criminals' predilection for a lifestyle of consumptive wealth, luxury cars are becoming a target for money laundering. Such entities usually lack a valid source of income and try to exploit the regulatory framework to commit a crime. They either buy vehicles with cash with the goal of laundering criminal proceeds, or they rent vehicles to make it more difficult for law enforcement bodies to seize vehicles.

Money laundering:

It allows fraudsters to clean their money by depositing illicit capital into conventional

financial institutions.

This overcomes the chance of getting traced and eliminates the ability to detect the source of wealth at the time of purchase. 

Export Vehicles' in Grey Market

:  The grey market is unregulated, making it harder to trace buyers, companies, and financial transactions. Additionally, luxury cars can yield more prices in the overseas auto markets, and there are insufficient regulations over reselling in different jurisdictions. Under the BC provincial sale tax policy, the buyers that purchase cars with the goal of resale, are eligible to file a refund on the tax. However, till now $55 million was refunded in Provincial Sales Tax (PST) to illegal exporters due to sales tax regulations. 

Independent Luxury Car Resellers:

Luxury vehicle resellers frequently deal with individuals involved in organized crimes, many of whom are known to the authorities for major criminal backgrounds, typically for drug trafficking.
Money laundering Red Flags in Car Dealerships
It's no secret that fraudsters and organized criminal organizations utilize luxury cars and other automotive vehicles to launder money. As the money laundering cases are skyrocketing the automotive businesses have to act strictly to comply with the laws and must watch out for signs of money laundering.
Zero Negotiation on Prices
When the client refuses to haggle on the price of an automobile, it's usually a red flag. Money laundering occurs when a fraudster hides the source of funds. While a legitimate buyer is likely to look into every option for lowering the sticker price, money launderers are more concerned with their capacity to channel their funds into a legitimate purchase, such as luxury cars.
Asking About "The Form 8300"
When someone pays more than $10,000 in cash for a vehicle, the dealer must file a Form 8300 with the IRS. This form was intended to assist the regulatory authorities in identifying and tracking people who carry out huge financial transactions in order to prevent money laundering and terrorist financing. However, the criminals are well aware of this form and always try to avoid signing, so that they could remain undetected by the IRS.
Paying Under $10,000 in Cash
The people who are familiar with the Form 8300 process can choose transactions in which they pay less than $10,001 in cash. It's a red flag if a buyer insists on paying cash for anything like $9,999. Of course, F&I professionals are aware that if a transaction is suspicious, they can submit Form 8300 even if the buyer pays less than $10,000 in cash. 
Straw Purchases
In this case, financing is acquired but the primary buyers are not listed on the contract, title, or insurance. Usually, a money launderer who is a third party provides the money to the straw buyer. Thereby, the straw purchaser can sell the vehicles within a limited time span and return the cleaned money back to the third party.
The Regulatory Regime for the Auto Industry
Car dealers are indulged in money laundering activities as there are insignificant regulations that address automotive businesses. However, the regulatory bodies are now supervising their activities and have made it necessary to carry out AML screening on payments over 10,000 Euros. The businesses that will fail to cope with the regulatory obligation would be held liable and face sanctions.
Here is the complete insight into the regulatory obligation that the automotive businesses have to undergo to ensure they remain compliant with AML/KYC requirements. 
AML Background Screening
The car dealerships have to thoroughly screen the customers in order to determine whether they are involved in criminal activities or enlisted in the global watchlists. The high-risk entities, PEPs that are prone to money laundering activities have to undergo Enhanced Due Diligence (Enhanced Due Diligence (EDD)) to get a broader image of the risk they can pose on the business. Therefore, ongoing screening should be carried out to determine unusual financial activities.
Customer Identification
The automotive companies have to incorporate the Know Your Customer (KYC) procedure as it necessitates determining a client's identity based on the information gathered from various trustworthy sources. Therefore, auto dealers must conduct CDD/EDD before allowing customers to make purchases. 
Suspicious Activity Reporting (SAR)
To report the suspicious activities, the company has to hire an AML officer who will keep an eye over the money laundering activities, and in case of detecting the usual money movements, will alert the law enforcement bodies. 
Record Keeping 
The car dealers are obliged to document clients' records in an effective manner. The data should include the customers' complete background information and their financial activities in order to create risk assessment reports. Such reports must be provided to the regulatory bodies if necessary.
Final Thoughts 
To stay secure from money laundering and other organized financial crimes, automotive companies must have smart KYC procedures and AML checks. As the automotive industry is here to stay and will grow in near future, businesses are obliged to invest in effective customer identification systems to streamline regulatory requirements and money laundering detection procedures.
Shufti Pro's fully automated identity verification systems help out automotive businesses to identify clients' identities along with AML screening against 1700+ 1700+ global watchlists.
Do you need more information on AML for Automobile dealers? Talk to our experts right away!