BEFORE YOU GO...
Check how Shufti Pro can verify your customers within seconds
Request Demo
No thanks
With emerging technologies, the digital payments trend is rising, and users are executing frictionless transactions through smartphones. Especially with the effect of COVID-19, online payment services are being used frequently and evolving with each passing day. Now when the pandemic has been controlled to a large extent, businesses are developing a comprehensive system of online financial transactions. This digital transformation of the entire payment sector has produced many long-term benefits for companies, and there is no denying that it is here to stay.
As the use of digital payments is growing, criminals have targeted these platforms for illicit activities exploiting the loopholes in system. It has become quite challenging for service providers to combat financial crimes, particularly money laundering and terrorist financing. In 2021, $8.6 billion was laundered through cryptocurrency, up by 30% compared to previous year.
Evolution of Digital Payments – An Overview
Since the start of civilization, humans have used several types of currencies to carry out financial transactions. It was in the mid-1990s when the first system for online payments was introduced by "Stanford Federal Credit Union" to facilitate their clients. In 1998, a few American investors founded Paypal, which became a game-changer in the digital financial system. Paypal continued to push boundaries with innovative solutions, mainly using email addresses and mobile payment apps for online transactions. The pandemic proved to be a turning point for digital remittances, increasing the use of online modes of payment at local cash-regulated businesses. At this time, there are several competitors of Paypal, including Apple Pay, Google, Amazon, Billpoint, and many others.
The use of online payment services is skyrocketing in all the regions across globe, leading to a vast growth in e-commerce and m-commerce industries. Amazon, Shopify, e-Bay, and Alibaba are the top online shopping platforms based on digital finance systems. Credit cards were the initial form of digital payment, but now, users have several options to use electronic modes of transactions, including currency wallets and cryptocurrency. Based on all advanced trends, there is no denying the fact that online transactions are the future of financial system and are here to stay for long.
Top Digital Payment Trends in 2022
Digital payments are transforming the global financial industry through adopting advanced and innovative trends. Currently, the online remittance system has evolved to a great extent offering users secure options for depositing and transferring their capital.
Biometric Authentication
The surge in the use of online payment systems has raised several security concerns like identity theft and account takeovers. Addressing these issues is crucial for the survival of system, and it has led service providers to opt for advanced security options, particularly biometric authentication of users. This type of verification includes fingerprint scanning, facial recognition, iris inspection, and even heartbeat analysis. These highly productive techniques ensure reliability and security for the whole digital payments ecosystem.
Digital Wallets
Currently, there are 3.4 billion digital wallet users across the world, with an expectancy to exceed 5.2 billion in 2026, representing a growth of 53%. All these platforms are used for storing payment information and using available funds whenever needed. Customers prefer digital wallets as they present quicker options for depositing money compared to banks. Supported by Near Field Communication (NFC) technology, e-wallets have become secure platforms for businesses to carry out their financial transactions.
Cryptocurrency
Cryptocurrency is considered the major innovation in online payments, presenting users with entirely advanced options for investments and money transfers. Crypto is working on the principles of blockchain technology which is the most efficient way of sharing payments person-to-person across the globe. Currently, more than 83 million people are using crypto wallets, an increase of 72% compared to 2018.
Money Laundering Risks in Digital Payment Industry
Although quite safe to use for financial transactions, online payment sector is associated with massive risks of monetary crimes, particularly money laundering and terrorist financing. Due to the lack of stringent regulations, criminals use a variety of money laundering techniques and disguise the illicit funds by storing them in several digital wallets. Unlike banks, online payment platforms have not enforced Anti-Money Laundering (AML) measures, providing a safe zone for scammers to carry out financial crimes.
Due to the complex nature of digital wallets, it is quite tough for service providers to monitor all transactions. It is need of the hour to implement robust Know Your Customer (KYC) and AML screening measures that can highlight criminals while taking strict action against them.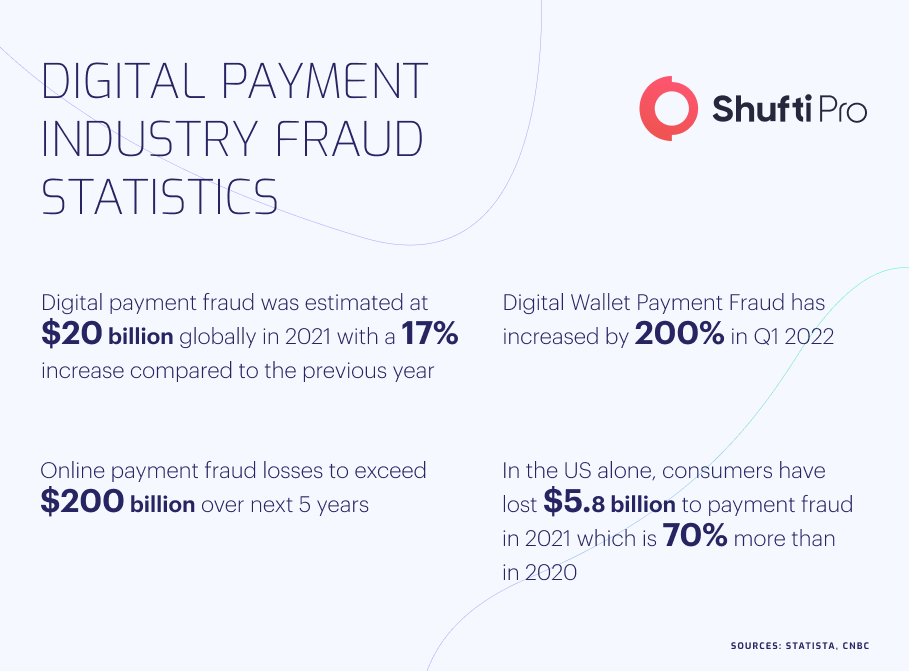 Prevailing Crime Cases in Digital Payment Sector
All countries across the globe are witnessing a large number of crimes which has led the regulatory authorities to take strict action against culprits.  In the wake of this, several countries have legislated laws against prevailing crimes in the online payment industry, setting penalties for criminals.
Interpol's Massive Financial Crackdown Along with 20 Jurisdictions
Interpol conducted a giant operation in collaboration with the law-enforcement authorities of 20 countries to arrest a gang of money launderers. The criminals were involved in several illicit activities, including online fraud, illegal gambling, drug trafficking, and romance scams. They were further using multiple online payment platforms to launder black money across different countries.
Police have arrested more than 1000 individuals while intercepting $27 million of illegal funds and blocking 2350 bank accounts used for criminal activities. A total of 1650 different cases have been registered against scammers, and investigations are still going on to decide the penalties.
Global Regulations Securing Digital Payment Industry
The Financial Action Task Force (FATF) has highlighted the threats of money laundering posed to digital payment sector. It has advised the member countries to legislate and enforce stringent AML checks to counter criminals. Several countries have implemented laws in light of FATF's guidelines to regulate online transactions.
US
The Federal Trade Commission (FTC) is the primary regulatory authority in US, monitoring financial discrepancies in digital payment methods. FTC has advised all service providers to verify true identities of their users while onboarding so that criminals can be traced and brought under the law. Moreover, in the wake of rising crimes through merchant accounts, FTC has imposed a ban on electronic payment systems for opening accounts for fictitious companies involved in money laundering scams.
UK
The United Kingdom has legislated Financial Services and Markets Act (FSMA) which has all the provisions for monitoring the online payment sector. As per FSMA, all payment service providers should be vigilant enough to counter money launderers and terrorist financiers. It has been advised to law-enforcement authorities to ban all digital payment platforms not complying with the local and global AML regulations.
Canada
The Canadian government has enacted "Electronic Payments Regulations" to monitor the digital payment system. As per the law, it is mandatory for the service providers to keep a record of every detail of financial transactions, including amount of payment, reference number, name of payee, etc., to track suspicious activities. Moreover, the Proceeds of Crime (PC) Act for curbing money laundering is already in place, which equally applies to individuals and businesses.
What Shufti Pro Offers?
Countering financial crimes, mainly money laundering and terrorist financing, is crucial for online payment industry and requires the integration of stringent AML checks. Digital payment services are here to stay, so it is the optimum time for companies to invest in AML screening.
Shufti Pro's state-of-the-art AML screening solutions can help the digital payment industry stay compliant with global regulatory standards. Shufti Pro's AML solutions are powered by thousands of AI algorithms that screen data of users against 1700+ sanctions lists and generate output in less than a second with 98.67% accuracy.
Want to know more about AML screening solutions for digital payment platforms?