BEFORE YOU GO...
Check how Shufti Pro can verify your customers within seconds
Request Demo
No thanks
Online betting sites and gambling platforms frequently face significant challenges in adhering to the laws and regulations. Betting websites have to strike a thin line between complying with legal requirements and their corporate objectives. If there is too much security throughout the registration process, users are likely to search elsewhere for what they need. However, if there is insufficient protection, gaming and betting websites may break the law or, worse, become a target for scammers. Betting businesses worldwide are now required to verify the age of their players or gamblers since many minors pretend to be adults, spoof the ID, and surpass the security system. This results in heavy fines and permanent exit from the betting world. The fines for the betting and gambling business exceeded $62 million in Australia alone. Learn the benefits of age verification solutions in the betting sector and how companies may maintain compliance. 
Difference Between Gaming, Gambling, and Sports Betting
Gaming: This covers sports where winning requires a certain amount of expertise, tactic, or ability. In gaming, the player's decisions and actions have an impact on the result; chance is only incidental. 
Gambling: This type of gaming is based on chance or luck; the results are determined by random events like rolling dice, spinning a roulette wheel, or pulling one card out of a shuffled deck. Even though many gambling games, like poker, require skill, but luck ultimately determines the result is a huge winning factor in it. 
Betting: Betting is the act of guessing on the outcome of an occasion, such as horse racing or who will win the badminton or cricket match. The outcomes of these kinds of events are determined by a mix of skill, knowledge, and chance.
Online Betting
Online gaming, betting, and gambling are strictly regulated areas. This also holds true in other nations, including the EU, Australia, and the UK. According to studies, up to 50,000 kids under the age of 17 have utilised online gambling sites and become gamblers. Consequently, betting businesses can aid in preventing minors from being permitted to participate by confirming a user's age prior to granting them access to an online betting platform. Websites need to take all necessary precautions to keep kids out of their systems. An important step in the procedure of onboarding for new users who want to bet online is online identity verification and verifying the age of that bet user is age verification
What is Age Verification?
Before granting someone access to age-restricted goods, services, or materials, their age must be confirmed. This procedure is known as age verification. In the current digital era, when more transactions take place online, especially in industries like betting, gaming, gambling, and alcohol/tobacco, age verification is becoming more and more prevalent. Businesses that neglect to verify the age of their clients appropriately, run the risk of violating laws pertaining to age restrictions, facing legal penalties, damaging their brand, and possibly even being forced to leave the corporate sector permanently.
The process of confirming the identification and age of players who register with betting and gaming websites is known as age verification in the betting business. A number of procedures are usually involved, such as confirming the authenticity of a player's documents and cross-referencing them with databases. Some online casinos additionally utilise facial recognition software and other biometric verification techniques to make sure that players are who they claim to be.
Why Age Verification is Important in Betting?
More kids are utilising the internet to communicate and socialise with people around the world as a result of the increase in home computer use and internet usage. Approximately 71% of kids between the ages of 11 and 17 have internet access. It is imperative that parents, in order to demonstrate responsible parenting, keep their minor children off gambling sites. Whilst it is not possible to completely prohibit children from gambling, gambling platforms should professionally consider this obligation by enforcing social responsibility laws and age verification in addition to other gambling compliance measures to better discourage underage gambling. It protects the gambling industry from oversight agencies and any unforeseen financial damages.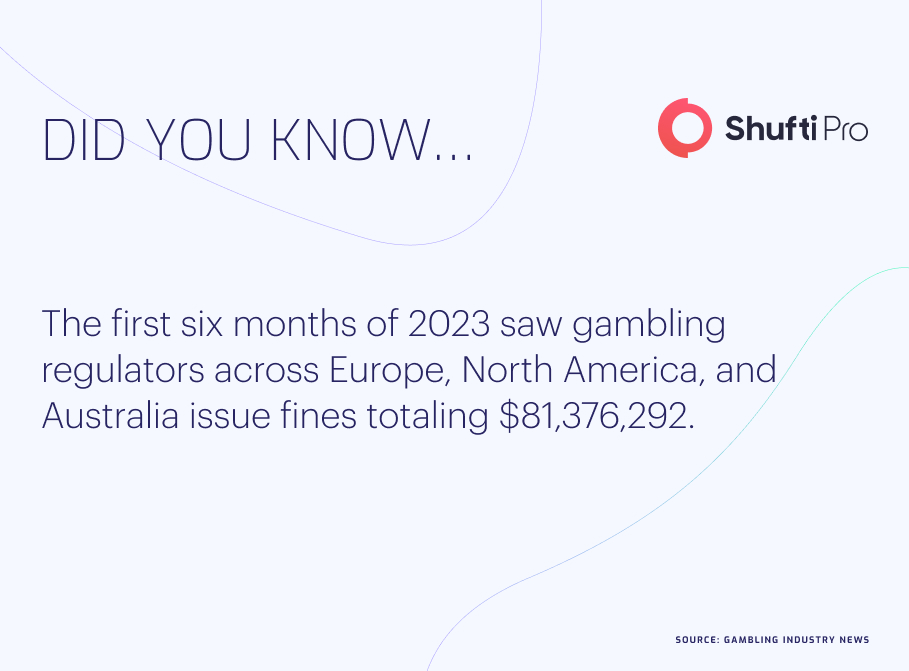 Age verification is implemented by betting sites to safeguard players, stop fraud, and make sure that the sites are operating legally. Verifying the identity and age of players is mandatory for online gaming complexes, casinos, and e-betting enterprises in many jurisdictions. Failing to do so can result in heavy fines or possibly the loss of the business's licence to operate. To safeguard users and companies, every age verification system needs to incorporate certain elements into its workflow. These elements include: 
Online identity verification

ID document verification

Storage of PII

Reporting of suspicious transactions or suspicious persons
The Challenges of Betting Verification
Even though betting verification is crucial, putting it into practice is challenging due to several issues. Privacy is one of the main challenges. It makes sense that players are an err of disclosing personal information online and are conscious of the information's usage and storage.
The issue of international regulation presents another difficulty. The world of online betting is international, and national laws differ greatly from one another. This can make it challenging for betting companies to adhere to all applicable laws and regulations, and it can also confuse players who might not be aware of the various requirements across the globe. Furthermore, in all sectors, but particularly in sports betting, the onboarding procedure needs to be completed quickly to prevent prospective customers from dropping it.
Achieving AMLCompliance in the Betting Industry 
AML and KYC work closely but independently. Undoubtedly, the unprecedented surge of the worldwide betting market has created enormous opportunities for major operators and participants, but it has also led to an increase in online crimes. Because of the far more complicated environment in which these economic operations take place, it has become more challenging to regulate the sector and identify potential illegal activity.  
The rationale behind the tightening of international AML laws and betting compliance requirements. The gaming industry is mostly used by financial criminals as a means of money laundering. As a result, AML laws in online gambling prevent money laundering and illicit financing. Customers who place bets of 2,000 euros or more during a 24-hour period must undergo enhanced due diligence on the part of the gaming, gambling, and betting industries.
The betting sector needs to adhere to the AML rules to shield itself against potential AML and illegal activity, which includes terrorist financing. Operators in the gaming, betting, and gambling industries require a robust identity verification system that can fully screen clients based on their previous history in addition to age.
Ways to Maintain Your Complaint in 2023
It's getting harder to follow the rules in this ever-changing gaming regulatory environment. In order to safeguard the gaming business from fraudulent actions, online gaming fraud detection solutions come to the rescue by doing age verification checks on each and every new and current user or player. Instant gaming verification protects gaming and gambling companies from hefty fines for non-compliance, in addition to helping deter illegal activity and safeguarding reputation. 
Age verification enables the gaming, gambling, and betting industries to make sure that players are who they say they are by obtaining correct personal data and using official documentation to authenticate their identification. This stops gamers from making fictitious accounts or using them for illegal purposes. This safeguards underage users who attempt to open fraudulent accounts and place bets. Fraud detection in online gaming not only helps the industry avoid scammers but it also shields it from steep fines for non-compliance. 
Choose Shufti Pro for Age Verification in the Betting Industry
Age verification is essential for shielding children from the harmful effects of products, services, and material that is restricted to a certain age. Companies have an ethical duty to protect children and restrict their access. One of the easiest and most affordable methods to accomplish that is through online age verification. 
The age verification services provided by Shufti Pro make it easier for new users to sign up for online casinos, betting, gaming, and gambling. By offering minimal security by international regulations, we enable merchants of age-restricted services to access our solutions with a single API integration. With more than 150 languages supported, our AI-powered age verification services can be used by betting operators in more than 240 countries and territories. The reliable age verification system helps gaming companies defend themselves against fraud by instantly verifying gamers. Our KYC solution also assists the gambling industry in adhering to international laws and avoiding penalties. 
Do you need a single API integration to build an age verification solution to safeguard your company from severe fines and penalties?