BEFORE YOU GO...
Check how Shufti Pro can verify your customers within seconds
Request Demo
No thanks
Youth is considered the most valuable asset for any country, and it is the government's responsibility to protect them from unhealthy activities. In recent times, the use of e-cigarettes, vapes, and other electronic smoking devices has drastically increased. Although it has helped a large number of people quit smoking tobacco, it has also raised serious concerns about the extensive use of these devices and their sales to minors. This is clearly a negative situation that has made children and young adults quite vulnerable to unhealthy activities.
As per the report by the Global State of Tobacco Harm Reduction (GSTHR), there were 82 million vape users in 2021, an increase of 17% compared to 2020. The issue intensified with the introduction of online sales when vape sellers started online stores making e-smoking devices much more accessible to minors. The Food and Drug Administration (FDA) in the US has introduced age verification requirements for the vapor industry, in an attempt to stem the rising number of children involved in smoking activities.
An Overview of FDA Deeming Rule
The new FDA regulations restrict vaporizer product sales to consumers under 18 and require photo ID verification for all users under 27. It has been termed that all online retailers involved in smoking device sales must ensure this compliance; as failing to do so can result in the hefty fines and tobacco sales license cancellation. The FDA regulations are stricter for digital service providers since they have a higher risk profile compared to their brick-and-mortar store counterparts. In addition, the FDA has provided a clear roadmap for age verification by instructing stores to examine identity documents through webcams prior to shipping online orders.
Not only is the age verification requirement a must, the FDA has also made it mandatory for all online retailers to get approved for all the new products introduced on their platforms. Based on a variety of scientific research, experts have predicted that vapes and other electronic smoking devices could have disastrous physical and mental effects on children. In the last two years alone, vaping has increased by 1800% in the US, urging a number of authorities to take decisive action against those selling e-cigarettes to children under 18. The rules and regulations proposed by FDA are quite comprehensive and are helping authorities regularize vapor product sales online.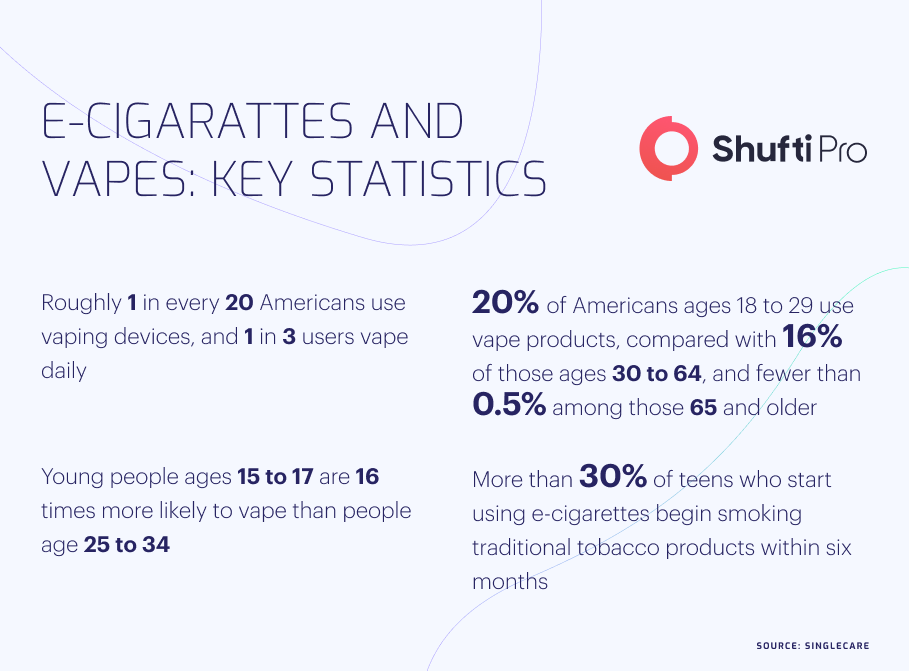 Sales of Vapor Products to Minors
As the use of vapes and e-cigarettes has increased in the past decade, authorities have been working to regulate this industry, especially for the sake of saving the young generation. In the recent past, several cases have surfaced where authorities crack down on online and on-site shops involved in selling products to minors.
Let's have a look at some high-profile cases where law enforcement took decisive action against e-cig businesses:
Four Shops Caught Illegally Selling Vapes to Children
The law enforcement authorities in the UK conducted a raid on four different shops which were suspected to be involved in selling vapes to children. All these retail shops had online stores too and were delivering smoking products to children without performing any steps for age verification. The Police have said that the licenses of all these shops for providing online services have been canceled and will not be reinstated until they implement stringent measures to verify users' age.
Illegal Vapes Seized from Shops in Dewsbury and Huddersfield
UK Police have arrested a criminal gang involved in illegally selling electronic smoking devices to children by disguising the products as stationery items. In their press conference, authorities stated that they are investigating the matter in detail and will conduct more raids in the near future to arrest more criminals involved in such illegal activities. The cases have been filed against the culprits, and the court has yet to penalize them.
Age Restricted Products
There are a large number of restricted products which have caused a potential threat to children and minors. The use of digital platforms has exacerbated the problem as most online businesses do not have effective Know Your Customer (KYC) and age verification measures which eventually leads to the threat of youth involvement in unhealthy activities.
Let's have a look at some of the products which are high in demand but whose sales should be regulated:
Alcohol
Currently, the alcohol market stands at $21 billion and is expected to reach $24 billion by 2023, raising concerns for regulatory authorities to monitor the sector. With the increased use of food delivery services, alcohol is now easily accessible to users where they can just place orders and get items at their doorsteps. Although it is a huge luxury, it also presents the risks of children getting affected and becoming addicted to alcohol at an early age. Age verification should be effective, prohibiting the use of any such services by minors and authenticating customers' age while onboarding.
E-Cigarettes
As we've been discussing, another important product that is in dire need of age verification measures is e-cigarettes and vapes. Globally, the usage of these electronic smoking devices is sharply increasing, and it is suspected that a large number of school-aged children are potentially involved in such unhealthy activities. There are a few smart vendors in this business who have implemented age verification practices, while the majority are selling vapes without KYC measures.
Cannabis
Many jurisdictions have imposed a ban on the sale of cannabis due to its harmful effects on health. Still, a myriad of online platforms are selling Cannabis products in many countries particularly Canada, and many states of the US. It is urgent we implement and enforce age verification measures so that the illegal deliveries of cannabis to minors can be discouraged and curbed
Protecting Minors Through Age Verification Requirements
In the wake of children's increased use of electronic smoking devices, digital platforms must implement stringent age verification measures. Through effective KYC solutions, online vape stores can screen users' identity documents and compare the details in real time through facial recognition. The implementation of these firm steps will ensure transparency in businesses and keep the youth away from the unhealthy side effects of e-cigarettes and vapes.
Shufti Pro Age Verification Services Offers
The mass exploitation of youth to vape and electronic smoking has made it mandatory for online sellers to implement age verification measures. Regulatory bodies and digital service providers should work together to uphold their social responsibility in eradicating the chances of illegal sales of harmful devices.
Shufti Pro's digital age verification services are the most viable solution for the vaping industry to identify minors and comply with global regulatory authorities. Powered by a state-of-the-art AI algorithm, Shufti Pro's age authentication solution is efficient enough to screen users' data through documents and generate results in seconds with a ~99% accuracy.
Would you like to get more information about effective age verification measures for e-cig businesses?