BEFORE YOU GO...
Check how Shufti Pro can verify your customers within seconds
Request Demo
No thanks
Given the significant increase in money laundering and terror financing activities, many countries have tightened the AML regulations. The inability to effectively comply with the Anti-Money Laundering laws is among the most reported cases. Many big names in the finance and crypto sector are under probe for violating the AML laws. For instance, Binance – one of the leading crypto exchanges was scrutinized for breaching the AML/CFT policies. On the other hand, Deutsche Bank has been on the hit list for non-compliance for the past few years. 
Considering all such scenarios, the Australian government is found to be proactive in enforcing stricter anti-money laundering laws in the state. Amended rules and new reforms are all set to prevent financial criminals from achieving their ill goals. But the bigger question is, how is the Australian corporate infrastructure going to comply with all these changes? 
What is AML Compliance?
Ongoing monitoring and background screening of customers is referred to as AML compliance to combat crimes like money laundering and terror financing. The screening is done against several global watchlists like sanctions and PEPs so that businesses onboard legitimate customers only.
1. Structure Policies that Comply with AML/CFT Laws
The primary legislation that regulates anti-money laundering and counter-terrorist financing in Australia is the AML/CFT Act 2006. Deposit-taking, payroll services, currency exchanges, etc. are regulated under the Act. These entities have to register with AUSTRAC and submit Transaction Threshold reports (TTR) and Suspicious Activity Reports (SAR). Australian firms must keep a sound reporting process in place for effective AML compliance. Reporting about suspicious activities to AUSTRAC would be a lot easier.
Australian Transaction Reports and Analysis Centre (AUSTRAC) is the regulator and financial intelligence unit of the country. The task of the authority to control financial crimes and it works to ensure the finance sector, FinTechs, gaming, and other industries. 
A few days ago, the National Australia Bank (NAB) and the Commonwealth Bank of Australia (CBA) faced a probe by AUSTRAC again for AML non-compliance. One of the partners was under scrutiny as a result of sanctions imposed on Papua New Guinea (PNG). 
Now, banks and other corporate entities have been advised to tighten the AML policies that comply with AUSTRAC's laws. 
Recommended: NAB, CBA Under Money Laundering Probe Yet Again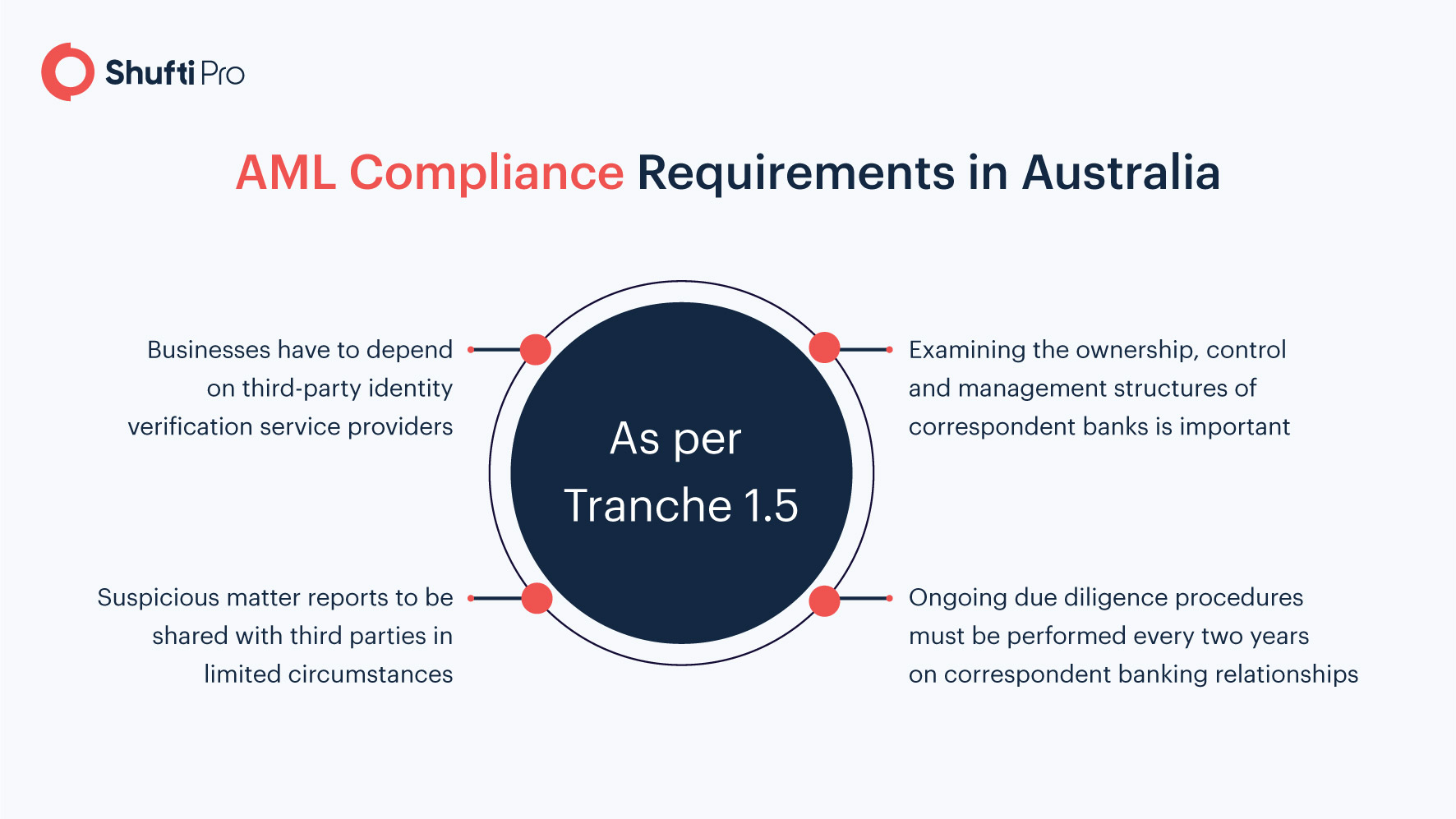 2. Ensure Customer Data Privacy 
In 2019, the Customer Data Right (CDR) was enforced in the country on various sectors including the banking industry. The CDR greatly impacts all the firms that acquire customer data for whatever reason making banking and FinTechs most liable. It gives customers the right to choose where they want to share information and it is operational at federal, state and territorial levels. Therefore, data privacy of customers must be the top priority of every firm in the country. Ensuring a secure AML monitoring system that can protect customer data will not only help firms comply with the anti-money laundering laws but also make sure they abide by CDR.
3. Employ AML Screening Solution & Transaction Monitoring  
On June 18, 2021, new AML reforms took place known as Tranche 1.5. As per the new law, businesses in Australia can now employ third-party identity verification solutions to meet the KYC requirements. The Australian corporate environment has a better chance of onboarding verified end-users and identifying high-risk entities on time before they become a problem for the business. 
Next in line is transaction monitoring which is a regulatory requirement for companies. Suspicious activities that might be associated with money laundering and other FinCrime must be identified and reported. This system must be based on the risk that each customer poses. Here's what should be monitored:
Transactions that involve large amounts of money

Transactions without a clear purpose 

Transactions that are complex in nature 

Sudden increases in deposit frequency
Suggested: High-Risk Transactions – How Can Enhanced Due Diligence (EDD) Help? 
4. Screen Customers Against Sanctions 
AML regulations also state that all customers must be screened against global watchlists like PEPs and sanctions. The Australian government and United Nations Security Council (UNSC) has enforced sanctions that are not only applicable to companies within the borders but also to the firms overseas. 
5. Enhanced Due Diligence During Onboarding 
The anti-money laundering laws in the state require customer due diligence during the onboarding process. The checks must accurately verify the identity of every individual before they are onboarded. Moreover, ongoing monitoring is yet another requirement by AUSTRAC to establish a risk level. Apart from establishing risk-rating for customers, regularly updating customer profiles is a mandatory requirement. 
After meeting the standard due diligence requirements and creating customer profiles on risk ratings, companies must perform enhanced due diligence checks on all the high-risk entities. Screening them against global watchlists is obligatory. 
Shufti Pro's AML Suite Making Compliance Effective for Australian Businesses
Keeping in view the recent amendments and Tranche 1.5, businesses in Australia are in dire need of an AML solution that can meet all the regulatory requirements. As the new reform states that the corporate sector must employ anti-money laundering screening solutions from third parties, we have good news for the Australian businesses! Shufti Pro's AML suite is one viable solution for effective compliance with all AML/CFT policies. The system takes about 15-30 seconds for the process to complete. Moreover, the verification results are 98.67% accurate leaving no chance for perpetrators to enter the ecosystem. After verifying every identity against 1700+ global watchlists, the results are saved in our intuitive back-office for case building in the future.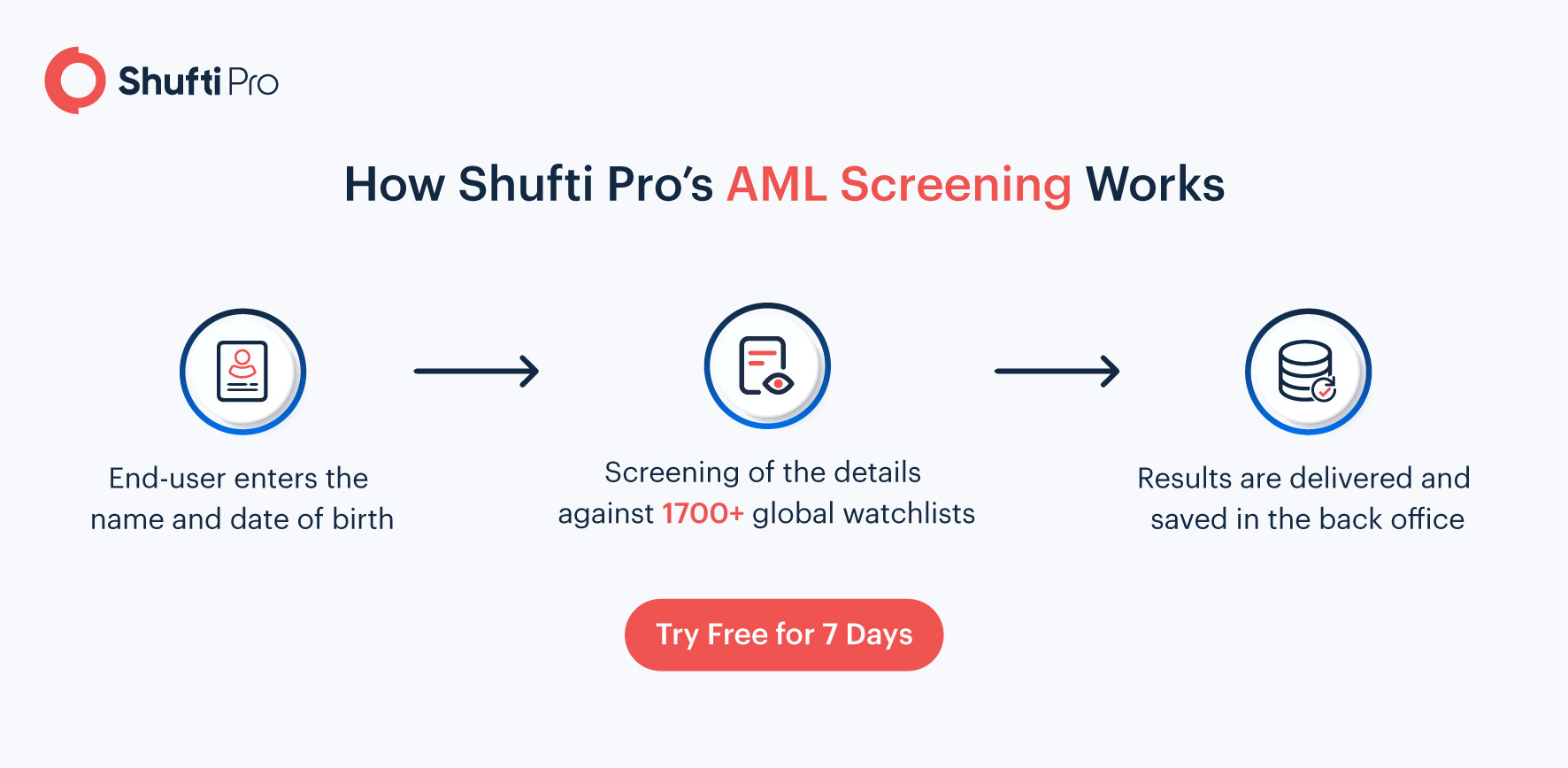 Conclusion
AML compliance in Australia and other regions of the world is no longer a piece of cake. The regulatory landscape has dramatically evolved this year. AUSTRAC has amended laws, whereas the government has issued new AML reforms called Tranche 1.5 and AUSTRAC has published supporting rules too. All things aside, the Australian business world is now obliged to employ a third party AML solution. For effective compliance with all the laws, companies must consider AML/CFT legislation, data privacy, laws from AUSTRAC, and a comprehensive AML screening solution. 
Ready to comply with the AML regulations? Talk to our experts and equip yourself with the finest identity verification solutions.