BEFORE YOU GO...
Check how Shufti Pro can verify your customers within seconds
Request Demo
No thanks
The digital gaming and esports industry has grown at an immense pace in recent years, topping 1 billion gamers per month in 2020. With global adoption, the online gaming industry is expected to grow at a rate of 9.17% from 2020 to 2025. However, cheating in online gaming has become a global concern as it poses a potential threat to stakeholders from developers to gamers, digital tournament hosts, and sponsors. 
There is a significant chance that most players have already dealt with cheaters in competitive gaming. Fraudsters are always trying to come up with sophisticated shortcuts to get easy success in online games. Dishonest gaming happens on all levels, despite the fact whether the matches are friendly or international tiers of tournaments.
Insight Over the Online Gaming Industry
The online gaming industry is becoming the primary target of criminal-minded gamers. E-gaming cheats are as old as the online gaming industry itself. In fact, developers add cheats in games to make it easier, for testing or reviewing purposes.
However, in today's fully digitized gaming ecosystem, hackers are using tech-driven tools to reverse-engineer the underlying code of electronic games to provide cheaters' advantages. While conventional ways of cheating render advantages for an individual to explore games, hacks for online games affect the entire system.
New Jersey Identity Thief Arrested in Police Sting
New Jersey police have made major sting operations against criminals involved in identity theft cases in the online gaming industry. The suspect was arrested after a 17-month investigation and was accused of various cases of identity fraud. Law enforcement bodies claim that the criminal stole more than 1,000 accounts on various online gaming platforms within the state. This case was an eye-opener for the online gaming businesses as well as regulators to re-check the security frameworks and regulations to prevent future risk of identity fraud cases.
According to police, "Identity theft is often traumatic for the victims, because it is by nature one of the most invasive and intimate non-violent crimes there is, and in addition to the individual victims, businesses and consumers as a whole suffer the negative financial consequences of financial fraud."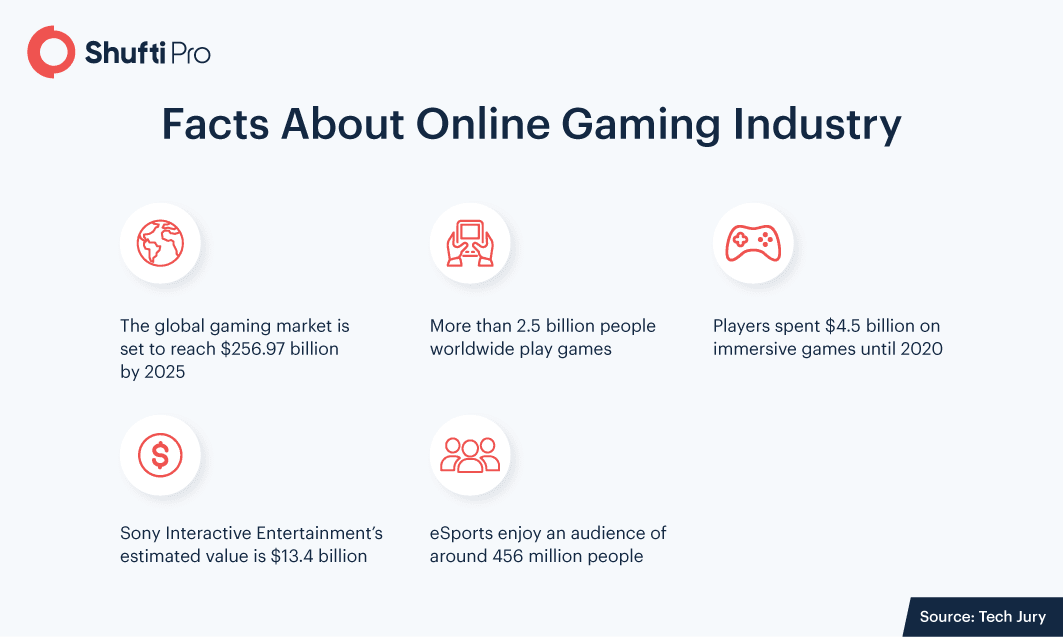 Ways of cheating in E-gaming
Aimbots
This technique is well-known for cheating in first-person shooter (FPS) games. This is also known as auto-aim, aimbots make it easier for the players to determine opponents during the gameplay. This cheating approach mostly assists the novice players that lack skills. 
Stream-Sniping
Watching live streaming of opponents is known as stream-sniping. Instead of focusing on the information acquired from their own play view to determine the location of opponents, cheaters get ahead by using this technique. By implementing this cheating strategy, players' can easily pinpoint the targets on the maps, resulting in a seamless win.
Match-fixing
Match-fixing could be a bigger problem as the online gaming industry grows. This type of cheating is becoming more organized leading to imprisonments, especially because of the emergence of gambling and betting sports.
The Arms Race with Anti-Cheating Solutions and Why it's Not Working
Despite the numerous efforts by online gaming platforms to stop cheating for good, there are not that many effective solutions that have backed organizations to solve cheating problems. All of the above-mentioned ways of dishonest gaming are still occurring. Many gaming service providers as well as the regulatory bodies are actively working to halt all forms of cheating in digital gaming, but failed to do so.

Bans Simply Don't Work
One of the most obvious reasons for cheating still occurring in e-gaming is that it's quite easy to create a new account, despite placing bans on flagged players. However, once the hackers are identified, gaming platforms could simply ban them, but they can come back with new accounts and identities. Thus, gaming service providers can also study data to forecast future outcomes but cannot identify players being banned previously.
Anti-Cheating Software Isn't Reliable in High Competition
For the top gaming tournaments, anti-cheating software effectively detects the cheapest cheats that are easily available in the market but struggles to identify custom cheats that are worth thousands of dollars during the competition. Such cheat detecting software is only beneficial to track down the players that are involved in manipulating the systems by reviewing the match's analytics and replays. However, to render results during the gameplay, this software needs to have a tendency of working in real-time, but such softwares are not yet developed.
Increasing the Risk of Cheating
So far, millions of players are caught red-handed, sanctions, as well as imprisonments, have been imposed yet the cheating cases are not reduced. Shady gaming activities are still occurring despite getting banned or fined. There are no such tools or software to identify cheaters that have previously been part of the tournaments. Anyone can become part of the online games as there are no unified criteria, primarily platforms that lack the documented history of players' information that qualifies. However, using blockchain technology risk can be minimized.
How can Shufti Pro IDV Solve Online Gaming Cheating Problems?
There are numerous ways that digital identity verification systems could be used in online gaming platforms. It could emerge as a solution to detect ghost accounts, the ones either used by hackers or banned, preventing the risk of onboarding the previously alleged players. This is one of the biggest challenges, as there is no way of stopping games from creating new accounts, and is more problematic in free-to-play online games, where there are no cost or requirements of creating accounts. 
However, by incorporating AI-backed ID verification system, legitimate players' accounts could be created making it hard for fraudsters to make ghost accounts. This can also deter the risk of cheating and other criminal activities, restricting the gamers that are held accountable for cheating and generating accounts by using some other information. As ID verification systems authenticate players, it can also help prevent minor exploitation.
Shufti Pro's state-of-the-art ID verification service can be an ideal solution to outlaw the cheating problems in online gaming. The system is powered by thousands of AI algorithms that can render 98.67% accurate and real-time verification results in less than a second, hence it is a perfect fit for the fast-moving e-gaming industry.
Suggested Read: Artplant Gaming Studio Ties Knot with Shufti Pro  
Final Thoughts 
Reducing the risk of cheating in online games is in the best interest of the gaming industry. Cheating not only damages their repute but also adversely impacts the revenue. However, advanced technologies like machine learning and artificial intelligence promise to identify such illicit activities.  Online gaming platforms by incorporating AI-driven solutions can analyze the gamer's usage pattern, flag cheaters, and prevent bad actors from creating fake accounts for their illicit plans. Thus, the only way of eliminating the risk of cheating is through Identity verification solutions.
Want to know more about robust Identity verification services for the online gaming industry?