BEFORE YOU GO...
Check how Shufti Pro can verify your customers within seconds
Request Demo
No thanks

The global financial industry finds it hard to meet compliance and secure sensitive customer data from the ever-growing list of emerging risks. Know Your Customer (KYC) is a proactive approach that helps combat financial crimes and ensures businesses do not facilitate criminal activities. Furthermore, adherence to KYC regulations assists businesses in avoiding significant penalties. 
Numerous countries and states around the globe have enacted laws and regulations mandating specific businesses to fulfil KYC obligations. However, KYC compliance requirements vary country-wise. If your company operates internationally, comprehending the particular laws and regulations governing each jurisdiction in which you function is paramount.
KYC Regulations in Asia
China
Financial institutions in China must adhere to the "Anti-Money Laundering Law" (AML Law) of 2006 and subsequent laws that have been built upon it. These regulations include banks, securities firms, insurance companies, and other entities involved in deposit-taking. Furthermore, businesses in sectors such as casinos and high-value goods trading must comply with these regulations. The enforcement of this law is carried out by regulatory bodies, including the China Insurance Regulatory Commission (CIRC), the People's Bank of China (PBOC), and the China Securities Regulatory Commission (CSRC).
Japan
"The Act on the Prevention of Transfer of Criminal Proceeds," passed in 2007, guides KYC regulations. Under this law, businesses are specifically mandated to verify customers' names, addresses, and dates of birth using official documents like passports, driver's licences, etc. Thus, the Financial Services Agency (FSA) is the primary watchdog responsible for enforcing KYC compliance obligations nationwide.
India
"The Prevention of Money Laundering Act 2002 (PMLA)" was enacted in 2005 to guide KYC requirements. Financial institutions in India must verify all customers' identities and current addresses.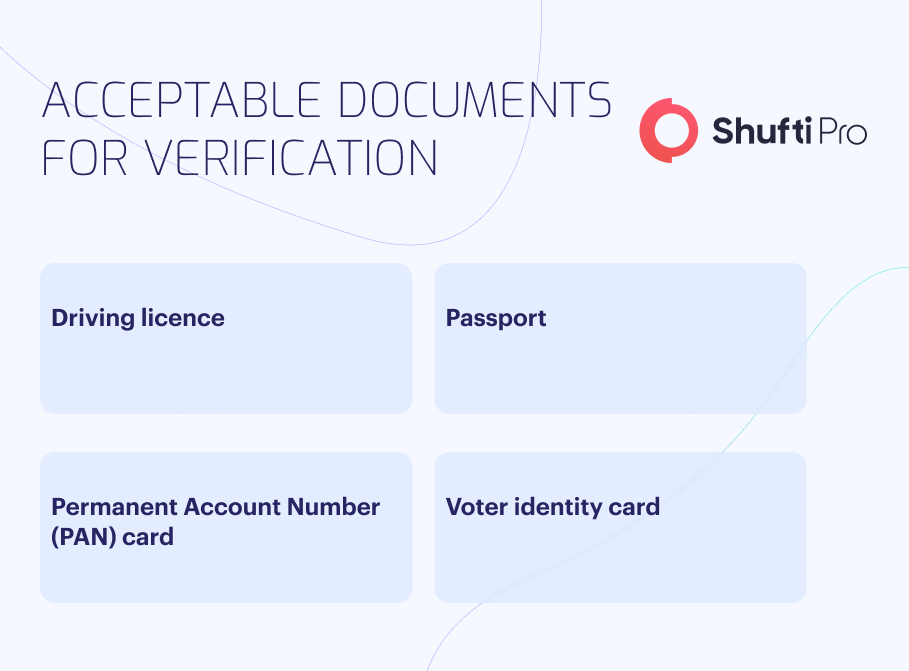 Regulatory bodies include the Reserve Bank of India Financial Intelligence Unit (RBI FIU) and the Securities and Exchange Board for India (SEBI).
Singapore
The Monetary Authority of Singapore (MAS) issued a notice, "Prevention of Money Laundering and Countering Terrorism Financing" 2007. Financial institutions must verify various customer details, including full names, identification numbers, residential addresses, dates of birth, and nationalities. Verification can be accomplished by examining documents and utilising independent data sources such as relevant databases.
KYC Regulations in Oceanic Pacific
Australia
Australia implemented "the AML and CTF Act" in 2006, establishing know your customer and due diligence requirements. These regulations require businesses operating in Australia to collect and authenticate client data before offering them financial services. To enforce and oversee the laws, the Australian Transaction Reports and Analysis Centre (AUSTRAC) is one of the main regulatory bodies in the country, making necessary arrangements to secure the financial industry's interest.
New Zealand
In New Zealand, the AML and Countering Terrorism (CTF) Act, enacted in 2013 and applicable to financial institutions, governs the KYC requirements. However, lawyers are subject to "the Financial Transactions Reporting Act, " enacted in 1996. Entities covered by the law must collect and validate a customer's complete name, date of birth, and present address. To ensure secure operations and streamlined implementation of laws, the government has structured the Department of Internal Affairs and the Reserve Bank of New Zealand, both departments working tirelessly for a risk-free financial industry.
KYC Regulations Across European Member States
Within the European Union, individual member states possess the authority to formulate their own KYC and AML legislation. However, the EU has issued several "directives" to guide such legislation. Directives such as 4AMLD, 5AMLD, and 6AMLD mandate companies to gather, authenticate, and keep records of clients' Personally Identifiable Information (PII). Additionally, screening clients against Politically Exposed Persons (PEPs) lists and adverse media coverage is required to assess overall risk.
France
"The AMF General Regulation" 2009 establishes France's KYC and AML standards. As per the law, companies must obtain government-issued photo identification and other supporting documents, such as the customer's address and occupation, for verification. The regulatory authorities responsible include the Autorité de Contrôle Prudentiel et de Résolution (ACPR) and the Autorité des Marchés Financiers (AMF).
Germany
"The German Anti-Money Laundering Act" (GwG) was enacted in 1993 to guide KYC regulations in Germany. The law mandates businesses to authenticate a client's name, address, and nationality. The law requires companies to verify a customer's identity through national ID cards, passports, residential papers, birth certificates, etc. The main regulatory body of Germany is the Federal Ministry of Finance (BMF) and the Federal Financial Supervisory Authority (BaFin).
Italy
Italy's initial AML law, Decree No 197, was enacted in 1991 and regularly updated to accommodate new requirements, including those stemming from EU directives. The law mandates financial firms to collect and verify a customer's name, address, place of birth, and at least one official identification document.
Spain
In Spain, the KYC requirements are outlined in Law 2010. The law mandates financial firms to collect and authenticate a customer's national identity document or government-issued ID. Specifically, the document must contain the individual's name and photograph. The AML supervisory body, SEPBLAC, oversees regulating this law.
Switzerland
"The Anti-Money Laundering Ordinance," enacted in 1977, guides Switzerland's KYC requirements. The law mandates all financial institutions to verify a client's name, date of birth, address, and nationality. The Swiss Financial Market Supervisory Authority (FINMA) is the regulatory body in Switzerland.
United Kingdom
"The Money Laundering Regulations", enacted in 2007" outline the KYC requirements in the UK. Know your customer regulations for banks mandate firms to validate a customer's name, address, and date of birth. Acceptable forms of identification may consist of a passport, driver's licence, or other valid forms of ID. The main regulatory bodies include the Financial Conduct Authority (FCA) and the Gambling Commission.
KYC Regulations in North America
Canada
"The Proceeds of Crime (Money Laundering) and Terrorist Financing Act (PCMLTFA)", passed in 2000,  defines Canada's KYC regulations. The law mandates financial institutions to verify a client's name, address, date of birth, and occupation. The Financial Transactions Reports Analysis Centre of Canada (FINTRAC) is the main regulatory body in Canada.
Mexico
"The Federal Law for the Prevention and Identification of Transactions with Funds from Illicit Sources" guides KYC requirements in Mexico. Mexico's Financial Intelligence Unit (FIU) works to combat money laundering and financial crimes.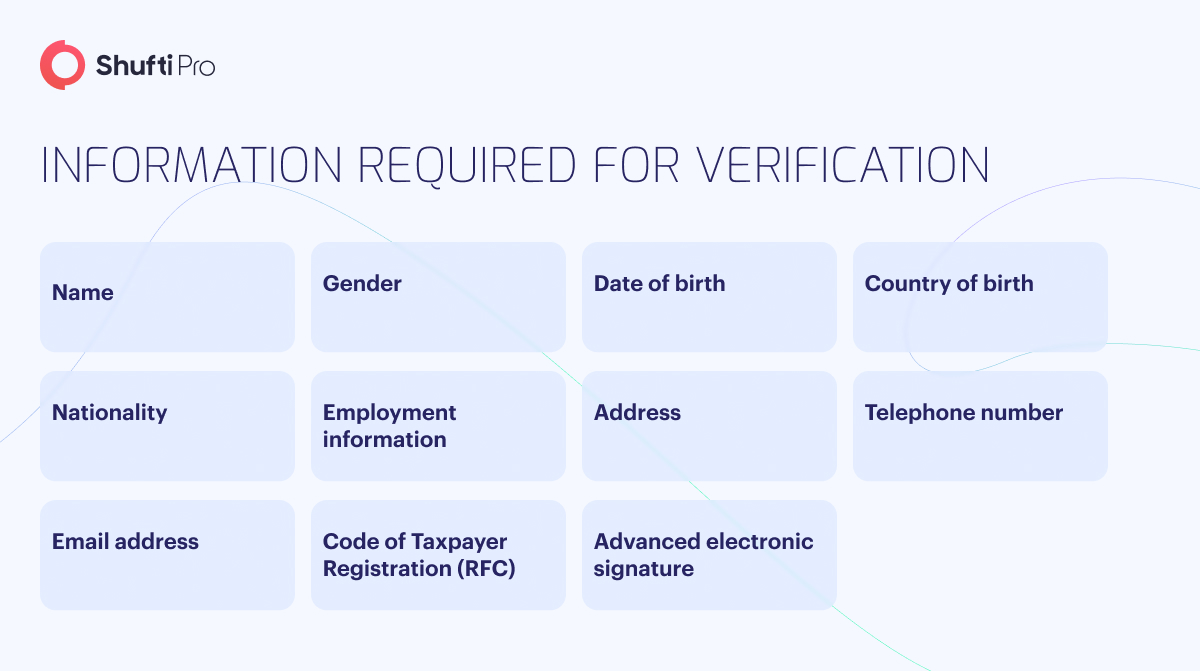 United States
The Bank Secrecy Act (BSA) and the USA PATRIOT Act established KYC and AML regulations in the United States. The BSA was passed in 1970, whilst the USA PATRIOT Act was enacted in 2001. As per the law, financial firms adopt a Risk-Based Approach (RBA) to verify a customer. The Financial Crimes Enforcement Network (FinCEN) enforces the law with other regulatory bodies.
KYC Regulations in South America
Argentina
Argentina's AML law was passed in 2000 and guided essential KYC and AML regulations. The Banco Central de la República Argentina (BCRA) and the Unidad de Información Financiera (UIF) are the primary regulators in Argentina. The law classifies clients as "permanent" or "not frequent." This classification determines the necessary documentation for verifying their identity. Permanent residents must provide their name and address, whilst "not frequent" clients must give additional details like date of birth, citizenship, etc.
Brazil
KYC requirements in Brazil are mentioned in "Law 9,613", enacted in 1998 and underwent amendments in 2012. Financial firms in Brazil should verify a client's name, address, date of birth, nationality, and an official identification document. The Conselho de Controle de Atividades Financeiras (COAF) is the primary regulatory body of this law.
Chile
Chile's KYC requirements are based on "Law 19.366" and subsequent amendments. Financial firms in Chile must gather and validate a customer's name, address, occupation, national identification number, email, and phone number. The primary regulatory body overseeing AML and KYC concerns in Chile is the Financial Analysis Unit (UAF).
How to Choose the Best KYC Provider
The KYC solution must adhere to the regulatory requirements of the jurisdiction(s) where the business operates.

Service providers should offer robust anti-fraud protection that can identify forgeries, spoofing, and other forms of illicit activity.

Businesses must be able to customise verification processes for various products and customers.

The solution should support document types from diverse countries.

The solution needs to include multiple language options for its interface and

Optical Character Recognition

(OCR) technology, enabling the recognition of non-Latin characters like Chinese, Japanese, or Cyrillic scripts.

Efficient processing times and high verification speed are essential features of the solution to minimise user wait times during the verification process.
How Can Shufti Pro Help?
Shufti Pro offers a KYC solution tailored to business needs, no matter in which jurisdiction you operate. Our robust KYC solution is trusted globally in verifying customers' identities within seconds and mitigating the risk of fraud. Moreover, our KYC solution helps companies adhere to global regulations and avoid non-compliance fines.
Still confused about how our KYC solution helps firms adhere to global regulations?