BEFORE YOU GO...
Check how Shufti Pro can verify your customers within seconds
Request Demo
No thanks
Money laundering, corruption, and drug trafficking are prevalent issues in Brazil, the world's seventh-largest economy, forecasted to become the fifth-largest this year. Money laundering is the most prevalent form of financial crime, with $25.8 billion – $64.4 billion laundered in Brazil annually. Constant political interference with Anti Money Laundering (AML) institutions and law enforcement agencies continues to hinder the execution of AML standards, affecting not solely Brazil but the whole region too. Although Brazil is developing its AML laws, businesses operating there need to be updated with the latest regulations to curb financial crime. 
A Quick Look at ML/TF Index Score in Brazil (2021-2015)
The Basel Anti-money Laundering Index is a composite index of 16 different indicators with reference to corruption, political disclosure, financial standards, and the legislation. The index score measures the risk level for Money Laundering (ML) and Terrorism Financing (TF) in different countries. 
According to the Basel AML index, Brazil had a risk score of 4.98 for money laundering and terrorist financing in 2021, slightly lower from 5.02 in 2020. This is the first time the country has witnessed a decrease in the AML index score since 2018.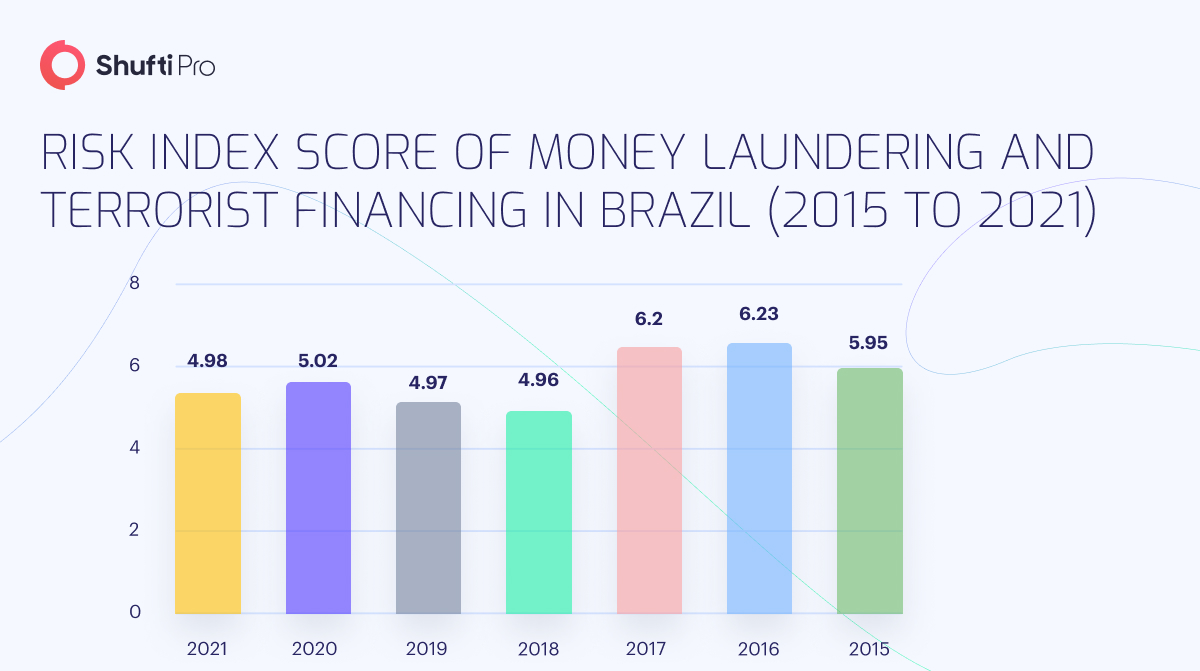 Crime in Brazil: Types, Channels, Facilitators, and Criminal Organisations
As mentioned above, money laundering is Brazil's most prevalent financial crime followed by corruption and Trade-Based Money Laundering (TBML). However, terrorist financing is the least prevalent type of financial crime in Brazil. 
The main illegal activities inducing financial crimes include drug trafficking, followed by corruption, Trafficking in Persons and Smuggling of Migrants (TIP/SOM), and mineral trafficking. The main channels used to commit a financial crime in Brazil are cash and companies. Other channels include real estate, financial systems, gas stations, and shell firms. 
However, the most prominent facilitators for financial crime are lawyers. Despite domestic and global efforts, the Tri-Border Area between Brazil, Argentina and Paraguay remains a hub for financial crime, such as narcotics and smuggling. 
Primeiro Comando da Capital (PCC) is among the white-collar criminal organisations in the country, with operations in other regional countries and in Asia and Europe. PCC is related to drug shipments, kidnappings, and robberies, having ties with FARC, an abbreviation of Spanish Fuerzas Armadas Revolucionarias de Colombia ("Revolutionary Armed Forces of Colombia"), and Hezbollah.
AML/CTF Framework of Brazil
Brazil has a sophisticated AML framework, having a firm institutional base for financial intelligence, as well as information sharing, across state and enforcement agencies, although it may lag in practice sometimes.
The major AML laws in Brazil include:
Key AML/CTF Supervisory Bodies in Brazil
Council for Financial Activities Control 
Council for Financial Activities Control (COAF) is the financial intelligence unit in Brazil that tackles money laundering and terrorism financing. Its main goal is to regulate financial firms, pass and implement sanction policies, analyse suspicious transactions, and monitor customers or accounts posing a serious risk to the country's financial industry. The COAF is granted technical and operational sovereignty and is administratively linked to the Brazil Central Bank.
Central Bank of Brazil
The Central Bank of Brazil (BCB) is the proficient authority in charge of assuring that the institutions of the National Financial System (SFN) adhere to AML/CFT laws in accordance with the guidelines of the National Monetary Council (CMN). The main aim of BCB is to prevent the SFN from being utilised for illicit purposes including money laundering or terrorism financing.
How to Comply with COAF Laws in Brazil?​
Businesses subject to the regulation must:
Deploy internal controls to identify customers as well as legal entities and ensure their records are up-to-date.

Have updated and effective training programs to guide their workforce on how to take appropriate steps required by the regulation.

Monitor transactions

in domestic, as well as foreign currency, credit instruments, instruments and securities, metals, or commodities that can be transformed into money that exceeds a threshold set by the authorities within a  jurisdiction and under the instructions given by it.

Implement policies, methods, and internal controls to satisfy legal requirements.

Register with the regulatory body and COAF, under the terms given by them.

Adhere to the COAF's requirements on a routine basis, in the way and under the conditions set by COAF, with the obligation to keep the given details confidential in conformity with the law.
How Can Shufti Pro Help?
To combat money laundering and other financial crimes in Brazil, business owners need a comprehensive and sophisticated solution that can address the risks and challenges the country is facing. This is where Shufti Pro's AML solution fits in the puzzle.
Here's what makes Shufti Pro a globally trusted AML solution provider:
Verify companies' official registration numbers

Conduct background checks for the Ultimate Beneficial Owners (UBOs) in real-time

Screen customers against 1700+ global watchlists

Eliminate the risk of non-compliance penalties 
Discover how you can prevent money laundering and terrorist financing in Brazil.