BEFORE YOU GO...
Check how Shufti Pro can verify your customers within seconds
Request Demo
No thanks
People searching for love online sometimes meet the unfortunate fate of a broken heart and sometimes an emptied bank account. Although online dating platforms have become popular for finding a soulmate, they have also become fertile ground for perpetrating romance scams. Imposters create phoney profiles to attract victims into a romantic relationship and then commence financial extortion.  
FBI Reports Romance Scams as a Top Online Financial Threat
Romance scams are taking the world by storm with every passing year. They incur the highest monetary losses in comparison to other online crimes, raising concerns for individuals and businesses. Internet Crime Complaint Center (IC3), a division of the FBI concerning suspected internet-facilitated crime, reports that 19,050 victims in the US lost $739,030,292 to romance scammers in 2022. The report mentioned 1,475 victims losing a total of $53,412,471 in Florida and 387 victims losing $15,004,250 in North Florida. However, these are still not the exact figures, as many such cases go unreported.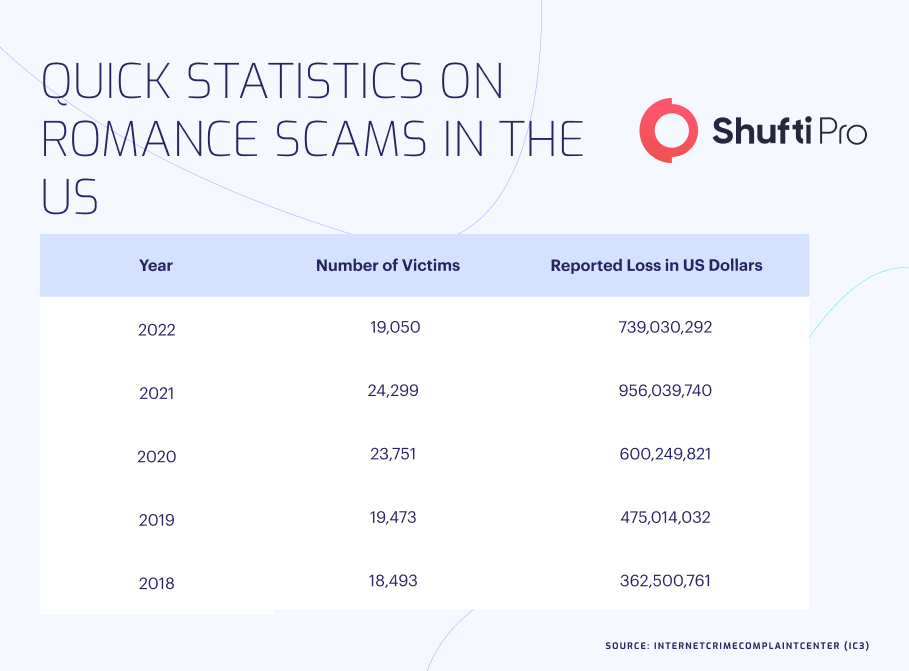 How Do Romance Scammers Commit Fraud?
Cybercriminals have leveraged the rising popularity of online dating to commit fraud by finding suitable targets.
Here's how romance scammers perpetrate fraud:
The scammer attracts the victim to a fake digital profile.

When the imposter successfully gains the victim's trust, they establish a relationship.

The romance scammer then asks the prey for financial aid, saying they are in trouble or have an emergency, promising the victim to pay back the money.

Once the cybercriminal gets the money, they disappear and never return the amount. Sometimes, the scammers request more money until the prey realises their attention and cuts them off.
Latest Trend in Romance Scams
The Federal Bureau of Investigation (FBI), the US domestic intelligence and security service and its primary law enforcement body have identified the latest trend in romance scams. As per the law enforcement agency, romance scammers are pressuring their prey to invest in a cryptocurrency which could result in increased victimisation in 2023.
The FBI predicts a higher financial loss documented due to this trend as part of romance fraud. The scam begins the same way as establishing a fake online relationship. However, the scammer does not request cash in this but convinces the target to invest in cryptocurrency. When the victims request to check the Return on Investment (ROI), they are directed to a fake site controlled by a scammer. When the prey makes a purchase, the imposter cuts off the connection and prevents them from withdrawing their investment.
"Online dating is common today, but unfortunately, scammers also thrive on those same sites," said Sherri E. Onks, Special Agent in Charge of FBI Jacksonville. "Whether you're looking for love or a friendship online, be sure you first understand the risk of being exploited. Remember, a scammer will always eventually ask you for something, so set a boundary early on and never send money to someone you've never met."
Red Flags to Look Out for
Romance scammers are very smart in spinning stories to attract their targets. However, some signs that may help spot scams before they disturb your financial and mental well-being, such: 
Scammers prefer talking to the victim on another platform rather than a dating site. They might suggest the prey communicate via texts or phone calls.

They ask the target for as much personal information as they can.

They avoid sharing their personal details when asked to do so.  And if they give any information, it sounds fake. For example,

they may claim to be a doctor but lack proper knowledge or information when discussing topics in the medical field.

The scammer tries to form a bond very quickly. They exaggerate their feelings and state that 'they have never ever felt like this'.

They request the target for money, saying that they have met an accident or are in a difficult situation that the victim offers to help.

They promise to meet the target but permanently cancel or make excuses.

You, as a target, do a reverse image search of the scammer's profile picture, which appears to belong to another individual.
How Can Dating Platforms Assure Safety?
Online daters must choose digital platforms that offer greater security, ensuring their personal data and themselves are safe. Dating sites can assure this protection by deploying identity verification solutions that weed out phoney AI-generated profiles. 
Here are the best identity verification solutions to invest in:
Document Authentication

: It detects stolen, expired, and forged IDs by cross-checking them with the global database updated continuously.

Document verification

alone gives a level of assurance and can be combined with another process, asking the person to provide their live selfie, to double up security.

Selfie ID Verification with Liveness Detection

: In this, the live selfie of an individual is cross-matched with the image on their government-issued identity card. This eliminates the risk of a scammer using another's documentation illegally. More significantly, liveness detection prevents spoofing and ensures a genuine person is claiming that identity.

Periodic Checks

: Besides examining anyone during onboarding, dating platforms must perform routine checks like

video KYC

. This is to check that the verified individual is still accessing and using that profile.
Where Does Shufti Pro Step in?
Shufti Pro is a globally trusted IDV solution provider that goes beyond standard KYC checks to help online dating platforms reduce romance scams. Shufti Pro's AI-powered identity verification solution verifies profiles with more than 99% accuracy and helps dating sites comply with regulations.
Still confused about how an identity verification solution works?