BEFORE YOU GO...
Check how Shufti Pro can verify your customers within seconds
Request Demo
No thanks
Using gold for financial crimes has a long history and in many countries, jewellery is not only considered an ornament but people use it for investment purposes A large number of economies in the present world maintain their reserves as per the amount of gold they have in the country. Several businesses in international market are completely dependent on gold and the recent shift in global economy has increased demand for stable-value investments, particularly gold and other precious metals.
The majority of financial organizations have implemented stringent measures against money laundering encouraging criminals to explore other options. The absence of strict laws has made the gold industry quite vulnerable to financial crimes making it a perfect choice for money launderers. It is estimated that currently, 12.5 trillion worth of gold is in the global market with a huge potential for criminal activities. The rising number of money laundering cases through gold investment has compelled financial watchdogs to regulate the sector by enforcing strict monitoring laws.
Gold Industry – A Vulnerable Sector
The regulatory nature of gold in global market has made it quite vulnerable to money laundering and other financial crimes. The gold sector is mainly cash-oriented which results in untraceable transactions and facilitates criminals to disguise their illegal earnings. Unlike the banks and insurance companies, the gold industry does not have efficient Know Your Customer (KYC) and AML checks leading to a high crime ratio. The bad actors buy gold through illegal shell companies and then smuggle it to other countries where gold is sold to refineries converting black money into legal assets.
High liquidity, global acceptance, tax evasion, and lack of regulatory reporting are other major factors responsible for making this industry prone to financial crimes. The absence of any verification system while buying/selling gold is another major reason for its vulnerability to money laundering. Terror financing is a global issue linked to embezzlement of funds which has compelled the financial watchdogs to regulate the gold sector. FATF, Interpol, and all major financial watchdogs are working tirelessly to eliminate monetary crimes from the gold industry.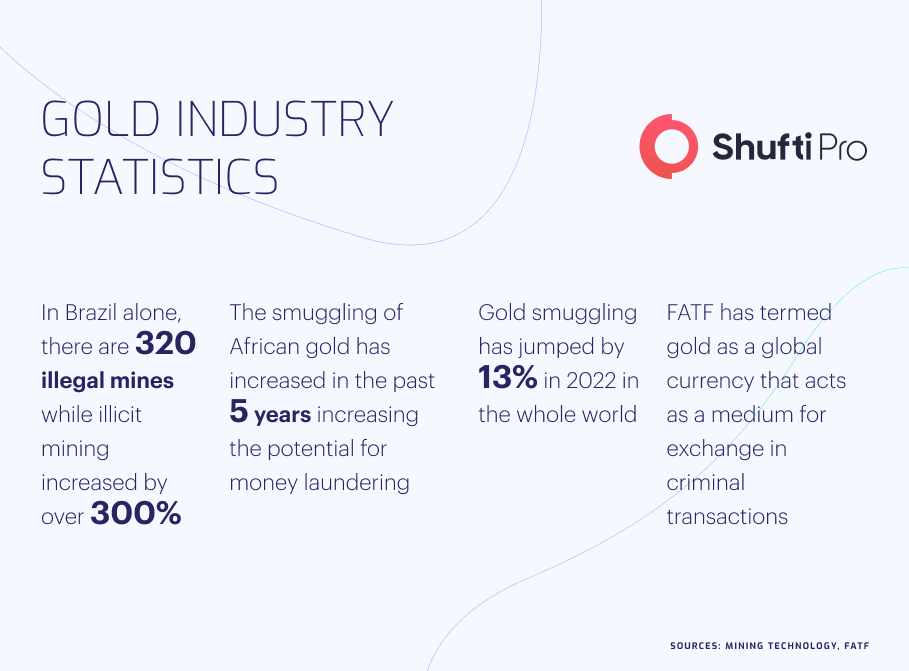 High Profile Cases of Money Laundering through Gold
In the recent past, several cases related to money laundering through gold sale/purchase has been surfaced on media. Efforts by global regulatory authorities and local law enforcement agencies have helped to identify the bad actors and penalize them as per the law.
Brazil Gang Caught Laundering Illegal Gold with Crypto
Brazilian law-enforcement authorities have conducted several raids to arrest five people involved in illegal gold mining and then laundering gold assets using cryptocurrency. It has been found that criminals are involved in money laundering of billions of dollars using fake shell companies.
The gang was also involved in drug trafficking and laundering gold for more than a decade. The initial investigations have found that $16 billion have moved across the gang members' bank accounts in the past two years. Soon after the case surfaced, Brazilian authorities amended AML laws to penalize the culprits.
US Company Laundering Drug Trafficking Money Through Gold Purchases
The US Homeland Security Investigations (HSI) has unfolded a scam where a drug trafficking organization was involved in the sale/purchase of gold using illicit money. The criminals were buying gold from different retailers across the country using funds from narcotics sales and then selling it again to precious metal brokers.
The transactions were further wired to third-party companies out of US linking to the drug trafficking organizations. The gang has been found responsible for laundering billions of dollars out of US and investigations are still ongoing to estimate the punishment of culprits.
Global Regulations Monitoring Gold Industry
Rising cases of money laundering and terror financing through the gold industry have compelled financial watchdogs to implement laws the same as in financial institutions. Latin American countries including China, USA, UAE, and UK are highly vulnerable to crimes related to the gold industry. Under the guidelines of the Financial Action Task Force (FATF), all these jurisdictions are amending their current AML regulations and exposing the risks posed by precious metals sector.
AML Requirements for Precious Metals in the US
Financial Crimes Enforcement Network (FinCEN) is the primary regulatory body working under Bank Secrecy Act (BSA). US regulatory authorities have amended the act and added points related to precious metals, stones, and jewelry to establish money laundering programs. FinCEN has issued detailed guidelines for gold and other precious metals dealers to implement a digital system for monitoring all transactions and financial activities of customers.
It has been made mandatory for the dealers to track all the deals worth more than $50,000 and report to authorities in case of any suspicious activity. FinCEN has further vowed that it will keep on working with internal revenue services to bring precious metals industry into the tax net.
EU Conflict Minerals Regulations
The European parliament has played a key role in curbing money laundering from gold sector by introducing Conflict Mineral regulations for all member countries. It has termed all precious minerals including gold highly vulnerable to money laundering and terror financing. All the countries and dealers have been advised to implement a customer due-diligence approach towards the high-value deals to track suspicious activities in the system.
FATF's Report on Vulnerabilities Associated with Gold
The Financial Action Task Force (FATF) has termed gold trade to be the perfect alternative for banks and other financial institutions for money launderers. Due to the anonymous nature of gold business, it is transformable, aiding criminals to get involved in money laundering and terror financing.
A detailed report has been issued by FATF which contains a series of case studies and red flag indicators to raise awareness among all the countries. All the recommendations provided by FATF are binding for all countries.
Why AML Screening Solution is Important for Gold Industry?
With the rising concerns of money laundering and terror financing, it has become imperative for gold industry dealers to implement robust AML screening measures. Not only criminals are causing financial losses to the sector but also discouraging sophisticated customers and dealers to make legal earnings. Due to the huge influx of money into precious mineral industry, it contains huge risks of criminal activities and AML screening is the only viable solution. FATF and Interpol have accumulated the data of money launderers in the form of sanctions lists which must be consulted before making any gold deals.
What Shufti Pro can Offer?
Implementing the risk-based approach and enforcing AML screening checks is the key to eliminating financial crimes in the gold industry. Shufti Pro's state-of-the-art Know Your Customer (KYC) and AML screening solutions are the most viable options for gold dealers to track all transactions and report suspicious activities. It has access to 1700+ global watchlists and screens data of customers against them to identify the money launderers. With Shufti Pro's AML screening solution, gold dealers can monitor transactions in less than a second with 98.67% accuracy.
Want to get more information about our AML/CFT compliance for your gold industry?