BEFORE YOU GO...
Check how Shufti Pro can verify your customers within seconds
Request Demo
No thanks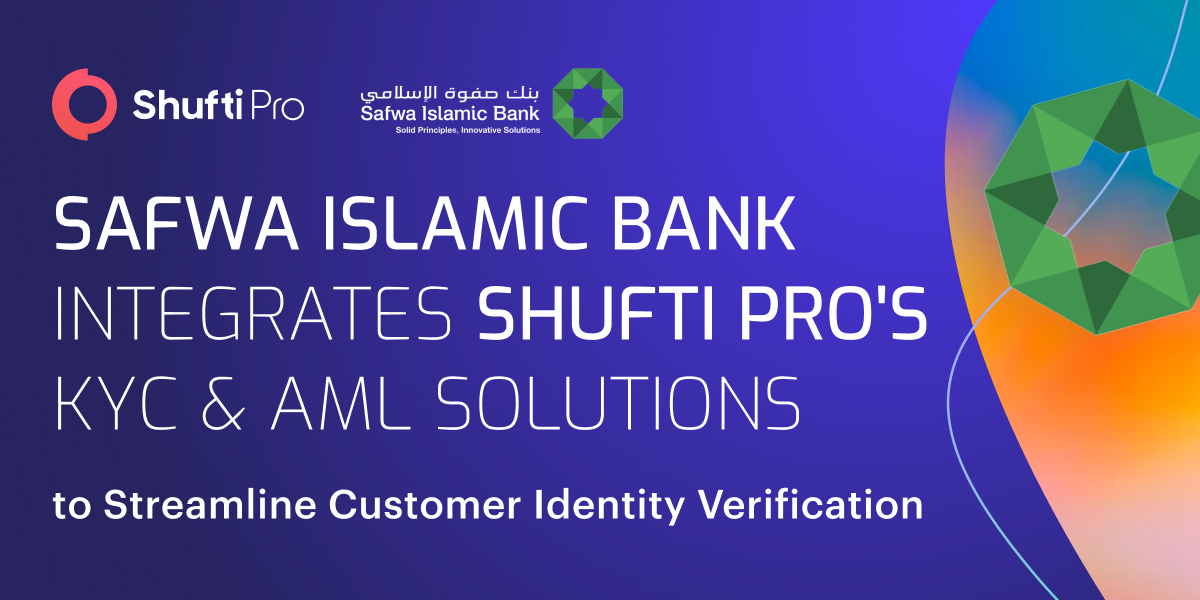 Safwa Islamic Bank Integrates Shufti Pro's KYC & AML Solutions to Streamline Customer Identity Verification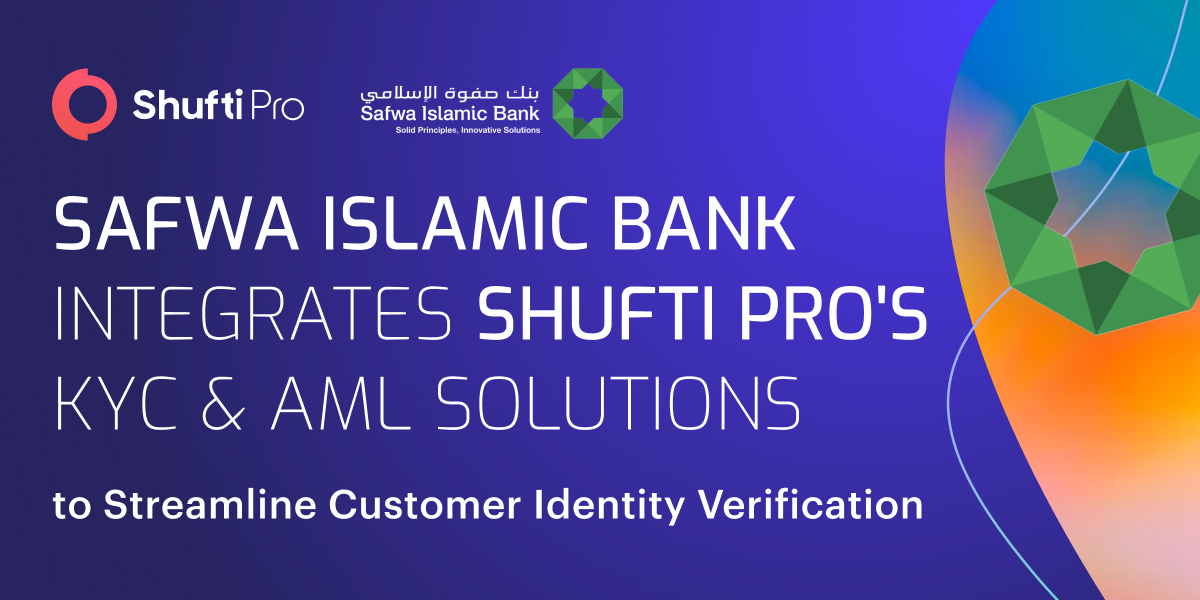 London, UK – Dec 5, 2022 – A leading banking institution implementing the values of diversity, modernity, justice, and transparency throughout its services, Safwa Islamic Bank has announced its partnership with one of the industry-leading KYC & AML service providers, Shufti Pro to offer a frictionless, secure and reliable experience for its customers using the "Safwa Mobile" application.  
Founded in 2010, Safwa Islamic Bank has become Jordan's first modern Islamic bank providing its customers with innovative banking solutions that are both Sharia-compliant and in line with their specific banking needs. Keeping the security and privacy of users' information as its top priority, the financial institution has replaced OTP with biometric authentication. 
Shufti Pro is a globally acclaimed identity verification service provider that offers award-winning KYC and AML solutions to businesses in the finance and banking, eCommerce, cryptocurrency, healthcare, and education sectors. The high accuracy rate and global configurability of its solutions have increased demand for the company's  services resulting in serving established businesses across a wide range of industries.
Financial solution provider Safwa Islamic Bank, which promises a convenient user journey, decided to partner with Shufti Pro to offer a secure banking experience to their customers. This enables the  bank to prevent the threat of money laundering and other financial scams by performing robust identity verification of customers in just a few seconds. Shufti Pro's KYC solution verifies the identity of customers in real-time, helping businesses tackle fraud to prevent identity theft, money laundering, and terrorist financing while staying compliant with global KYC and AML regulations.
Commenting on this collaboration, the CEO of Safwa Bank, Samer Al Tamimi, said: "We take our clients' privacy very seriously, and we want them to know that we are constantly looking for new innovative solutions to ensure a safe banking experience.  This is why we are proud of our recent partnership with Shufti Pro, the AI-powered identity verification solutions provider, which will provide state-of-the-art identity verification. This collaboration falls under our strategy to provide a seamless and secure digital experience for our valued customers who prefer to use our online platform. We aim to improve our online banking and create an even safer service through the "Safwa Mobile" application."
"Organisations like Safwa Islamic Bank that offer digital banking services to customers need fast, accurate, and compliant IDV solutions to achieve their business goals," said Victor Fredung, the CEO of Shufti Pro. "Through this partnership, Safwa Islamic Bank will be able to seamlessly onboard and authenticate the identity of its customers. Shufti Pro's KYC and AML solutions will enable Safwa Islamic Banks to mitigate identity and financial fraud while staying in line with regulatory requirements."
About Safwa
Safwa Islamic Bank is an integrated Islamic bank that incorporates firm Islamic values with the latest banking services of the highest caliber and provides its clients with high-quality products with a personal touch to fulfil their needs, in the process embodying a united philosophy and a constant slogan — Solid Principles, Innovative Solutions.
Safwa Islamic Bank offers a set of banking solutions in line with Islamic Sharia and in a modern formula, via a growing network of branches, across the Kingdom. It offers financing solutions to large and medium-sized enterprises through diverse Islamic financing products, services, and innovative solutions that meet all the segment's financing requirements. The bank also takes special care of its major clients through a package of special services that specifically fulfil their needs.
About Shufti Pro
Shufti Pro is an identity verification service provider offering KYC, KYB, KYI, AML, and OCR solutions worldwide. The UK-based company has 6 international offices and has launched a suite of 17 different IDV products since its inception in 2017. With the ability to verify thousands of ID documents in 150 languages, Shufti Pro serves customers in 230 countries and territories. 
For more information, please contact:
Graeme Rowe
CMO | Shufti Pro
[email protected]
+44 7909 447255