BEFORE YOU GO...
Check how Shufti Pro can verify your customers within seconds
Request Demo
No thanks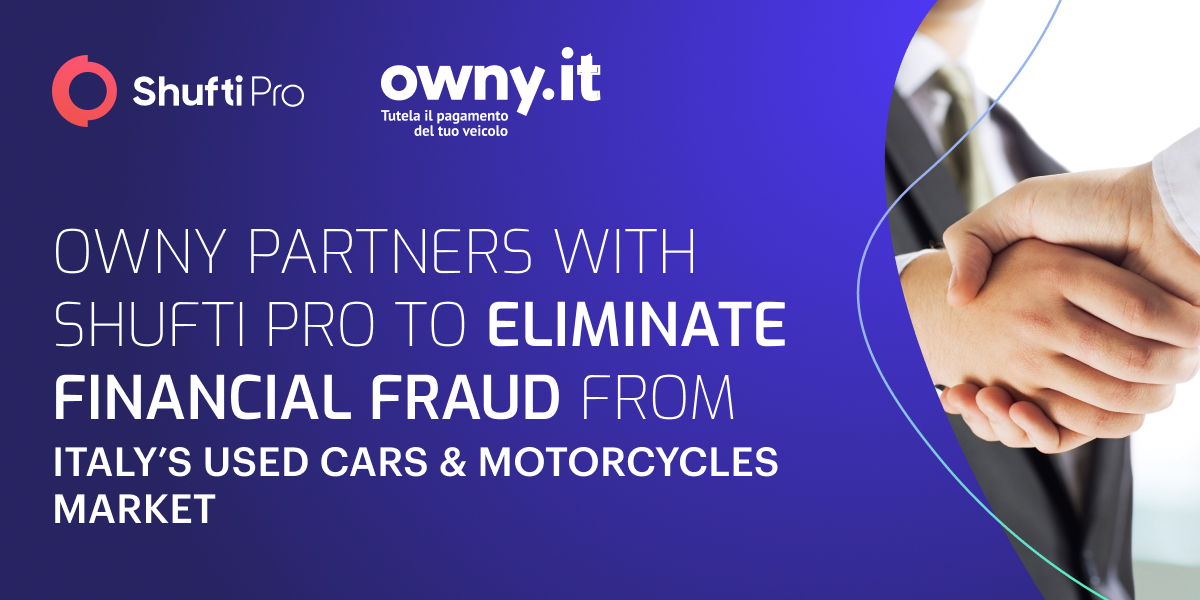 Owny Partners with Shufti Pro to Eliminate Financial Fraud from Italy's Used Cars & Motorcycles Market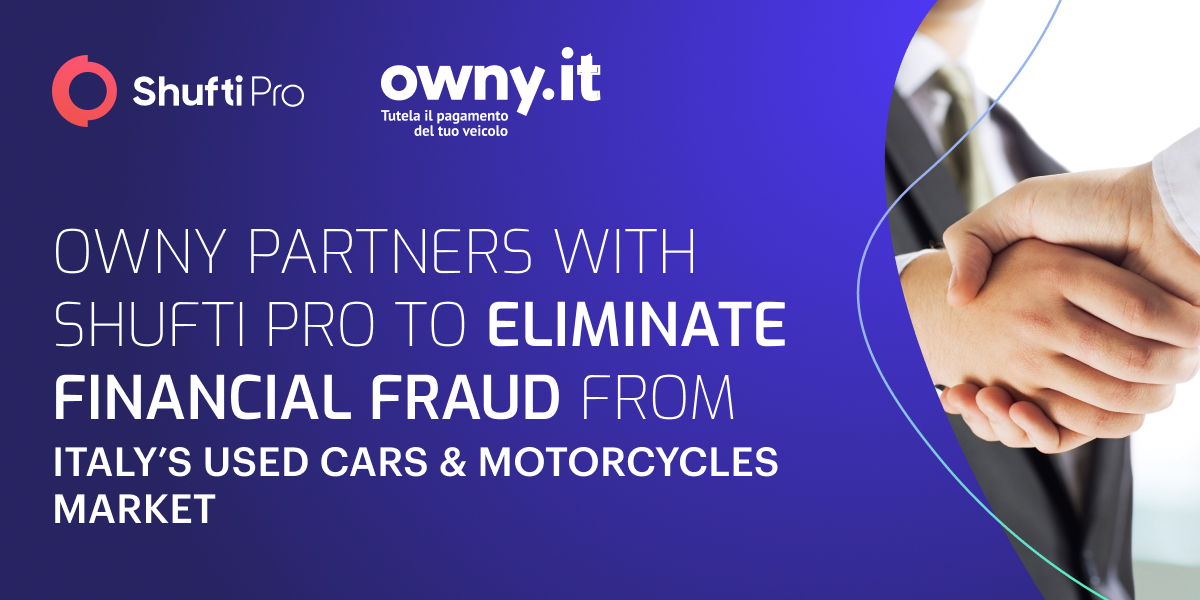 Originally Published on PR Log
London, UK – Jan 31, 2023 – An Italian company with a vision of creating ease in Italy's used cars and motorcycles market by eliminating transactional fraud, Owny announced its alliance with Shufti Pro to strengthen its IDV process while meeting global KYC & AML regulations across the country.
Owny exists with the purpose of protecting both the buyer and the seller during the process of buying or selling a vehicle. The company's targeted market includes mainly private individuals and independent companies. At the moment, Owny is only operating with Italian-registered vehicles that will remain registered in the country once they are sold.
Shufti Pro, one of the leading identity verification solution providers, aims to create ease for businesses by eradicating operational inefficiencies. The company's robust IDV solutions have proven to be reliable and highly accurate in terms of detecting identity theft and making them capable enough to secure customer transactions. 
Fraudulent activities in the automobile industry occur in terms of transactions as if the buyer is in possession of both; the money & vehicle, and the seller ends up receiving no payment in return. It can also go vice versa. Moreover, in the standardised ways of conducting a transaction through banks while buying and selling used cars, customers also face the same teething troubles along with delays. To help its customers avoid such risks, Owny took the initiative to integrate Shufti Pro's identity verification solutions into its web platform, which will help it to combat transactional fraud while meeting AML, KYC, and CFT regulations across the country.
While sharing views on this partnership, Giacomo Raimondi, the CEO of Owny, said: "I am proud to announce the partnership with Shufti Pro LTD. Having a serious and solid company alongside Owny is a fundamental strategic choice. This partnership allows Owny to be compliant with European regulations and is, above all, essential for the protection of our customers, which is what Owny and Shufti Pro care about the most."  
"Helping companies combat fraudulent individuals in the markets while making them meet global KYC & AML regulations is what we are concerned about. And that is what we are planning to do for Owny," said Victor Fredung, the CEO of Shufti Pro.  
About Owny
Owny is currently operating in Italy with the aim of securing buyers and sellers while trading used cars or motorcycles. Its targeted audience includes private individuals and independent companies, and the whole business model revolves around Italian-registered vehicles. 
About Shufti Pro
Shufti Pro, as one of the leading identity verification service providers in the industry, offers KYC, KYB, KYI, AML, and OCR solutions to keep businesses safe from financial fraud, identity theft, and other fraudulent activities. The UK-based firm has expanded to six international offices and introduced a plethora of IDV products and solutions since it was created in 2017. With the ability to verify over 10,000 documents in 150 languages, Shufti Pro serves customers in 230 countries and territories.
For more information, please contact:
Paul Keene
Snr. Digital Marketing Manager | Shufti Pro
[email protected]