BEFORE YOU GO...
Check how Shufti Pro can verify your customers within seconds
Request Demo
No thanks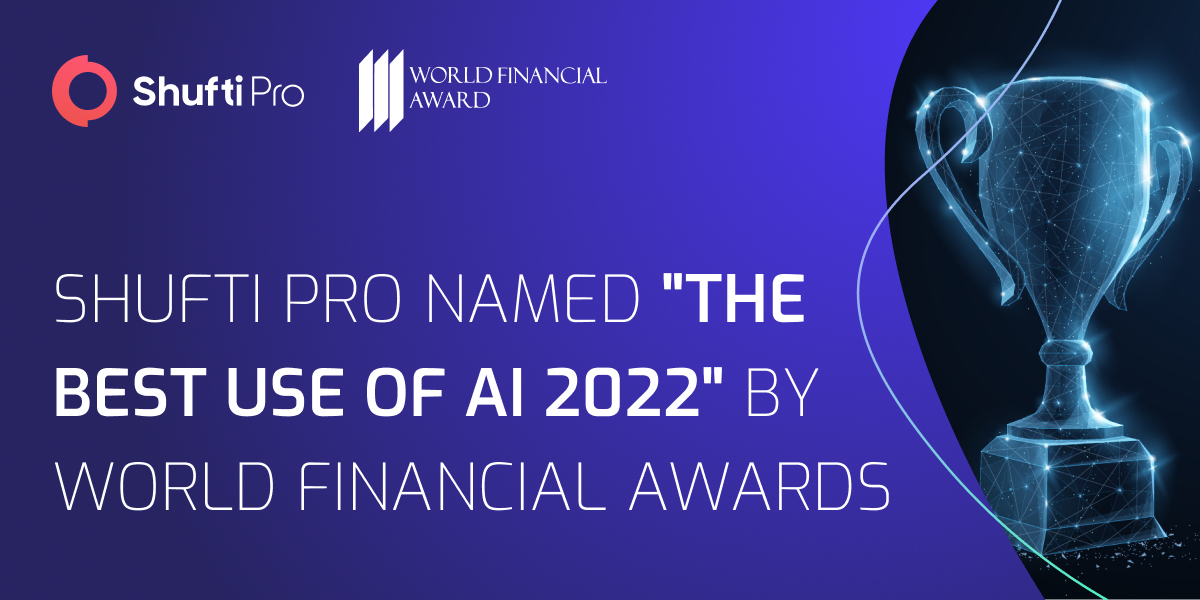 Shufti Pro Named "The Best Use of AI 2022" by World Financial Awards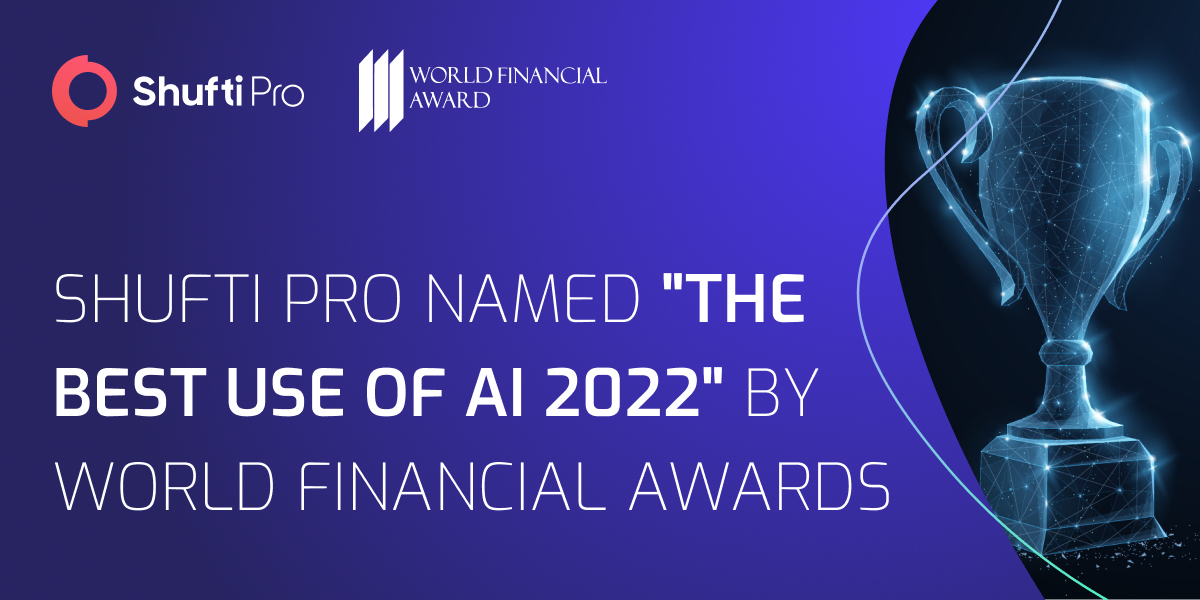 London, UK – Jan 24, 2023  – Shufti Pro, a highly reputable identity verification solution provider, brings home the World Financial Awards under the category of "The Best Use of AI 2022". The company was given this award for exhibiting exceptional identity verification services based on innovation,  growth, and creating a positive impact with its state-of-the-art KYC & AML solutions.
The World Financial Award is acknowledged by many financial firms, regulators, and non-governmental organisations, making it one of the most powerful parts of their PR and marketing strategy. The company brings together pioneers from various enterprises and gives them an exciting occasion to work, learn, share and tackle significant difficulties. 
Globally trusted KYC & AML service provider, Shufti Pro, has been acknowledged for providing cutting-edge digital identity verification solutions to businesses in the finance, iGaming, forex, and crypto sectors, to name a few. The company uses a distinct hybrid approach that combines artificial intelligence, machine learning, and biometrics to counter scams, fulfil compliance requirements and identify if customers are who they claim to be. It incorporates ​​mobile ID verification and video KYC to facilitate seamless, secure, and fraud-free customer onboarding.
"We are honoured for this recognition. World Financial Award will inspire us to work even harder to serve the Fintech sector," said Victor Fredung, the CEO of Shufti Pro. He further stated, "this award has increased our responsibility to assist businesses in making the online world a safer place with our best-in-class IDV solutions."
Shufti Pro has recently won "Best Financial Technology Provider UK 2022" and two "International Business Magazine Awards 2022" for providing world-class ID verification services. The company has also won "Top RegTech Startups" under the category of "Emerging Startups 2022." Shufti Pro also won "Best Digital KYC/Onboarding Application UAE 2022" and "Best Digital KYC/Onboarding Application Europe 2022" at Global Business Reviews Magazine Awards 2022 for its market-competitive identity verification solutions. 
About Shufti Pro
Shufti Pro is a leading identity verification service provider offering KYC, KYB, KYI, AML, and OCR solutions that are accelerating trust worldwide. The UK-headquartered company has six international offices and has launched a suite of 17 complimentary IDV products and solutions since its inception in 2017. With the ability to automatically and securely verify over 9000 ID documents in more than 150 languages, Shufti Pro proudly serves customers in 230 countries and territories. 
For more information, please contact:
Graeme Rowe
CMO | Shufti Pro
[email protected]
+44 7909 447255