BEFORE YOU GO...
Check how Shufti Pro can verify your customers within seconds
Request Demo
No thanks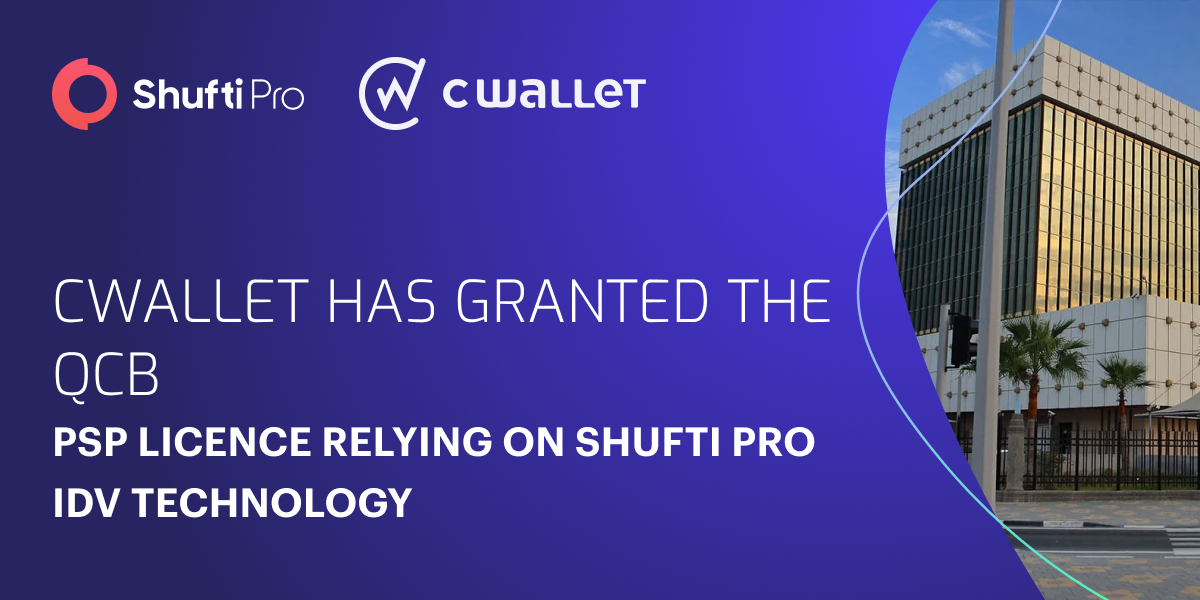 CWallet has Granted the QCB PSP Licence Relying on Shufti Pro IDV Technology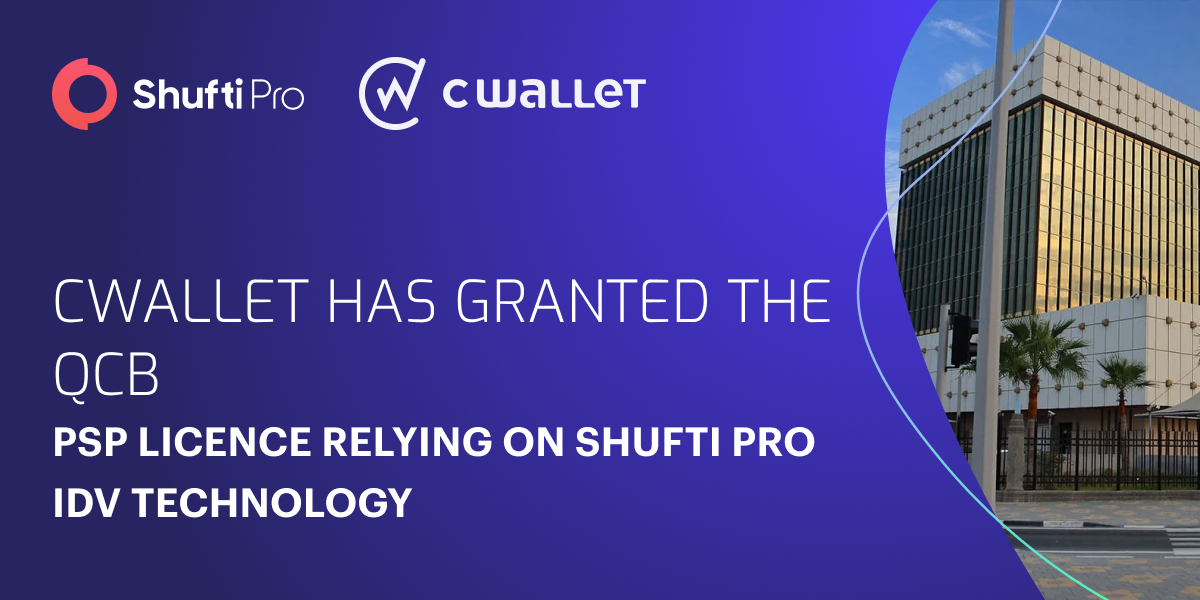 Initially Published on PR Log
London, UK – August 30, 2023 – Shufti Pro, an award-winning KYC service provider, recently obtained a licence from the Qatar Central Bank to provide identity verification services in Qatar.  This milestone was achieved in collaboration with one of the growing fintech startups CWallet.    
Businesses in the MENA region have some of the most stringent KYC/AML compliance requirements, especially when it comes to utilising third-party vendors for customer verification. But with Qatar Central Bank solidifying Shufti Pro's position as a trusted entity for KYC & AML screening solutions, businesses operating in Qatar would not have to go through additional security procedures to integrate a KYC service provider. 
Shufti Pro, a dynamic brand with a vision to replace outdated identity verification processes with efficient and user-friendly solutions, was keen on contributing to the Qatar National Vision 2030, aligning its goals with the country's ambitious vision for the future. The company achieved this milestone in collaborative efforts with CWallet, an award-winning Fintech startup. 
The landmark approval marks yet another significant achievement for Shufti Pro as it expands its footprint in the MENA region. With a comprehensive suite of KYC & AML solutions, the company offers businesses of Fintech, Forex, Crypto, and other sectors to verify their customers swiftly and accurately in a matter of seconds. The ability to verify documents in complex arabic language and flexible integration options along with swift user experience from integration to end-user verification, are some of the reasons behind exceptional growth of the brand in the MENA region. The licence further solidifies its commitment to upholding the highest industry standards.
"We are honoured to have received this licence from Qatar Central Bank, which is a testament to our relentless efforts in providing top-tier KYC services," said Victor Fredung, CEO of Shufti Pro. "This is a momentous achievement as we continue to expand our presence in the MENA region, empowering businesses with secure and compliant identity verification services."
Shufti Pro's unwavering commitment to innovation, security, and compliance makes it the preferred choice in the IDV industry. The company recently launched a Risk Assessment Service and upgraded its KYC service to guarantee a 100% increase in onboarding rate for businesses with unbeatable security. Shufti Pro's dedication to drive transformative change in identity verification has helped it earn a significant number of awards and certifications in its name, the recent one being the SOC Type 2 certification for maintaining and ensuring the highest data security standards. 
About CWallet
CWallet is an award-winning Fintech Startup with basic principles of Payroll, Payment, and Remittance, allowing users to receive their salary on time and conduct online and offline transactions.
About Shufti Pro
Shufti Pro is a market leader in building organisational trust through its identity verification services, including KYC, KYB, KYI, AML, biometric verification, e-IDV, and OCR solutions. The company aims to empower global businesses with its suite of 17 different IDV products, offering secure verification of 10,000+ ID documents in more than 150+ languages. Since its inception in 2017, Shufti Pro has expanded to six international offices, helping businesses in 240+ countries and territories. 
For more information, please contact
Paul Keene
Snr. Digital Marketing Manager | Shufti Pro
[email protected]
+44 020 3435 6498
Market Pro
Marketing Partner | Shufti Pro
[email protected]