BEFORE YOU GO...
Check how Shufti Pro can verify your customers within seconds
Request Demo
No thanks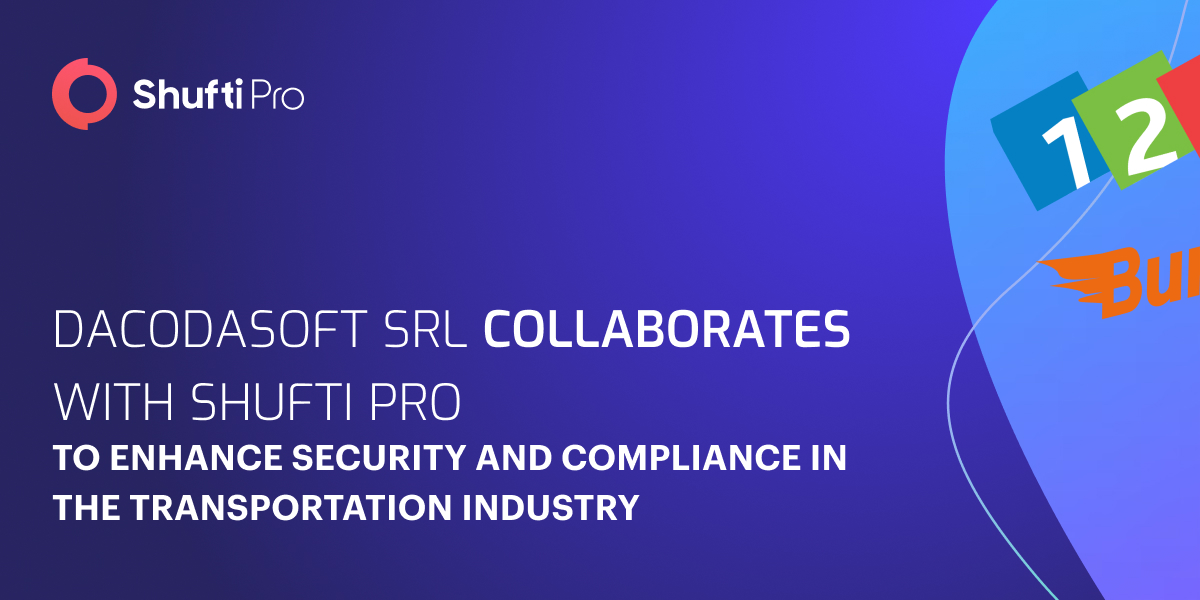 Dacodasoft SRL Collaborates with Shufti Pro to Enhance Security and Compliance in the Transportation Industry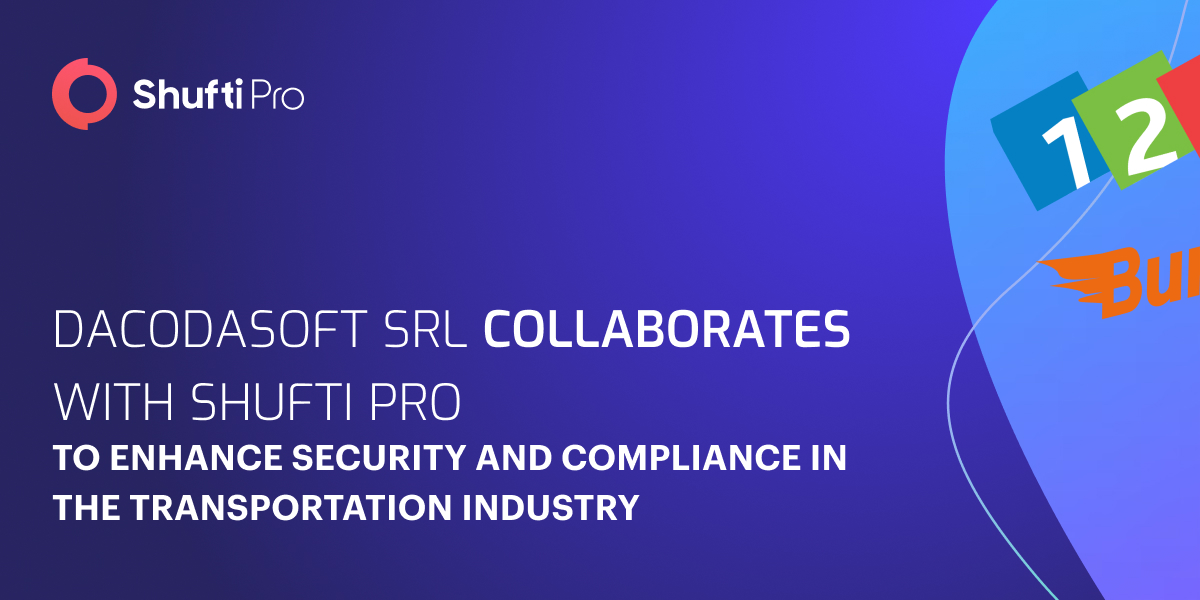 Initially Published on PR Log
London, UK – June 8, 2023 – Dacodasoft SRL, a leading online marketplace for freight exchange services, has partnered with Shufti Pro, a leading provider of identity verification solutions, to deliver a seamless transportation experience for its clients whilst ensuring compliance with KYC regulatory standards.
Dacodasoft SRL operates two logistic platforms, BursaTransport in Romania and 123cargo, serving companies with headquarters in Europe, excluding Romania. They connect road freight transport operators and traders, ensuring secure and efficient transport services with over 16,000 subscribed companies and more than 9 million goods transported annually. Dacodasoft SRL prioritises safety by guaranteeing zero cargo theft cases and assisting in collecting delayed transport invoice payments.
Shufti Pro provides AI-powered IDV solutions for firms, including Regtech,  Fintech, banking, and other industries. The company's global reach and outstanding 99% verification accuracy make it a go-to for enterprises of all sizes requiring identity verification solutions.
The transportation industry plays a crucial role in the economy, but its vulnerability to financial crimes, such as fraud and identity theft, cannot be ignored. This partnership enables our client to implement a KYC solution that provides a secure and trustworthy platform for companies and individuals to connect with reliable transportation service providers.
"We decided to start the ProFxUser website following our previous experience in road transportation as carrier and forwarder but also based on our activity as an administrator of 123cargo/BursaTransport freight exchange for more than 20 years. The partnership with Shufti Pro for the KYC program resulted from our need to do a GDPR-compliant identity verification process for the person who passed our test. After a market analysis, we chose Shufti Pro because, for our needs, they offered extensive developer documentation, easy integration and fair pricing. By this partnership, we expect to receive accurate verification, integrated with a simple flow, offering a good user experience to our website's professionals," said Dan Cotenescu, 123cargo/BursaTrasport Manager.   
"Freight exchange service providers like Dacodasoft SRL require KYC solutions for seamless logistic experience," said Victor Fredung, CEO of Shufti Pro. "This partnership will help our client to offer secure and fraud-free transportation service whilst complying with KYC requirements."
About Dacodadoft SRL
Dacodasoft SRL, the market leader in freight exchange, operates two logistics platforms, BursaTransport (exclusively for Romanian companies) and 123cargo (in multiple languages for European companies, excluding Romania). It is a part of the Alpega group of three freight exchanges with the daily usage of 15,000 transport companies. Furthermore, it offers an online certification test through its accessory site, ProFxUser, for individuals to obtain a certificate of FX professional user to add to their profiles on the platform.
About Shufti Pro
Shufti Pro is a leading IDV service provider offering KYC, KYB, KYI, AML, biometric verification, and OCR solutions, accelerating trust worldwide. It has six international offices and has launched 17 complimentary IDV products and solutions since its inception in 2017. With the ability to automatically and securely verify over 10,000 ID documents in more than 150+ languages, Shufti Pro proudly serves customers in 230+ countries and territories. 
For more information, please contact
Paul Keene
Snr. Digital Marketing Manager | Shufti Pro
[email protected]
+44 020 3435 6498
Market Pro
Marketing Partner | Shufti Pro
[email protected]