BEFORE YOU GO...
Check how Shufti Pro can verify your customers within seconds
Request Demo
No thanks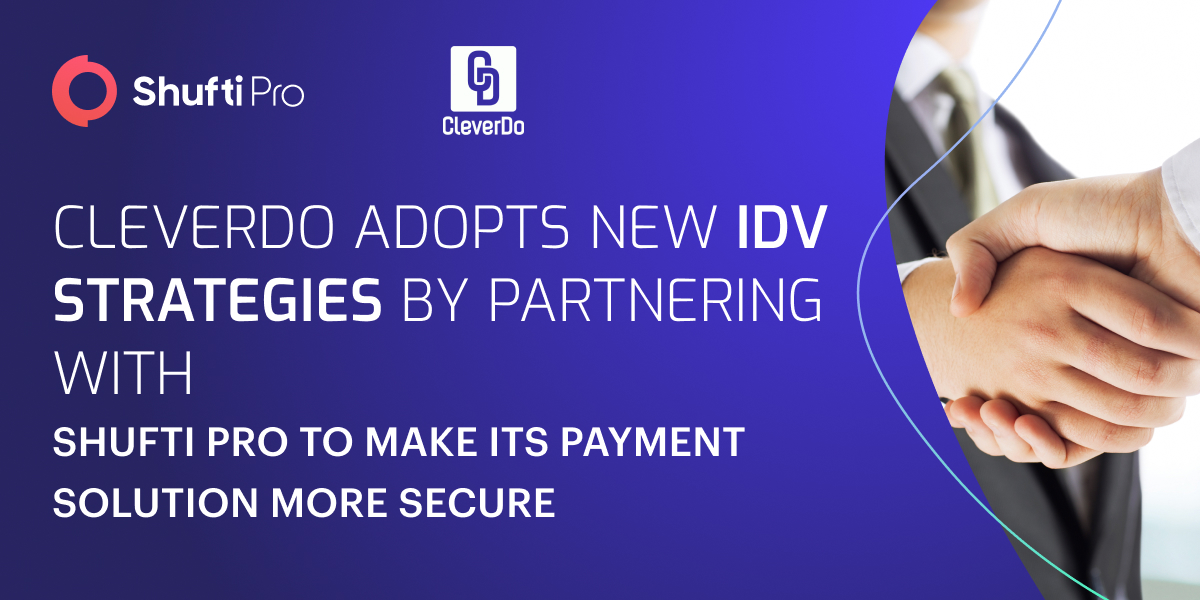 CleverDo Establishes An Alliance with Shufti Pro to Make its Mobile Payment Application Reliable & Secure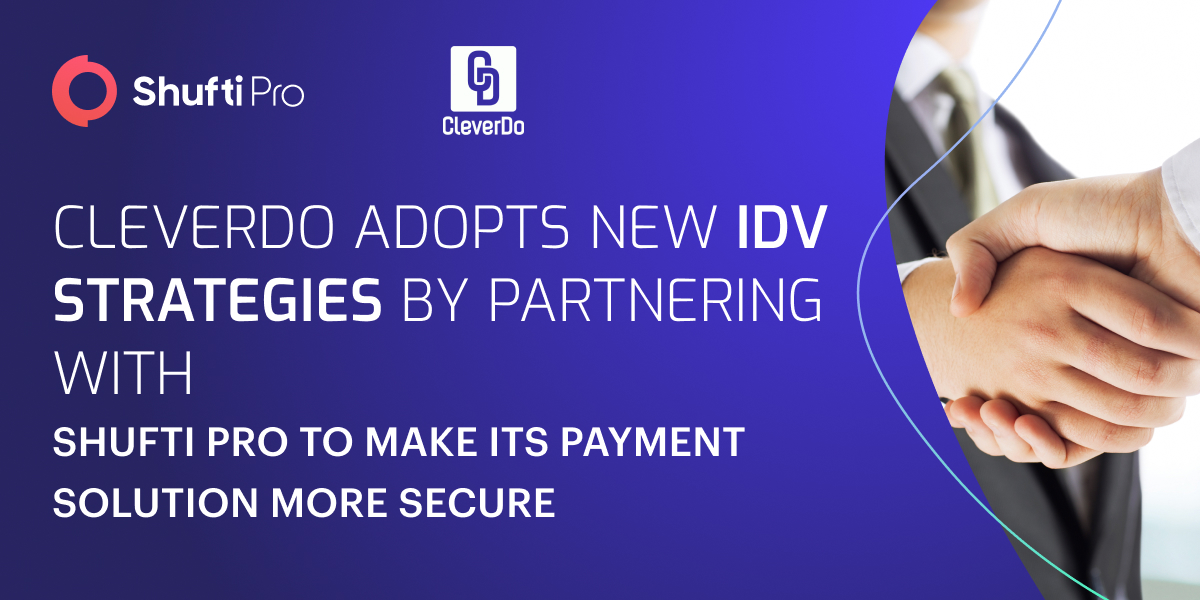 Originally Published on PR Log 
London, UK – Feb 17, 2023 – A Canadian firm aiming to push the limits of its mobile payment application and create ease for its potential customers, CleverDo has recently announced its integration with Shufti Pro's IDV services. Meeting all KYC, KYB, and AML regulations whilst avoiding financial crime in the fintech market is what this partnership is all about.
CleverDo's payment technology platform was established in 2020, whereby research and development commenced to build the company's vision. As Canada is the leading intelligence provider for resource and expert financial analysis in fintech, the company expanded its roots into British, Columbia, and Canada as CleverDo Payment Technologies Ltd. It also has operational offices in Spain and will soon be opening an office in South Africa.
The organisation's aim is to eliminate every obstacle in the fintech market with its mobile application and chances of getting attacked by criminals, thus leading to its partnership with Shufti Pro to strengthen IDV processes.
Shufti Pro, a globally trusted IDV platform, offers AI-powered KYC and AML solutions to a number of firms across the globe. Services with high customisability, 99.3% verification accuracy, and global reach make it the best choice for companies operating in the fintech markets. Via this partnership, CleverDo will be able to prevent identity theft and financial fraud effortlessly.
Commenting on the bond, the CEO of CleverDo, Mr Poul Erik Andersen said: "Our mission is to bring a new generation of Apps to all users. The first global reach App!" 
Shufti Pro CEO, Victor Fredung: "Helping firms to achieve their aims while solidifying their IDV systems is what our team focuses on. CleverDo can leave the IDV part on us and focus on its priority tasks."
About CleverDo 
The founder & CEO of CleverDO, Poul Erik Andersen, was also the founder of More2Save. Aps back in 2012. The company worked with mobile payment solutions, such as tap-and-go NFC & mobile wallets. Having watched with great interest the growth of online payment services and the increased number of mobile apps being used, the idea of bringing all these services under one App and making it available around the world began. Mr Poul Erik Andersen decided to bring a new generation of Apps to other parts of the world. CleverDo Holding Ltd opened in 2020, where the research and development of the CleverDo vision began.
About Shufti Pro
Shufti Pro being the industry's leading identity verification service provider offers KYC, KYB, KYI, AML, and OCR solutions to keep the fintech environment safe from fraudulent activity. The UK-headquartered firm has expanded to six international offices and introduced a plethora of IDV products & solutions since it was created in 2017. With the ability to verify over 10,000 documents in 150 languages, Shufti Pro serves customers in 230 countries and territories. 
For more information, please contact:
Paul Keene
Snr. Digital Marketing Manager | Shufti Pro
[email protected]
+44 020 3435 6498
Market Pro
Marketing Partner | Shufti Pro
[email protected]