BEFORE YOU GO...
Check how Shufti Pro can verify your customers within seconds
Request Demo
No thanks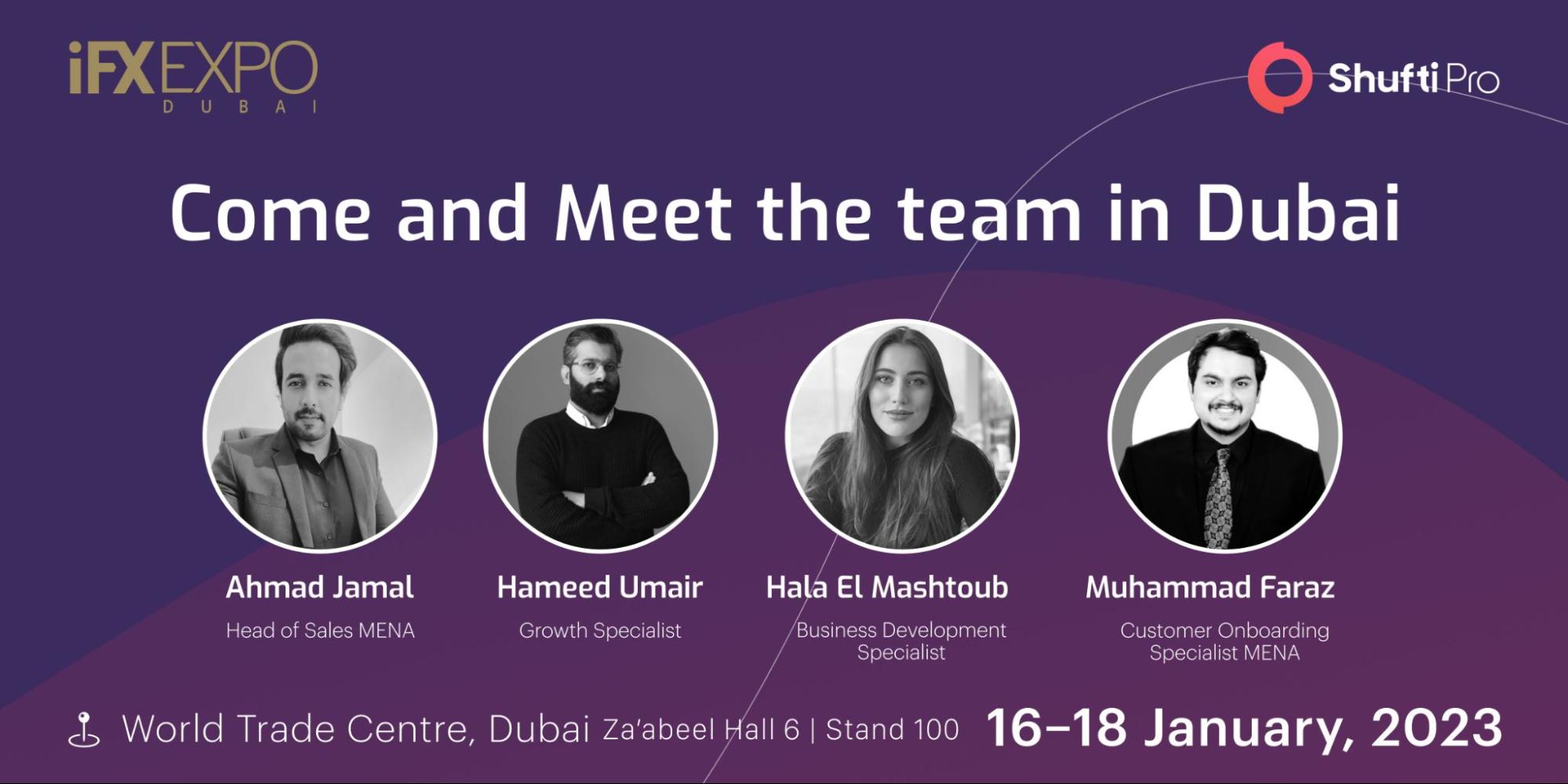 Shufti Pro Exhibits at the Largest Global B2B Fintech Conference "iFX EXPO Dubai 2023"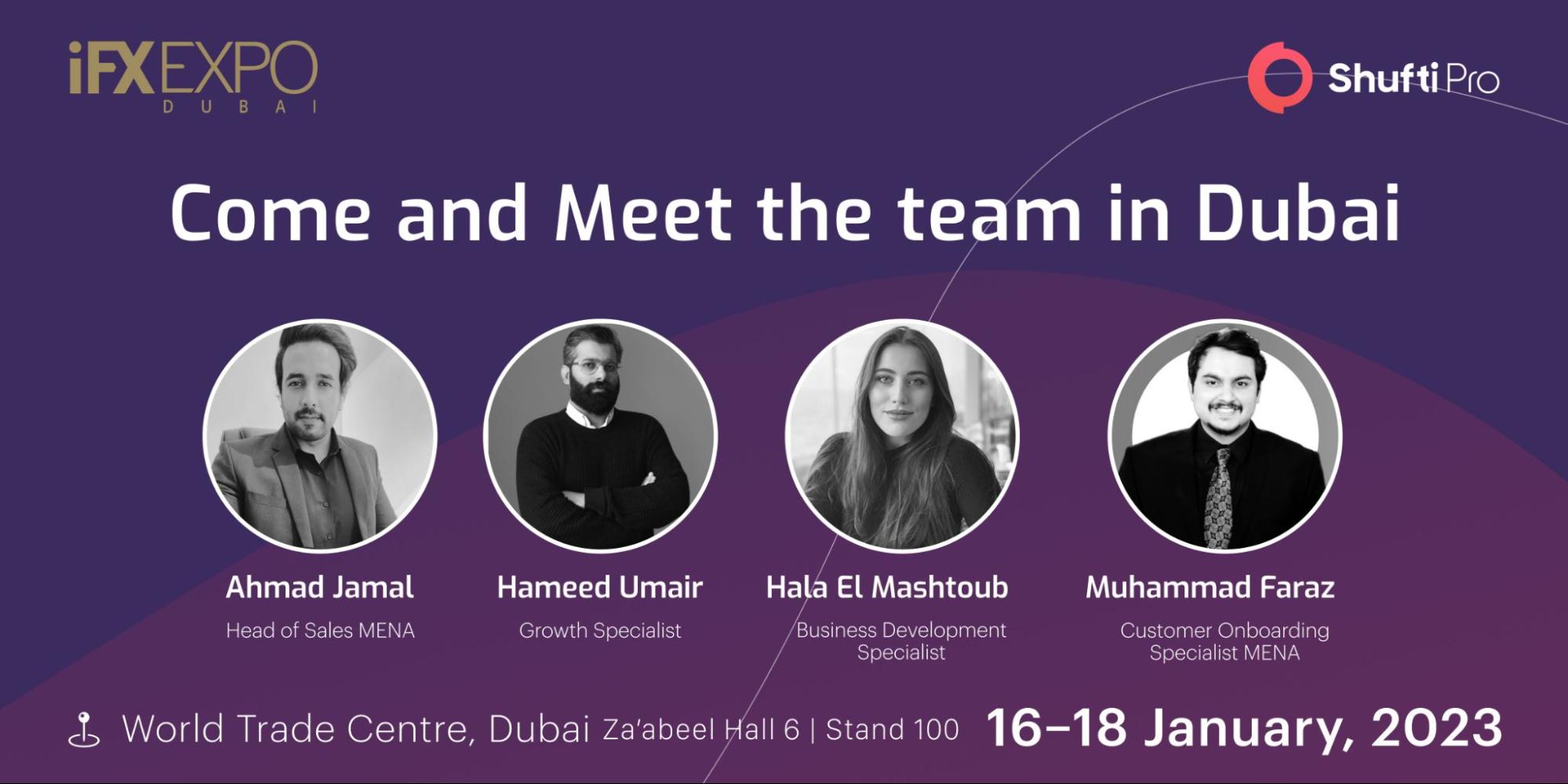 London, UK – Jan 17, 2023 – Shufti Pro, the leading provider of AI-powered end-to-end identity verification, eKYC, and AML solutions, is exhibiting at the iFX EXPO Dubai, the largest financial B2B Conference, from 16th to 18th January 2023 in Dubai World Trade Centre Za'abeel Hall 6.
Ahmad Jamal (Head of Sales MENA), Hameed Umair (Growth Specialist), Muhammad Faraz (Customer Onboarding Specialist MENA), and Hala El Mashtoub (Business Development Specialist) are representing Shufti Pro at the EXPO. Meet the team at booth no 100 to have an expert talk regarding KYC and AML in the finance sector. 
iFX Expo is the world's largest financial B2B exhibition. It provides a chance to connect professionals in online trading, financial services, and fintech across Europe, Asia, & the Middle East. This year's event is attended by top-level executives from renowned international organisations, giving them a chance to engage in insightful content about KYC and AML in the finance sector. The iFX Expo Dubai 2023 has 100+ speakers and 3500 attendees.
Shufti Pro has expanded its top-notch IDV services to more than 700 international clients in mainstream industries such as finance and banking, gaming, e-commerce, crypto, healthcare, and education, to name a few. The company has recently launched Forensic Document Verification which utilises AI along with handwriting validation, UV ray examination, microscopic analysis, and OCR to detect counterfeit documents with a 99% accuracy. 
For the second year in a row, iFX EXPO Dubai is taking place at the Dubai World Trade Centre, Za'abeel Hall 6. For 2 whole days, this impressive venue is hosting attendees, exhibitors and sponsors, including successful start-ups, leading international brands, and industry giants, to grow their business network successfully.
Shufti Pro also rolled out its Customer Risk Assessment (CRA) and Customer Risk Scoring (CRS) solutions providing businesses with effective tools to conduct an in-depth analysis of the risk associated with potential customers. With its robust KYC/AML services, Shufti Pro aims to safeguard the global financial market against Fincrime.
Expressing his thoughts on attending the iFX EXPO Dubai event, Victor Fredung, the CEO of Shufti Pro, commented, "We are attending the largest Fintech event, iFX Expo in Dubai this year. Such events provide a chance to have unparalleled exposure opportunities and insightful speaker sessions. We are engaging with finance, trading, and Fintech experts about automated KYC and AML verification."
About Shufti Pro
Shufti Pro is a leading identity verification service provider offering KYC, KYB, KYI, AML, and OCR solutions, accelerating trust worldwide. The UK-headquartered company has five international offices and has launched 17 complimentary IDV products and solutions since its inception in 2017. With the ability to automatically and securely verify over 9000 ID documents in more than 150 languages, Shufti Pro proudly serves customers in 230 countries and territories. 
For more information, 
Graeme Rowe
CMO | Shufti Pro
[email protected]