BEFORE YOU GO...
Check how Shufti Pro can verify your customers within seconds
Request Demo
No thanks
In global financial systems, the increasing frequency of Anti-Money Laundering (AML) violations has become a cause for concern. Illicit activities, such as money laundering and terrorist financing, are perpetuated by individuals and organisations exploiting vulnerabilities in the financial sector. However, AML regulations and practices have emerged as a powerful safeguard to combat these threats. By implementing rigorous compliance measures, conducting thorough due diligence, and leveraging advanced technologies, AML protocols detect, prevent, and deter illicit financial activities. With its proactive approach, AML plays a crucial role in protecting the integrity of economic systems and upholding the trust of individuals and institutions alike.
Major AML Breaches and Penalties in June 2023
A quick recap of June 2023 shows no signs of money laundering slowing down, costing firms heavy fines.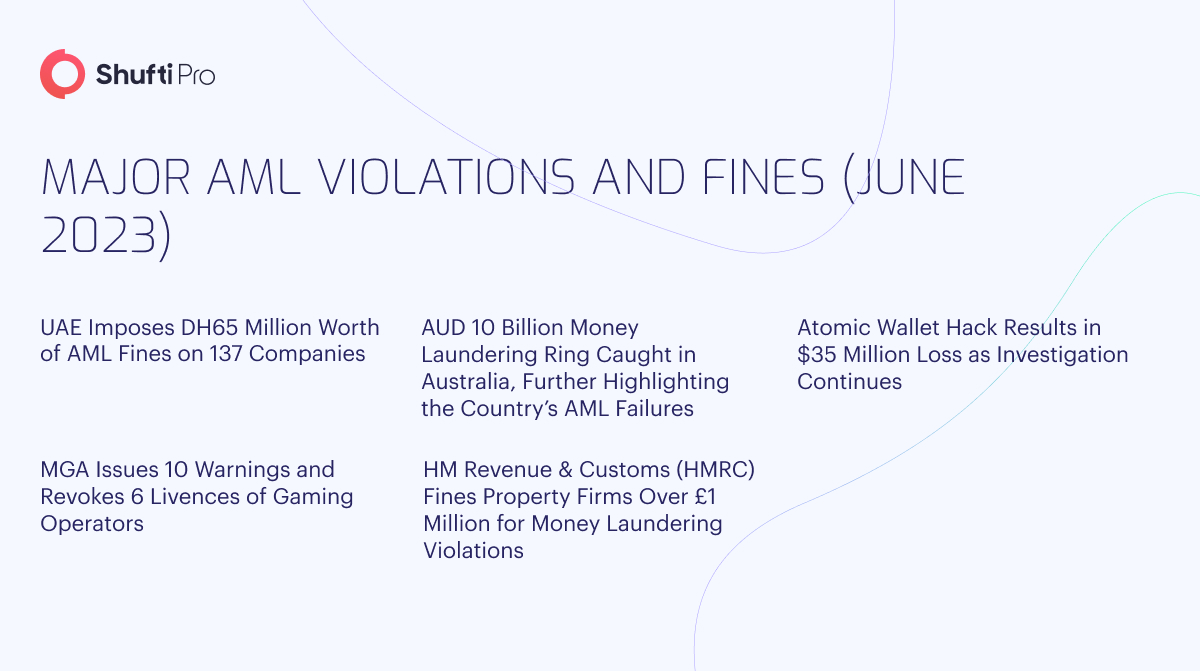 UAE Imposes DH65 Million Worth of AML Fines on 137 Companies
The Ministry of Economy fined Dh65.9 million in the first quarter of 2023. The fine was imposed on UAE's Designated Non-Financial Business and Professions sector (DNFBP) for failing to comply with AML and CTF regulations. 
The Ministry of Economy oversees inspection tours for these designated non-financial businesses and professions. The sector encompasses various entities, such as agents, auditors, jewellers, brokers, and financial services companies, who offer their services to corporate clients.
This action is a part of the Ministry's continuous endeavours to ensure strict adherence to all provisions outlined in Federal Decree-Law No. 20 within the sector. Amendments have been made to the Anti-Money Laundering Act of 2018, its administrative regulations, and associated laws to combat the illegal activities of money laundering and terrorist financing. The country must fulfil its legal obligations to fully comply with the Financial Action Task Force (FATF) international standards. 
AUD 10 Billion Money Laundering Ring Caught in Australia, Further Highlighting the Country's AML Failures
The Australian Federal Police (AFP) allegedly uncovered AUD 10 billion in global money laundering activities in Sydney. As part of the investigation, law enforcement officials seized valuable assets, including cash, real estate, and luxury items worth hundreds of millions of dollars. Additionally, nine individuals were arrested for their involvement in money laundering and other criminal offences. 
The weak Anti-Money Laundering (AML) and Countering Terrorism Financing (CTF) framework in Australia has contributed to its reputation as a regional hub for money laundering. Despite implementing AML and CTF controls by successive Australian governments since 2007, no measures have been taken to enforce compliance with these laws for "gatekeeper professions." The gatekeepers refer to companies or professions not directly involved in financial transactions.
Atomic Wallet Hack Results in $35 Million Loss as Investigation Continues
Atomic Wallet users have faced significant losses in the value of their cryptocurrency, totalling millions of dollars. Numerous Twitter accounts have reported instances of wallet contents being stolen, causing widespread concern within the cryptocurrency community. The breach occurred on June 3, prompting an immediate investigation into the vulnerability.
Approximately 5 million individuals are believed to have downloaded Atomic Wallet's cryptocurrency wallet since its launch in 2017 by Konstantin Gladych. Whilst the exact method of the attack remains unconfirmed, Atomic Wallet's spokesperson has stated that the company is collaborating with multiple security firms and reaching out to relevant organisations to aid in the recovery of the stolen funds.
An ongoing investigation is being carried out with leading security firms to identify potential attack vectors. At present, there is no conclusive evidence available. The support team gathers the victims' addresses as part of their efforts.
MGA Issues 10 Warnings and Revokes 6 Licences of Gaming Operators
The Malta Gaming Authority (MGA) issued ten warnings and revoked six gambling licenses in 2022. The report indicates that the MGA imposed 16 administrative penalties and reached three regulatory settlements, resulting in a total fine of $191,907.
The MGA conducted 228 desktop evaluations and 28 compliance audits throughout the year. Additionally, AML  and CTF checks were carried out by the MGA and the Financial Intelligence Analysis Unit (FIAU).
Concerning individuals and firms suspected of involvement in terrorist financing or money laundering, the Fit and Proper Committee deemed six ineligible. The audit also disclosed that the FIAU took remedial and administrative actions against 25 licensees, ranging from written reprimands to administrative fines, totalling more than $790,336.
Carl Brincat, the CEO of MGA, expressed satisfaction with the report and emphasised the importance of collaborative efforts to ensure a secure and sustainable gaming sector. Brincat commended the regulator's commitment to staying abreast of emerging trends and challenges, tirelessly working towards establishing a strong foundation that fosters trust and safeguards vulnerable individuals.
HM Revenue & Customs (HMRC) Fines Property Firms Over £1 Million for Money Laundering Violations
Property firms have been fined over £1 million by HM Revenue & Customs (HMRC) due to non-compliance with AML laws. These fines were imposed on businesses that committed offences during the latter half of the previous year. HMRC has reported that multiple companies failed to adhere to regulations to prevent criminals from exploiting illicit funds.
The fines were £3.2 million, with more than £1 million specifically targeting property firms. The primary issue observed was the failure to register within the required timeframe. Among the fined businesses are RW Invest, based in Tunbridge Wells, which received a fine of £44,210, and 1st Lettings Property Services, located in Coventry, fined £14,850 for their failure to register on time.
Nick Sharp, HMRC's Director of Economic Crime, emphasised that money laundering is not a victimless crime. He further stated that HMRC is dedicated to assisting businesses in protecting themselves against criminal activities and will continue to address the non-compliant minority. Sharp highlighted the substantial cost of serious and organised crime to the UK, costing billions of pounds yearly, and stressed that effective AML screening is crucial in combating this issue.
How Can Shufti Pro Help?
Shufti Pro offers an AI-powered AML screening solution that is trusted globally. Our AML solutions screen clients against 1700+ watchlists within seconds and mitigate the risk of money laundering and fraud. Not only do our AML solutions keep scammers away, but they also help businesses comply with KYC and AML regulations.
Still confused about how an AML screening solution protects your firms from financial crimes?