Blog
ID Verification – What new KYC Services Shufti Pro launched in 2018?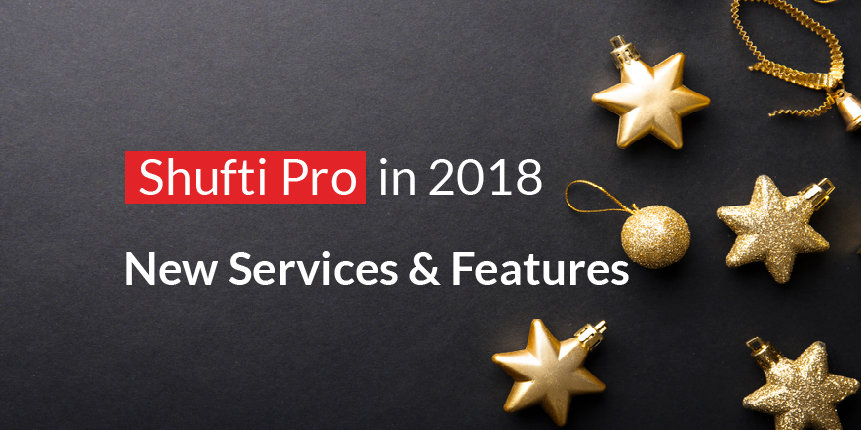 Shufti Pro started 2018 with an aim to fight the menace of digital fraud, identity theft, and online scams on behalf of our customers via ID Verification and KYC authentication. Honestly, the odds were not in the favor of Shufti Pro. The increase in social security card numbers (35%) was more than the increase in credit card number breaches (30%). A new seismic shift was observed with scammers and fraudsters taking over existing accounts rather than using fake credentials or documents to make new accounts. The need for Identity verification was higher than ever with bank account takeovers going as high as 24% as compared to previous years.
Where did Shufti Pro start from?
At the start of the year 2018, Shufti Pro was offering a limited number of online ID verification services in a relatively smaller number of countries around the globe. ID verification system of Shufti Pro was able to authenticate official identity documents from only a small number of countries because of its limited language support. As an ID Verification service, Shufti Pro has evolved a great deal, not only with respect to the number of services that can be availed by Shufti Pro customers but also the way those services are available and features that make those ID Verification services second to none in precision and cost-effectiveness at the same time.
How did ID Verification by Shufti Pro evolve?
When 2018 started, Shufti Pro was offering a bunch of KYC services and ID verification services that were integrated together. We enter into 2019, with an ID verification service pack that is not only viable for mobile ID verification but also each verification service can be bought separately. It means that if a Shufti Pro customer only wanted to verify the authenticity of an officially issued ID and verify their official Data of Birth, they can easily do that without having to pay for AML checks or phone verification or any other ID verification service that they do not require to perform.
Online ID Verification Services Added this Year
Shufti Pro added many online ID verification services in their arsenal of KYC verification and identity verification, details of which are added below:
Address Verification – Very early in the year, Shufti Pro launched Address verification in order to authenticate addresses of end-user. Shufti Pro not only allowed proof of address verification with the help of ID cards, driving licenses, passports but also with the help of bank statements and utility bills as well.
AML Compliance Checks – Adapting to Anti-Money Laundering guidelines put forward by financial regulators was a great concern for many of Shufti Pro customers. An AML Compliance solution was launched by Shufti Pro to safeguard its customers not only from identity theft but also from bringing onboard customers that pose a financial risk. Shufti Pro has compiled a huge databank containing profiles from 1000+ Watchlists and 3000+ databases maintained by national and international law enforcement agencies. Additionally, Shufti Pro has added Politically Exposed Persons (PEPs) as defined by FATF in this huge databank. AML background checks by Shufti Pro are, thus, the most effective method to examine the financial risk attached to an incoming user.
2 Factor Authentications – Shufti Pro launched 2 Factor Authentications in 2018 so that its customers can not only verify the true identity of end-users but to add an additional layer of security as well in account access process. Shufti Pro can forward a customized text message with a generic code to end-user in order to make sure that they have provided a genuine phone number during the verification code. The same phone number can be used to identify whether the legitimate user is trying to access their account or not.
Shufti Pro even added many other KYC services in the year 2018, that included
Apart from all above services, Shufti Pro also focused in the year 2018 to introduce new features to its ID Verification service pack, not only to diversify our customer portfolio but also to provide top quality service to our clientele. These features included:
Proof of Verification
Real-Time Verification Results
Availability in 225+ Countries
Support for 150+ Official Languages
Downloadable Verification Report
Restful API & SDKs

So all in all, the year 2018 was a really productive year for Shufti Pro as we not only launched new ID verification services but were also able to introduce new features. We would like to a take a moment and show our gratitude towards our customers that provided the basic impetus for all these new services and helped us introduce new features.
Shufti Pro also understands that the journey towards a digital world free of online scams, digital frauds, and identity theft is just getting started. That is why we are all pumped up to start 2019 with a resolution to beat scammers and fraudsters that intend to disrupt online activities for their own personal gain.
Every one at Shufti Pro wishes you A Happy New Year and a spectacular 2019!
Recommended For You:
Disclaimer:
No warranty is herein provided that the information contained in this document is accurate, up-to-date, and/or complete. In no circumstance(s), does such information constitute legal or any other advice. Any person who intends to use, rely, pass-on, or re-publish the information contained herein in any way is solely responsible for the same. We suggest to verify the information and/or obtain
expert advice
independently if required.