BEFORE YOU GO...
Check how Shufti Pro can verify your customers within seconds
Request Demo
No thanks
The transport industry is on the verge of significant disruption, with new emerging technologies, services, and products fundamentally shifting clients' opportunities and expectations. Once the industry is dominated by private vehicles juxtaposed with public transit, today's transportation has become a more complex and multilayered topic, facing new challenges but also standing on the brick of new emerging opportunities. The global Mobility as a Service (MaaS) market was USD 182.12 billion in 2018 is projected to reach USD 210.44 billion by 2026, exhibiting a CAGR of 1.9% during the forecast period from 2019 – 2026.
However, the transportation industry is experiencing transformation in order to deliver seamless mobility services to customers. Thus, new concepts like ride-hailing and ride-sharing are becoming mainstream in many jurisdictions across the globe. Although they are still yet not adopted and are still limited to specific use cases and client profiles. To entice consumers away from long-held norms associated with owning a vehicle, even given the high costs and nuisance that come with it, the transportation industry is all set to offer mobility as a service, a completely personalized experience customers can not turn down.
The Rise of
Mobility-as-a-Service (MaaS)
Technological transformation and changing customer behavior mean the transportation industry needs to rethink and redefine its role and services. However, new transportation services are emerging from the private sector, for example, ride-sharing, ride-hailing, and mobility as a service (MaaS). Thus, these new services and emerging technologies underpinning them hold the potential to re-shape public transportation.
However, as competition is rising in segments of land passengers, the transport market and supply chains are becoming a reality. The ride-sharing business models are also evolving including the on-request buses that could and in some cases do, compete against the fixed route and time-constrained transportation services. Moreover, MaaS providers are also considered as retailers that compete with the public transport companies in offering pricing and service bundles to clients.
The benefits of MaaS are well understood and deeply felt. For instance, the way we navigate through the urban environment has been evolved by the interconnectedness of light touch, communal and transport solutions. However, during the covid pandemic, businesses gifted to home delivery, innovative services emerged due to covid restrictions and continued to halt physical activities. Therefore, as the world order is restoring, mobility as a service trend is becoming a new standard, reshaping people's lives.
Therefore, mobility as a service has become a one-stop-shop, under which every kind of transportation comes into account and renders seamless services to customers. A whole new concept base on the bundled service model, clients are in sense buying into mobility instead of investing in vehicles,
Despite the heaps of benefits, MaaS has come up with, there are major security concerns that are raised from both customers and operators without impacting the MaaS from growing further. Clients fear that MaaS services are prone to fraudulent activities, also doubting the legitimacy of the identity verification solutions. Whereas, looking from the service providers' side, authenticating drivers' identity documents and mitigating the risk of crimes is becoming a crucial challenge. Thus, the significant problem is the lack of rigid security measures from both ends along with the constant risk of data breaches or mishandling of customer personally identifiable information, which could even put the fate of this industry at stake.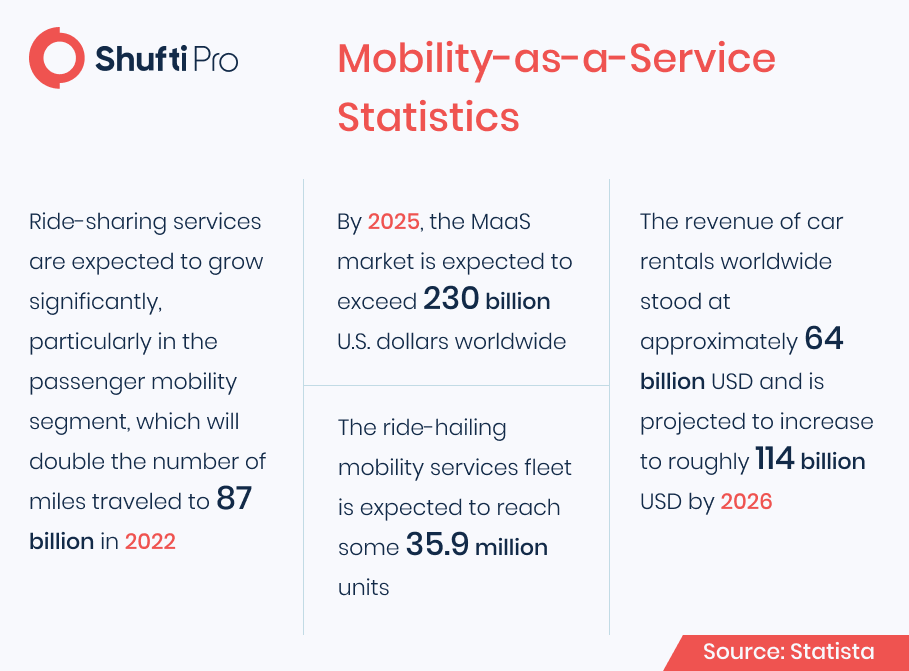 Top MaaS Trends

Micro-mobility:

The first trend people are witnessing is a rise in the popularity of "micro-mobility." This includes any personal small vehicles such as a bike, e-bike, e-scooter, moped, and so on. It's a great option for people who don't have a long commute or live in large cities where smaller modes of transit are more convenient.

Car-sharing/car-hailing:

The concept of car-sharing/car-hailing is a relatively new phenomenon for traveling around. Now people will be able to rent a car for a few hours or call a cab to reach the destination. This mode of transportation is more convenient when the distance between destinations is greater, and it is just as accessible as micro-mobility.
MaaS will be Built on Personalization and Digital Identity
Each person is distinct in the real world, with their own set of relationships, personal preferences, financial profile, physical qualities, and prior behaviors the attributes that, when put together, form their identity. Knowing what sort of services to supply and recommend, charging and tracking payments effectively, measuring and improving customer expectations, and providing the kind of service that delivers the most value for them are all made possible by being able to recognize each customer's unique identity.
In addition to this, companies like Amazon and Microsoft, Google, and even Facebook, are now entering the automotive industry. Understanding and utilizing consumer behaviors is the foundation of these businesses, and selling hardware is secondary to earning from a deeper and longer relationship with the customer. This might offer them a significant advantage over other New Mobility contenders like Tesla, Uber, and Lyft.
The Alexa digital assistant in a truck's dashboard may be able to provide a highly personalized user experience; in a few years, it's not hard to imagine an entire "Alexa Mobile" platform being released that can provide the same level of personalization, molding itself to each user who sits in the driver's seat. As a result, digital identity will be a critical component of the new mobility and critical to its success. To provide these real personalized services, new mobility providers will need to recognize, serve, and protect each "mobility device" user's unique identity and preferences. Automobile manufacturers must prioritize the client: by cultivating trusting relationships and providing more personalized and consistent experiences, they may boost customer retention, strengthen their brand, and raise revenues. The ultimate "vehicle for success" that must underlie the New Mobility is digital identity.
How Shufti Pro Can Help 
People are using sharing economy MaaS like ride-hailing in large numbers these days, which is a good sign for future growth. As a result, identifying both the drivers and the passengers is more important than ever, as a slew of fatal attacks and other crimes are increasing. To identify legitimate individuals and fraudsters, ridesharing businesses must authenticate both drivers and passengers before getting them on board. 
Shufti Pro's cutting-edge identity verification services are all set to assist ride-hailing services to authenticate the identities of drivers and riders. Ride-hailing businesses can integrate Shufti Pro's ID verification APIs into their applications that can provide a frictionless client experience and also increase security, with a market-leading accuracy rate of 98.67 percent. 
Want to know more about ID verification for ridesharing companies?