BEFORE YOU GO...
Check how Shufti Pro can verify your customers within seconds
Request Demo
No thanks
With the world embracing digital transformation, scammers have adopted sophisticated strategies to take advantage of the modern world. Corporations with loopholes in their AML system or poor compliance provide fertile ground for many financial crimes and fraud.  Thus, it has become more critical than ever for financial firms to employ robust AML solutions for mitigating the risk of money laundering and other financial crimes.
Major AML Fines in April 2023
A quick recap of April 2023 shows an alarming trend of AML violations despite stringent regulations to combat money laundering.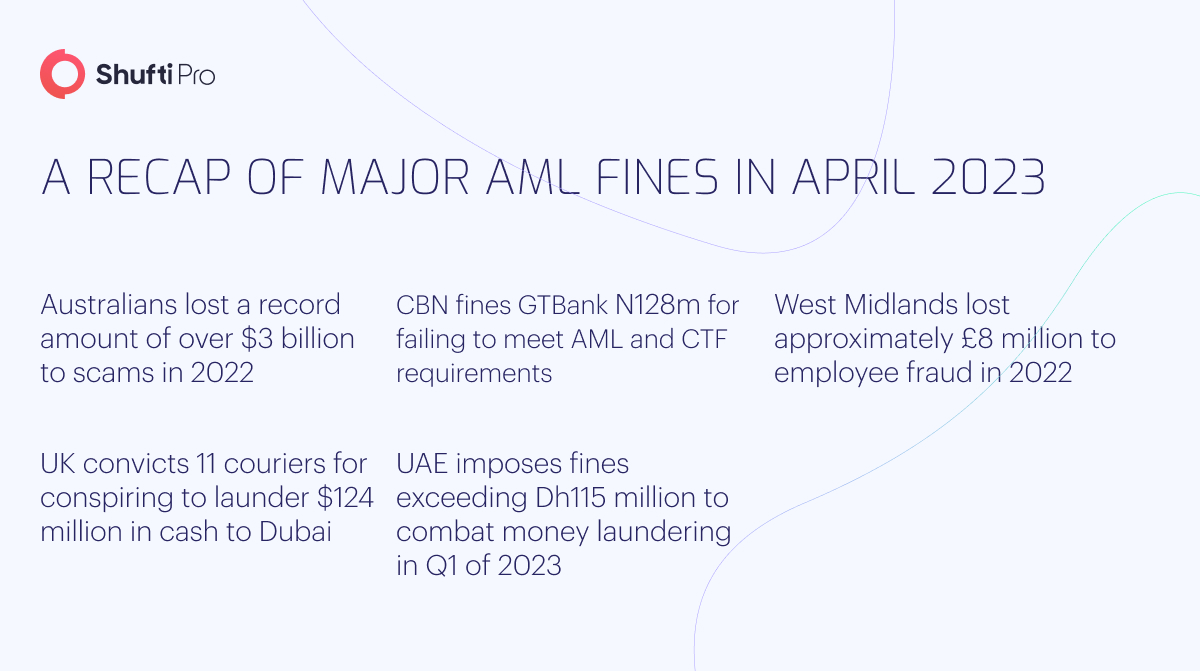 Australia Lost More than $3.1B to Fraud in 2022
The Australian Competition and Consumer Commission (ACCC) has disclosed that Australia lost over $3.1 billion to fraud in 2022. Investment fraud costs them a substantial monetary loss of  $1.5 billion compared to other scams. The elderly are the primary target, with those between 65 and above the age group submitting most reports (49,163), losing an amount of $120.7 million.
According to Catriona Lowe, ACCC Deputy Chair, Aussies lost a substantial amount to scams in 2022, the financial losses faced by those who fall victim to fraud are also accompanied by a negative impact on emotional well-being.
CBN Charges GTBank With N128 Million Over Non-compliance with AML Regulations
The Central Bank of Nigeria (CBN) has fined Guaranty Trust Bank (GTBank) N128 million over not meeting regulatory requirements. GTBank was charged with failing to abide by Anti Money Laundering (AML) and Countering Terrorism Financing (CTF) regulations. Not only this, but the bank was penalised for several breaches relating to the CBN Prospective Employee Clearance Review, Consumer Protection Review, CBN Review, and failure in the Risk Asset Examination.
West Midlands Lost Nearly £8 Million to Employee Scam in 2022
RSM UK, Business Advisors, has disclosed that the West Midlands is a hotspot for scammers to perpetrate employee fraud. The region saw a 65% spike in fraudulent activities, costing businesses around £8 million in the past year. 
Various crimes are under probes, such as corruption, bribery, procurement scams, workforce directing payments to payment accounts, travel and subsistence fraud.
RSM UK advises companies to have a precise plan that helps deter workers from committing crimes, including training on detecting and reporting fraudulent activity. However, they are encouraged to conduct background checks before hiring new staff to mitigate the risk of scams.
UK Convicts 11 Couriers for Conspiring to Launder $124 Million in Cash to Dubai
The UK's National Crime Agency prosecuted a large-scale money laundering operation involving couriers carrying suitcases to Dubai filled with cash. In the most significant money laundering scheme ever exposed in the UK, 11 couriers and the ringleader were found guilty of laundering $124 million of illegally-gotten funds. The couriers communicated via the Whatsapp group 'Sunshine and Lollipops' and used business class flights to take advantage of the larger luggage allowance.
A courier transported almost 80 bags of drug money in under a year and was involved in a scheme to launder more than $124 million. 
The country has confirmed that checks are employed, and measures are implemented in the financial system. Also, it is cooperating closely with the FATF to prevent fraud in the future.
UAE Imposes Fines Over Dh115 Million in Q1 2023 to Combat Money Laundering 
The United Arab Emirates has imposed a financial penalty of Dh115 million in Q1 of 2023 to combat money laundering and other financial crimes. 
According to Hamid Al Zaabi, the Director General of the Executive Office for AML and CTF, the UAE was an epicentre for trade and investment. He stated that the federal government is collaborating with the private sector and national authorities to ensure that all organisations have adequate measures for AML and CTF. Mr Al Zaabi added that all supervisory bodies in the country were active in the first quarter of 2023, with the top role played by the UAE Central Bank. 
Key Events Worldwide (April 2023)
The UK government confirmed its commitment towards recovering lost funds worth £1 billion over the next decade.

Kuwait's criminal court ended the country's  largest money laundering lawsuit, "

the Malaysian fund case."

EU parliament approved more strict regulations to combat

Money Laundering

(ML).

Jamaica passed a new bill to deter money laundering.

An inter-governmental action group against money laundering in West Africa,

GIABA, started training

Bureau De Change (

BDC) operators on effective AML and CFT compliance.

European Union drafted legislation to check crypto transfers to curb money laundering

Seychelles updated and implemented 5 Financial Action Task Force (FATF) recommendations to strengthen AML measures.

UAE demonstrated its effectiveness and implementation of measures to combat financial crime and exit the

FATF

grey list.

FATF updated guidance on how to strengthen beneficial ownership information.

The Australian government revealed its intention to extend the AML and CTF regime.
Where Does Shufti Pro Step in?
Shufti Pro helps businesses prevent money laundering and fraud. With our AI-powered AML solution, you can identify suspicious entities within seconds.
Here's what makes Shufti Pro's AML solution stand out:
Screens against 1700+ global watchlists, sanctions lists, and Politically Exposed Persons (PEPs) lists

Compliant with national and international AML requirements

Identify client risk factors with a continuously updated database

Conduct ongoing AML monitoring to flag current high-risk customers
Still confused about how an AML solution keeps fraudsters at bay?