BEFORE YOU GO...
Check how Shufti Pro can verify your customers within seconds
Request Demo
No thanks
In course of history, money laundering has always remained most complicated issue for governments and law enforcement agencies. Despite the fact that there are notable efforts to curb this menace, money laundering is still prevailing and providing culprits with the best options of pushing illicit money into the legal pool.
It is not only financial institutions that are facing threat of money laundering but other sectors like real estate, gambling, etc. are equally affected by it. Transparency International revealed in February 2022 that Russians have invested corruption money of £1.5 billion in UK's real estate. FATF, G20 countries and other financial watchdogs are working to eradicate money laundering from the system.
Real Estate Industry –  A Safe Haven for Money Launderers
Stringent measures taken by financial institutions against money laundering have encouraged criminals to find their way into real estate. The real estate sector is always linked to high profitability as huge investments are made here. It creates best opportunities for money launderers to invest illicit money without providing any proof of money's origin. The criminals try to make all luxurious purchases in cash which leaves law enforcement with no trail of money. It has been revealed that cash was used as a payment method in 59% of the property purchases in the US.
All the global watchdogs including FATF, Interpol, and intergovernmental forums like G20 are putting their best efforts to put checks on the transactions, but the issue is still there. Whole world is facing threat of terrorism money laundering is most effective method used by terrorists to get money and carry out heinous crimes. Currently, there are 23 countries on the FATF grey list for not following the road map to curb illicit funding to terrorist groups. So it is actually time for the realtors to understand severity of issue and put effective measures against criminal activities.
Besides cash, use of crypto is also getting common in real estate money laundering. A few days back, the government of United Arab Emirates (UAE) alerted real estate agents to inform money laundering regulatory authorities, in case any payment for property purchase is made through cryptocurrency.
Additionally, the lawmakers of Germany have also raised their concerns over money laundering through real estate. While speaking at meeting of FATF, finance minister of Germany mentioned that they are making legislation against illicit use of cash in the real estate market to prevent money laundering.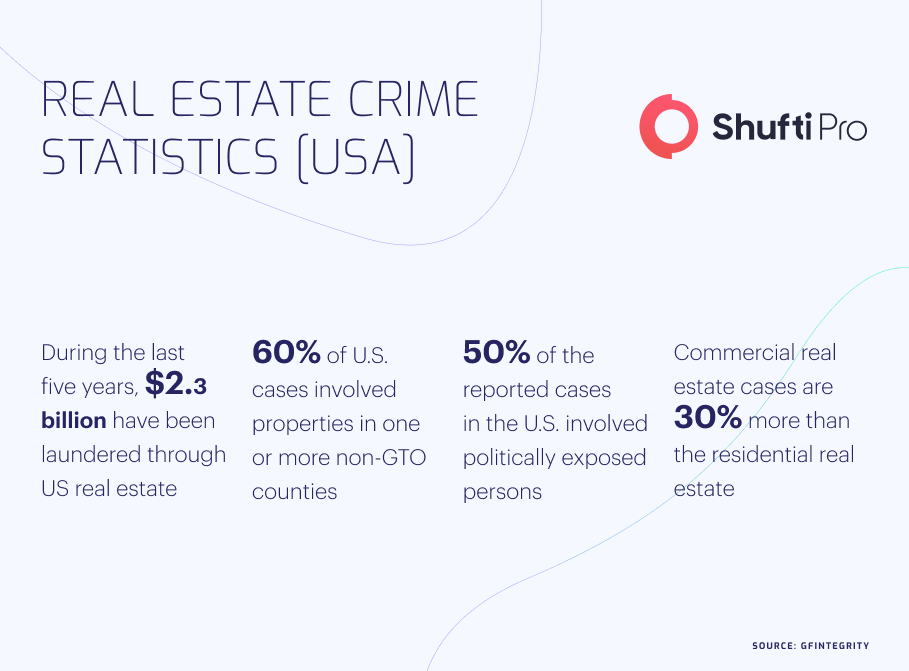 How Money Laundering is Carried out Through Real Estate?
Money laundering is not an easy process; rather it involves a lot of complex and technical procedures which are generally guided by finance experts. Even in real estate, there is a myriad of methods involved to make the black money white through expensive and luxurious purchases. Following are some of prominent methods which have challenged the real estate sector as they are not only letting the criminals thrive but are also putting a huge question on the industry's credibility and reputation.
Property Purchasing through Third Parties
Criminals complicate issue by not purchasing property on their own; but rather asking some other person who does not have a criminal record, to do the transactions. In this way, they use someone else's bank accounts and get successful in disguising their identity ownership from the law enforcement authorities.
Loans and Mortgages
Mortgages and loan-back schemes are widely used by criminals to add legitimacy in the property dealings. They take mortgages and loans to buy properties while settling them later by making repayments through illicit funds claiming ownership of property. In most cases, lender is under control of purchaser or purchaser gets loans through their own offshore companies.
Manipulating Property Value
Real estate is thought to be a highly volatile sector and the money launderers take great advantage of this fact. They manipulate overall value of property with cooperation of real estate agents. It is surprising to know that they use both overvaluation and undervaluation in their interests. They manage to get huge loans by showing overvaluation of property to banks. They also make frauds by undervaluing the property and paying directly original amount to seller through illicit means.
Quick Buying and Selling
In order to legitimize large sums of money, criminals are using the technique of buying and selling property in quick succession. They buy a property and sell it to some third party by showing a huge profit. In this way, they keep on switching ownership, enhancing the profit percentage which eventually leads to taking their money out of the black world and putting it in the legal circle.
An Overview of Global AML Regulations
Money laundering's association with terrorism and other illegal activities, has convinced global watchdogs to make legislations against it. All the countries are participating to eradicate this menace from the system.
FATF
The Financial Action Task Force (FATF) has stated real estate as a "popular choice of investment". FATF has released a statement according to which real estate actors are unaware of threats of money laundering, therefore they are not playing a significant role to discourage these practices.
FATF has issued "Risk-Based Approach Guidelines for the Real Estate Sector" to highlight the vulnerability of this sector in regards with money laundering. FATF has included politically exposed corrupt people, buying, selling of luxury real estate assets, use of virtual and anonymous companies in the list of money laundering methods.
FATF has further issued guidelines for all the real estate actors to follow which may include; customer due diligence measures, training, outreach sessions of realtors and collective efforts by all stakeholders to eradicate money laundering.
UK
The United Kingdom is always thought to be a haven for all those involved in the crime of money laundering. The UK always had tough AML regulations but they were not enough to keep the money launderers out of the system.
In order to make the system more safe and secure, UK introduced the Unexplained Wealth Order (UWO) as per which it is mandatory for any citizen to provide the source of income behind their property. If a person fails to do so, the court gets all the rights to seize their property without any investigation.
Canada
Canada was facing same situation as of UK and finally, in 2021, the Canadian government in collaboration with FINTRAC updated AML laws. As per new laws, several checks including politically exposed persons and beneficial ownerships have been made mandatory for all businesses including real estate firms.
What Shufti Pro Offers?
Shufti Pro's Anti Money Laundering (AML) screening services are the most credible for the real estate industry to put a check on all such financial irregularities. Not only is it compliant with the regulatory standards but also backed by thousands of AI algorithms which will give the optimal results in less than a second. Shufti Pro's AML screening solution authenticates customers against 1700+ global financial watchlists with 98.67% accuracy.