BEFORE YOU GO...
Check how Shufti Pro can verify your customers within seconds
Request Demo
No thanks
In today's tech-driven world, financial operations are being transformed by emerging digital solutions. Simultaneously, fraudsters are coming up with advanced ways to carry out crimes. Financial institutions and digital businesses are the most vulnerable sectors that are exploited by criminals for their illicit activities. Due to the nature of digital operations, customer onboarding has become a gruesome task for businesses and investment firms as fraudsters capitalize on the lack of identity verification on these platforms.
In the US alone, 2.8 million consumers filed reports of investment fraud in 2021, losing more than $5.8 billion. Another 1.4 million Americans complained of being the victim of identity theft on different investment platforms, raising further concerns for investors. Investment firms not only have to deal with financial frauds but also implement measures to counter serious crimes like money laundering using multiple investment schemes. Effective Know Your Investor (KYI) and Anti-Money Laundering (AML) solutions are the only practical solution to eradicate financial crimes.
Investment Firms – A Vulnerable Sector
Throughout the course of history, criminals have always found ways to carry out their illicit activities by cheating contemporary systems. Due to the involvement of large sums of money and the absence of stringent measures, investment firms have recently become safe havens for bad actors. Every coming year is witnessing more fraud – in 2022, investment scams have increased by 42% as compared to 2021. Money laundering and terror financing have elevated this issue and terrorists are also using these channels to carry out heinous crimes.
To cope with the situation, investment firms and Fintech companies are tirelessly working to implement identity verification solutions. Despite all the efforts, financial crimes are still prevalent and numbers are rising every year which is causing financial damage to companies and giving them a bad reputation as well. Sophisticated investors are staying away due to these activities and it has become quite crucial for the system to have credible Know Your Investor (KYI) measures. KYI and AML practices are the only feasible solution that can keep criminals away and curb money laundering activities.
Investment Fraud Cases
Criminals are manipulating investors by convincing them to make investments by showing false information. Due to the rising cases of fraud, all countries have become active in countering these criminal activities. Global organizations particularly Financial Action Task Force (FATF) are also playing an active role in helping countries make legislation against investment fraud and money laundering. In recent times, a number of cases have been witnessed in many countries where culprits behind investment frauds have been penalized.
Fraudsters Jailed for £13.7 Million Investment Scam
In July 2022, four fraudsters were jailed in connection with a mass investment fraud worth £13.7 million and sentenced to a total of 15 years in prison. The criminals were involved in a "Boiler Room Scheme" where they set up a fake company to run the scam. They convinced the victims to invest in company and income will be generated through real estate and other residential schemes investments.
In fact, the company did not own any property and victims made investments that ranged from £5,000 to £140,000. A total of 800 people were victimized in this scam and police used the majority of them as witnesses to penalize the culprits.
China Cracks Down on Over 42,000 Investment Apps
In December 2021, China's cyberspace regulators initiated a special operation to scrutinize online investment platforms due to the rising number of frauds and money laundering. The Cyberspace Administration of China (CAC) reported that it has investigated 42,000 counterfeit apps and incorporated all of them into a fraud-related database.
The regulators added that all these online investment apps were involved in money scams using fake companies as investment sources. The majority of these companies were involved in real estate, gaming, cryptocurrencies, and technology-related frauds.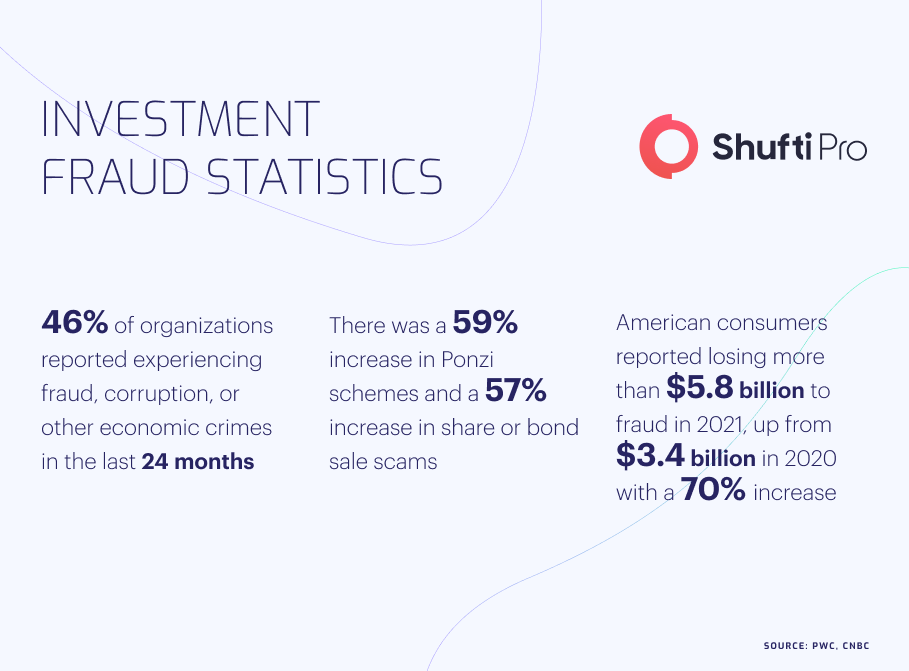 Ensuring Anti-Money Laundering (AML) Compliance through KYI Measures
Growing terrorism threats have convinced the global actors to take stringent measures to curb money laundering. The IMF has termed money laundering to be primary source behind terror financing which is ultimately leading to terrorism in the whole world. Investment companies have become the major contributor to money laundering as criminals are using these platforms to hide origin of their money.
In the US, $300 billion is laundered every year and it is estimated that money laundering schemes cost 2% to 5% of the world's GDP. These alarming statistics have compelled global watchdogs to implement stringent measures to curb this menace. Investment companies are highly exposed to money laundering as majority of them do not have effective AML measures to identify criminals in the system. Money launderers use a variety of techniques, particularly layering illicit funds under legal ones to hide black money and then converting it into legitimate cash or assets.
Global Regulatory Requirements for Investor Verification
All the responsible countries, global watchdogs, and investment firms have highlighted the need of having AML and KYI measures in the system. Due to the alarming rise in illegal activities, several laws and regulations have been put in place to eliminate criminals from investment companies.
FATF
The Financial Action Task Force (FATF) has developed a comprehensive set of guidelines for countries to do legislation to curb money laundering. Several countries have been placed on the grey and black list for not complying with guidelines. FATF has termed that organized crime can infiltrate financial institutions and acquire control of large sectors of economy through fake investments which is why it is essential to monitor all such companies.
US
The US has legislated Federal Adviser Act which put restrictions on investment firms to onboard new investors. It has been made mandatory under this act that any investor with less than $1 million in assets cannot be onboarded.
Investment companies are also obliged to register security investments with Security Exchange Commission (SEC) to keep the funds under monitoring.
UK
Financial Conduct Authority (FCA) in the UK is responsible for regulating the onboarding of investment firms. FCA has instructed companies to implement KYI measures to track the investors and their source of income. In order to ease operations for business owners, FCA Register has been issued which can be used to verify the investor companies.
What Shufti Pro can Offer?
Despite the global regulations, investment frauds are still prevailing and increasing every year. Shufti Pro's state-of-the-art Know Your Customer (KYC) and Anti Money Laundering (AML) screening measures can assist investment firms to stay compliant with global regulations. By incorporating advanced KYC and AML solutions, investment companies can monitor their businesses and investors.
Shufti Pro's solutions are powered by thousands of AI algorithms that can provide accurate output. AML screening service has access to 1700+ global watch lists and provides results by screening investors against this data. All these verifications will take less than a second with 98.67% accuracy.
Want to know more about KYI and AML screening solutions?