Press Release
Boatigo joins hands with Shufti Pro to develop a Secure Online platform for the Boating Community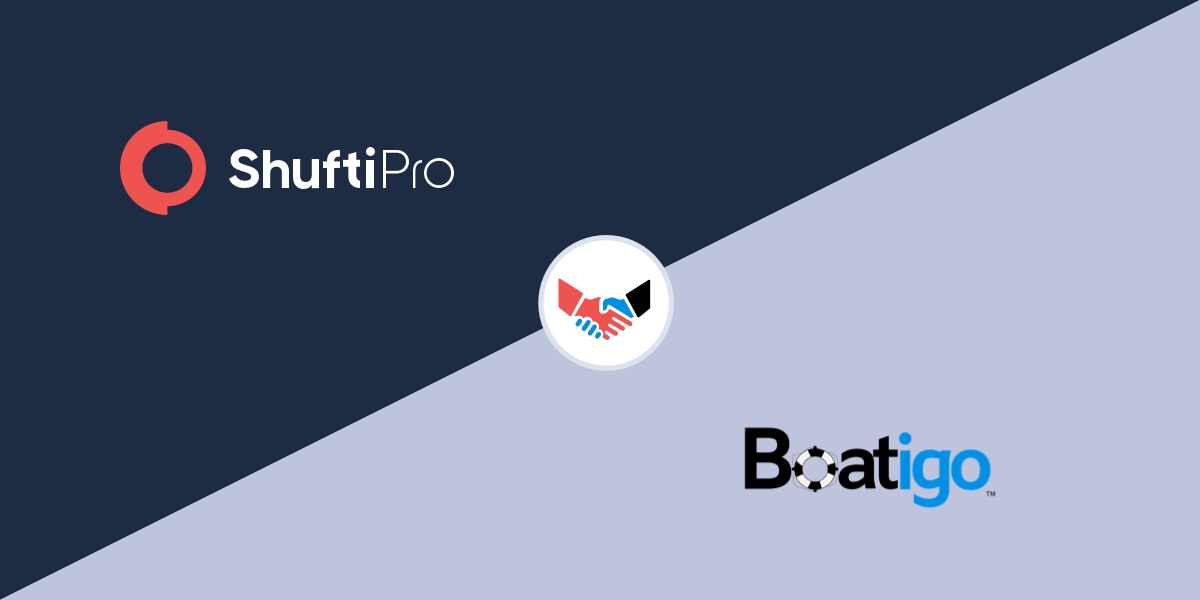 London, UK – (February 2020) Shufti Pro will provide ID verification and liveness detection services to Boatigo Pty Ltd. It will help Boatigo deliver a secure environment to its online community of captains and passengers. 
Boatigo is reshaping the boating experience by bringing boat owners and boat passengers on a unique platform. It allows the captains to register their boat on its platform and crew the ability to secure seats online. Since fraudsters are everywhere, becoming an intermediary required taking concrete steps for the security of passengers using Boatigo to get out on the water. 
The problem was they wanted to practice high-security standards on their platform while maintaining efficiency. Shufti Pro helped them perform swift, real-time verifications on boat captains and crew before allowing them to list vessels or secure seats. Shufti Pro provides swift verifications at economic prices with high efficiency. It helped Boatigo save time, effort, and money. 
Identity verification services of Shufti Pro delivered with 98.67% accuracy will provide a global risk cover to Boatigo. It'll be able to screen captains and crew registering on their website. It will ensure the safety of passengers using Boatigo to find seats on boats. Boatigo is taking a bold step by connecting the stakeholders in the boating industry. So, security is vital to gain success and onboard a trusted clientele. 
Developing an in-house solution is quite expensive and manual verification doesn't go well with their business model. So they took a wise decision and joined hands with Shufti Pro to share their due diligence burden. Shufti Pro will verify the government-issued ID card for them along with liveness detection, helping Boatigo gain useful insights about their customers. 
Talking about this collaboration, Joel Keane, CEO of Boatigo, said;
"Boatigo is very different from most other peer-to-peer services because the captain and crew interact on the same trip out on the water in a boat. Our initial community discussions highlighted a concern around community member authenticity.  Shufti Pro allows us to securely verify our community member identities by means of a government-issued ID and a liveness check. This gives both Boatigo and our community members peace of mind that people on the platform are who they say they are. Furthermore, Shufti Pro completely automates this process for us, which saves valuable time and development costs."
Shufti Pro is also excited to start this partnership with Boatigo. Victor Fredung, CEO Shufti Pro said,
"We have our pride in providing global services to businesses with diverse business models, and Boatigo is an unusual business. Our solutions fit well in different roles, either for obligatory customer screening or fraud prevention. We look forward to maintaining a long-term relationship with Boatigo." 
Shufti Pro is one of the pioneers in the industry for verifying people in more than 232 countries and on-boarding unique businesses from different corners of the world. It believes transparency in B2C and B2B relationships is a key to long term relations. So, it provides economical prices to help businesses grow in a fraud-free environment. It is the vision of the company to play a significant role in the development of fraud-free cyberspace.
About Boatigo
Boatigo is a tech company that has developed a marketplace to bring boat owners and users together to limit the wasted seats on recreational boats. The platform is designed to help owners list their spare sets and for the general public to secure the additional seats on these boats.  Boating is expensive, and every day there are a large number of recreational vessels out on the water with spare seats. Boatigo is bridging the gap between recreational boat owners and users, bringing them together in a secure community built on trust that allows boats to be used more efficiently.
About Shufti Pro 
Shufti Pro is an identity verification service provider that offers KYC and AML solutions to worldwide clients. Using a hybrid approach of AI and HI technology, Shufti Pro delivers results within 30 seconds with accuracy as high as 98.67%. Having verified users in over 230 countries and territories, Shufti Pro is a pioneer in IDV services to cover a large number of countries.
Contact sales@shuftipro.com to get on board.
Disclaimer:
No warranty is herein provided that the information contained in this document is accurate, up-to-date, and/or complete. In no circumstance(s), does such information constitute legal or any other advice. Any person who intends to use, rely, pass-on, or re-publish the information contained herein in any way is solely responsible for the same. We suggest to verify the information and/or obtain
expert advice
independently if required.