BEFORE YOU GO...
Check how Shufti Pro can verify your customers within seconds
Request Demo
No thanks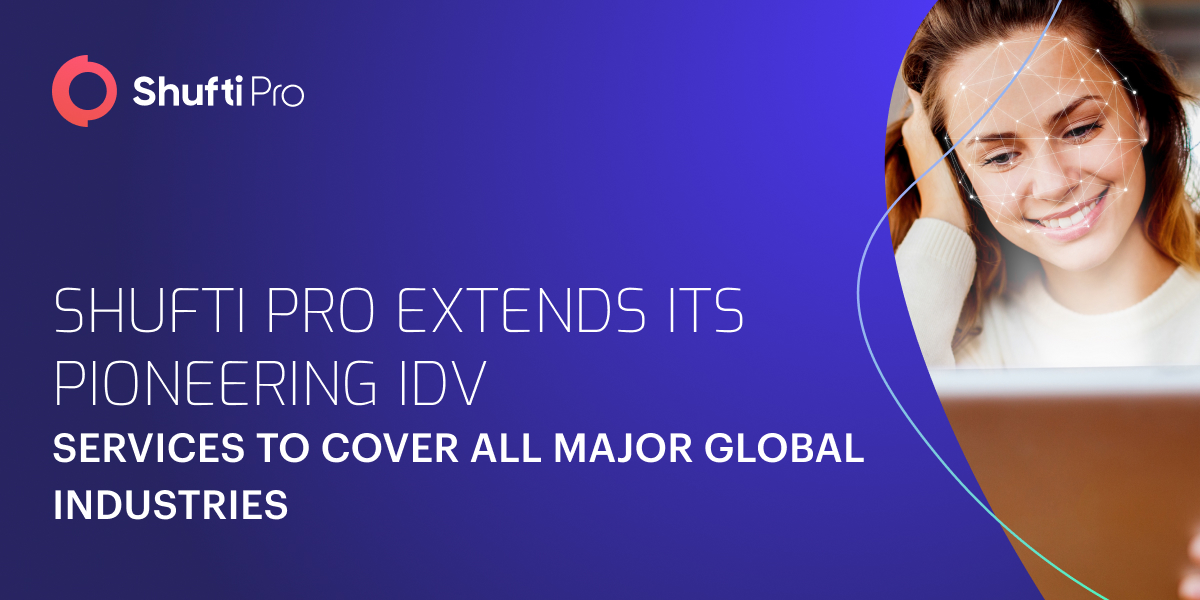 Shufti Pro Extends its Pioneering IDV Services to Cover All Major Global Industries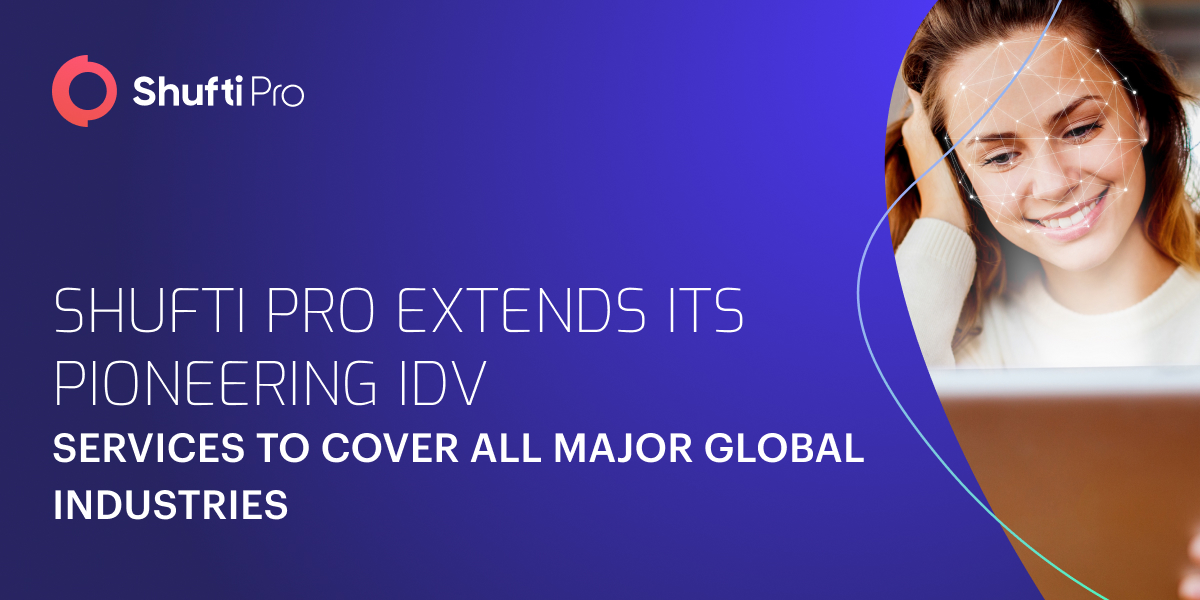 Initially Published  on PR Log 
London, UK – October 10, 2023 – Shufti Pro, an award-winning IDV service provider is announcing a significant stride towards its success in its major platform update.  The company now supports all major industries worldwide, thwarting online fraud from the digital world and enabling businesses to provide a secure user experience. From crypto to banking to real Estate, Shufti Pro now propagates its services to all the major business sectors in over 240 countries and territories and in 150+ languages.
According to the Survey of Experian in 2022, identity theft has claimed the top spot in online fraud rankings, with an estimated number of 1.4 million scams occurring every year. The survey also mentions that ID fraud is increasing at a rate of 19% per annum. Whether it's donations and charity or the banking industry, identity scammers have infiltrated every field. This alarming statistic represents the need for robust identity verification measures and enhanced security protocols. 
Given the situation, Shufti Pro configured its services to ensure seamless adoption by enterprises and corporations across a diverse field. Not just the adaptability, Shufti Pro provides a state-of-the-art and robust IDV firewall solution. The platform uses a three-layer enhanced AI model to make sure no fraudster passes the verification and is accurate to the highest level. Additionally, the solution incorporates human and artificial intelligence through which every verification is cross-checked to eliminate the possibility of false positives.
"Being a leader in identity verification, we've been providing unmatched precision since 2017. In response to the threat of ID scammers, infiltrating every sector, we have taken proactive steps to adapt and enhance our services to align the platform in sync with the evolving tactics of scammers. Our aim is to strengthen enterprises in the fight against ID scammers and we continue to do so through Shufti Pro's IDV platform by utilising technological and strategical enhancements," said Victor Fredung, CEO of Shufti Pro.
The company provides a wide range of solutions and tools designed to authenticate and verify identities effectively, products including KYC, AML, KYB, KYI, Risk assessment and OCR, thwarting all kinds of ID fraud. Here are some of the major industries that can utilise the Shufti Pro services:
Banking 

FinTech

Crypto

Forex

Gaming 

Insurance

Education

Healthcare

eCommerce
About Shufti Pro
Shufti Pro is a leading IDV service provider offering KYC, KYB, KYI, AML, biometric verification, and OCR solutions, accelerating trust worldwide. It has seven international offices and has launched 17+ complimentary IDV products and solutions since its inception in 2017. With the ability to automatically and securely verify over 10,000 ID documents in more than 150+ languages, Shufti Pro proudly serves customers in 240+ countries and territories.
For more information, please contact:
Paul Keene
Snr. Digital Marketing Manager | Shufti Pro
[email protected]
+44 020 3435 6498
Market Pro
Marketing Partner | Shufti Pro
[email protected]