BEFORE YOU GO...
Check how Shufti Pro can verify your customers within seconds
Request Demo
No thanks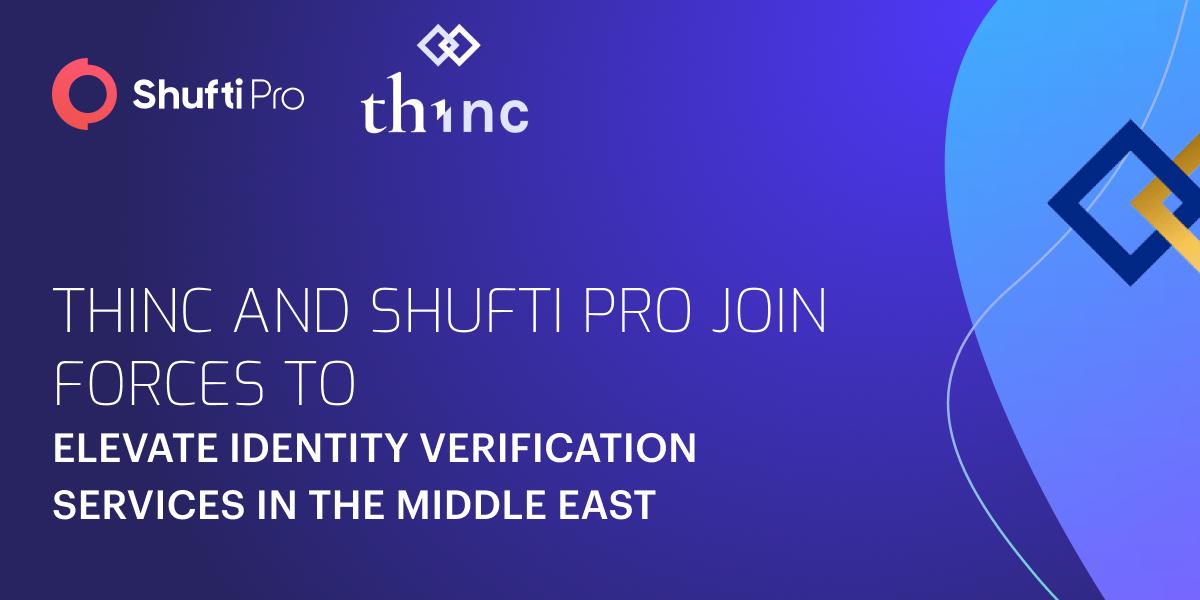 THINC and Shufti Pro Join Forces to Elevate Identity Verification Services in the Middle East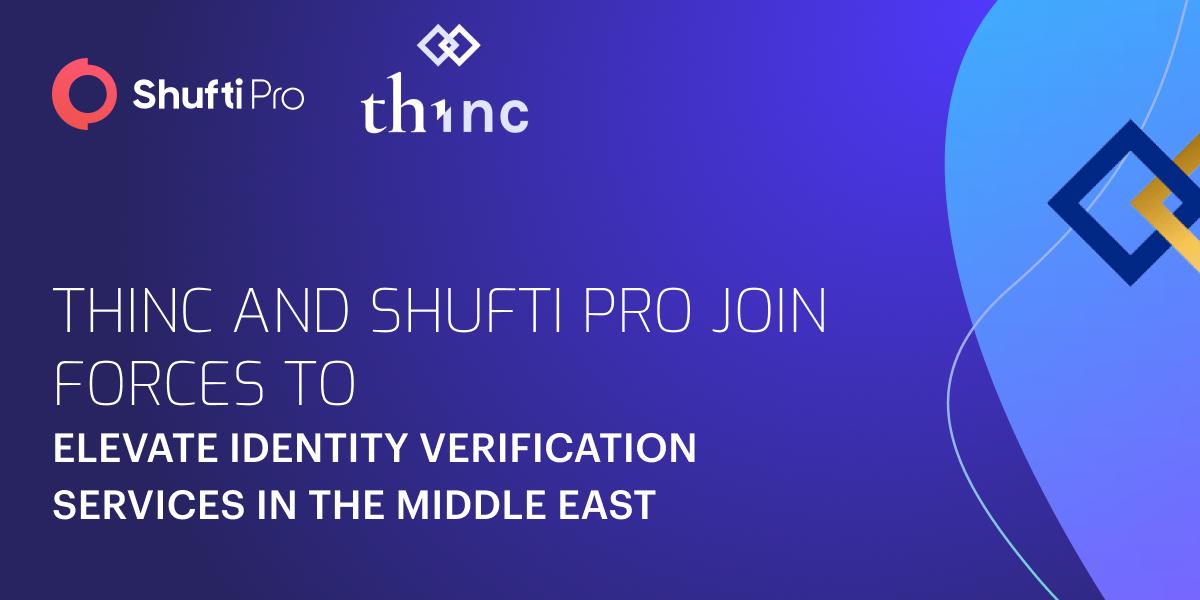 Initially Published on PR Log 
London, UK – September 19, 2023 – Shufti Pro, an award-winning identity verification service company, has partnered up with THINC, a legal and business advisory firm in the Middle East. This partnership brings Shufti Pro's solutions to THINC and facilitates faster and more efficient business ID verification in seconds, allowing them to comply with KYB/AML regulations and authenticate their clients from government and public databases.
THINC provides comprehensive legal services to both individuals and corporate clients. However, assisting a diverse range of clients across different sectors and jurisdictions and ensuring that THINC upholds the ethical standards and rules of the legal profession requires a certain level of due diligence to be conducted, which is where Shufti Pro's robust system for KYC/KYB/AML verification assists THINC.
THINC clients are guided through the biometric and document capture process for quick and instant verification, backed by Shufti Pro's advanced AI-based identity verification. The provided data is then compared with AML and sanctioned registries using the government and authentic public databases. This verification ensures that THINC's clients are verified, authentic, and free from potential risks.
Shufti Pro uses databases issued by globally trusted authorities, including OFAC, FATF, HMT, and many others, for AML and sanction list screening of businesses. The company also screens 1700+ criminal watchlists, sanction lists, and PEP lists to ensure the individuals or corporate entities are not associated with any unethical or illegal background.
"Shufti Pro has helped us to streamline our due diligence process, making client verification more effortless. With its user-friendly platform and advanced tech, we appreciate the swiftness with which we can run background/AML checks. Its global coverage is quite useful too, particularly in Dubai's international business landscape, enabling us to conduct comprehensive background checks on clients from diverse backgrounds and understanding their history and activities," said Jayshree Gupta, Founder of THINC.
"We are delighted to collaborate with THINC to bring our identity verification solutions to the Middle East. This partnership will allow THINC to authenticate their clients, ensuring that the business they will work with is legitimate and meets the criteria for a trustworthy and compliant legal relationship. Shufti Pro will continue to expand in the Middle East, strengthening businesses to fight against ID frauds," said Victor Fredung, CEO of Shufti Pro.
About THINC
The In-house Company (THINC) is a law firm based in Dubai, UAE. THINC provides comprehensive legal services to corporations around the world in relation to Middle East matters. They work across matters such as M&A, corporate structuring and a range of commercial agreements such as branding, franchising and licensing, banking and finance, succession planning and probate, real estate and hospitality (mixed-use, commercial and hotels) technology and e-commerce (SaaS and SLAs), and regulatory and compliance.
About Shufti Pro
Shufti Pro is a leading IDV service provider offering KYC, KYB, KYI, AML, biometric verification, and OCR solutions, accelerating trust worldwide. It has six international offices and has launched 17 complimentary IDV products and solutions since its inception in 2017. With the ability to automatically and securely verify over 10,000 ID documents in more than 150+ languages, Shufti Pro proudly serves customers in 230+ countries and territories.
For more information, please contact:
Paul Keene
Snr. Digital Marketing Manager | Shufti Pro
[email protected]
+44 020 3435 6498
Market Pro
Marketing Partner | Shufti Pro
[email protected]