BEFORE YOU GO...
Check how Shufti Pro can verify your customers within seconds
Request Demo
No thanks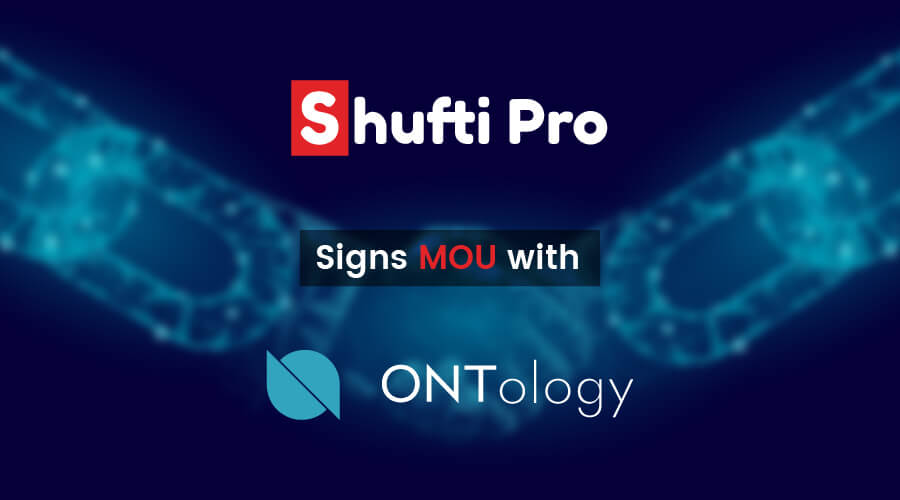 Shufti Pro signs MOU with Ontology for Technical Collaboration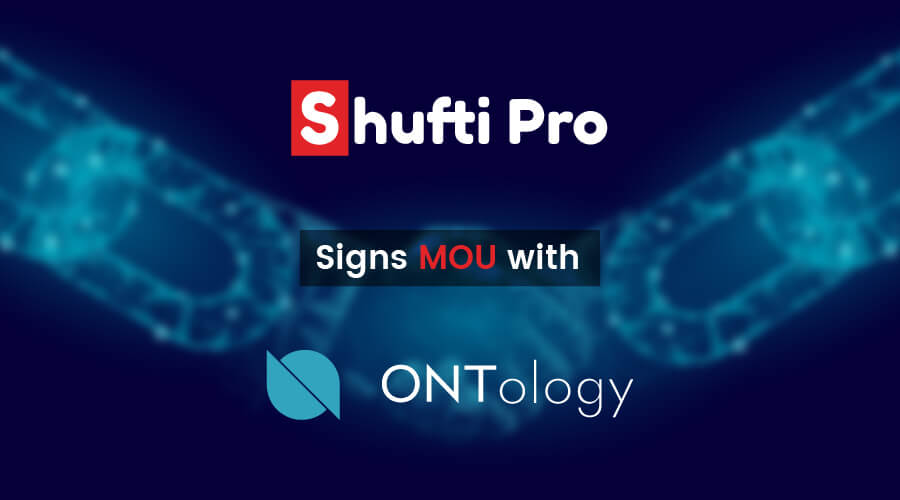 BATH, UK – (October 11th, 2018) Shufti Pro has recently signed a Memorandum Of Understanding (MOU) with Ontology to work together for KYC and AML integration. Both these companies will collaborate to provide digital identity services all the while building on the trust ecosystem established by Ontology.
Ontology is a digital identity firm that has formulated a blockchain based distributed identity network. ONT IDs from Ontology support individuals, businesses, assets, objects, and affairs to authenticate and verify themselves in this digital age. The distributed identity network allows its users to create multi-factor identity portraits that can be verified, certified and used for identity verification on multiple platforms. On the other hand, Shufti Pro tends to verify digital ends of a person's identity using a hybrid of Artificial and Human intelligence. It provides real-time verification results for a large number of solutions and services provided for digital identity verification.
Shufti Pro and Ontology shall work together to develop and refine digital identification tools that will enable businesses for online fraud prevention and identity theft protection. The MOU stipulates that both companies will work to provide compliance ready solutions for KYC and AML solely based on Ontology blockchain network. This joint collaboration will also focus on improving the overall accessibility of digital identification services into various markets across the globe.
Ontology's Co-Founder Andy Ji explained the importance of this joint collaboration in the following words:
"The emergence of blockchain technology creates opportunities to discover potential and promising solutions. Ontology is pleased to begin this journey with Shufti Pro, combining blockchain technology with identity verification services, providing a blockchain-based end-solution for KYC/AML services".
Speaking on the cooperation, Victor Fredung, CEO of Shufti Pro, said: "We are pleased to be starting our partnership with Ontology. We believe that the combined use of new and innovative blockchain technology with cutting-edge ID and identity verification technology is a powerful combination for global business operations."
The MOU states following principle avenues of joint collaboration between the two companies for future:
Ontology will provide technical expertise and consultation on Distributed Ledger Technologies.

Both parties will collaborate in the development of KYC/AML solutions on the Ontology distributed blockchain network infrastructure

Joint PR and marketing promotion of products and services.
This joint partnership between the two tech companies will usher in a new era of technological advancement in the field of digital identity verification services. With an aim of making the online marketplace secure against identity frauds, frequent cash-back requests and users with fake financial information, Shufti Pro has taken steps for superior customer service and top-notch data security.
About Shufti Pro
Shufti Pro is an emerging name in ID verification services. It was founded on 31st October 2017 in Bath, UK. The goal of the company is to enable its clients with seamless customer experience, fraud prevention and undeterred revenue generation. The company offers state of the art SaaS, which engages Artificial Intelligence and Human Intelligence to provide ID verification services. Businesses can now conduct easy digital verification processes with lesser friction and more advanced technology. Currently offering its services for all countries of the world along with Universal Language Support, the company is located in the United Kingdom with its global office in Sweden.
Please visit Shufti Pro here.
Shufti Pro Limited
Unit C401, Westfield Shopping Centre,
Ariel Way, London, W12 7FD
About Ontology
Ontology is a diverse, integrated, distributed trust network and the infrastructure for building a trust ecosystem. Ontology encourages trust cooperation and allows projects of all shapes, sizes, and technologies with different business scenarios and compliance requirements to pass through Ontology's chain networks and take advantage of the distributed trust network how they see fit.