BEFORE YOU GO...
Check how Shufti Pro can verify your customers within seconds
Request Demo
No thanks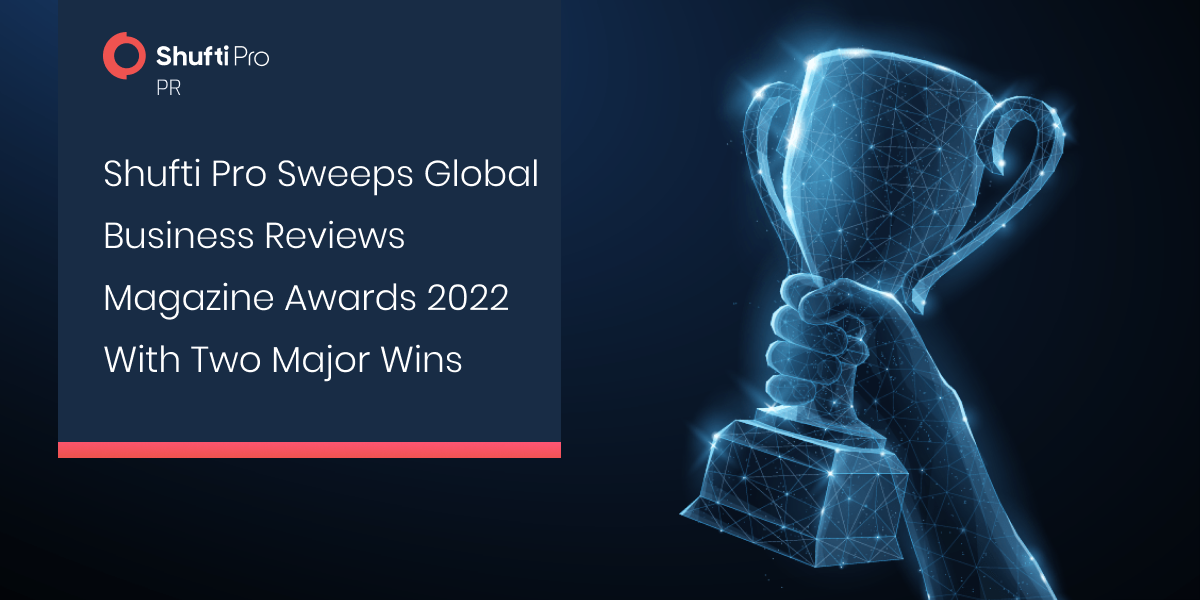 Shufti Pro Sweeps Global Business Reviews Magazine Awards 2022 With Two Major Wins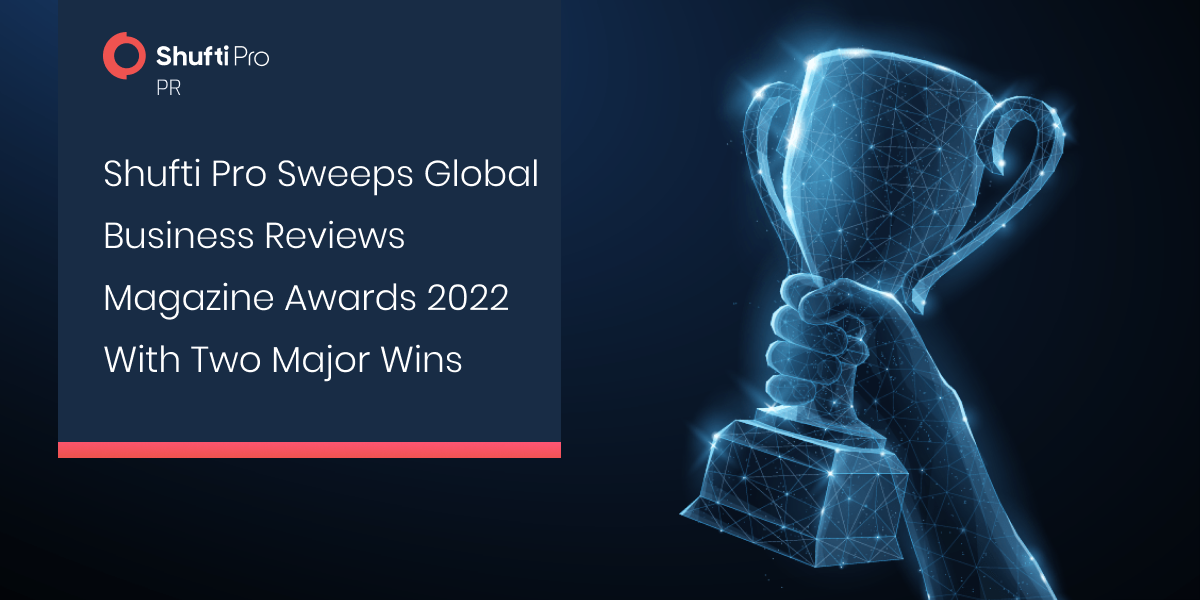 London, UK – 2022 – A digital print magazine that focuses on updates about emerging markets, has declared Shufti Pro the winner of two awards for its market competitive IDV solutions under the category of "Best Digital KYC/Onboarding Application UAE 2022" and "Best Digital KYC/Onboarding Application Europe 2022."
Global Business Reviews Magazine Awards are organized to honor and reward excellence in businesses across different sectors. The platform acknowledges the exceptional performances of organizations in the Banking, Finance, Insurance, Real Estate, Leadership, and Tech field. The awards encourage quality performance by the leading and upcoming players in their respective fields. Admitting the importance of extraordinary service delivery of businesses, the awards are aimed at rewarding the performances and acclaiming global recognition of businesses.
Shufti Pro has been rewarded for providing outstanding KYC verification and customer onboarding services to clients with the highest accuracy levels in the UAE and European Market. Leveraging AI-powered liveness detection checks, the company is globally recognized for its real-time identity verification solutions. It incorporates ​​mobile ID verification, and video KYC to facilitate seamless, secure, and fraud-free customer/user onboarding.
Global Business Review is a digital print magazine that focuses on updates and information about emerging markets, Finance, Banking, and Technology. Winners are selected based on their innovative solutions to offer their clients the best possible services. The wide range of categories includes Best Investment Bank USA 2022, Best Customer Experience USA 2022, and Most Preferred Digital Bank Philippines 2022 to name a few.  
"The global market size of digital KYC is expected to reach USD 1,015.36 million by the end of 2026," said Victor Fredung, the CEO of shufti Pro. "Shufti Pro's "Best Digital KYC/Onboarding Application UAE 2022" and "Best Digital KYC/Onboarding Application Europe 2022" award wins validate our efforts to provide effective KYC solutions that benefit businesses in enhancing operational efficiency, regulatory compliance, and client experience. We are honored to provide KYC/AML solutions that are configurable to global compliance regulations."
Shufti Pro was recently named on the list of the World's 100 Most Innovative CyberTech Companies for Financial Services and also won two awards at the Global Banking and Finance Awards 2021. Last year, Shufti Pro won Global Excellence Award for outstanding KYC/AML products. The company has also bagged the Best in Biz award for providing top-quality consumer services. 
About Shufti Pro
Shufti Pro is an identity verification service provider offering KYC, KYB, and AML services to help global businesses onboard legitimate customers. The UK-based company has 5 regional offices and launched 17 different IDV products since its inception in 2017. With the ability to verify 3000+ ID documents in 150+ languages, Shufti Pro is serving customers in 230+ countries and territories. 
For more information, 
Damien Martin
Marketing Executive | Shufti Pro
[email protected]
+44 1225290329