BEFORE YOU GO...
Check how Shufti Pro can verify your customers within seconds
Request Demo
No thanks
As we're propelled deeper into digital transformation, techniques employed by scammers are also evolving to bypass advanced security procedures that businesses have implemented. Imposters are creating fake physical documents as they sell at a higher average price on the dark web as compared to scanned versions. For instance, an original Maltese passport was sold for $6,500 in June 2022, whilst a passport from another EU country was priced at $3,800. As far as the scanned versions are concerned, the Minnesota driver's licence could be sold for $150, making document verification an absolute necessity in the modern age. 
Before investing in a document verification solution, one must know the following Frequently Asked Questions (FAQs). 
FAQ#1: What is Document Verification?
Document verification is the process of authenticating the document and ensuring it's not altered, forged, or tampered with. For example, validating passports, licences, utility bills, financial statements, and certifications are genuine and belong to the applicant who submitted them.
FAQ#2: How are Fake Documents Made?
Fake documents are made by an unauthorised reproduction of a real document (counterfeits) and altering a genuine document (forgeries). These methods differ in complexity and effectiveness based on what type of document is being created and how thoroughly it will be examined.
FAQ#3: Who Can Verify a Document?
A document can be authenticated by any person who is authorised to do so. This may include government officials, lawyers, or other authorised professionals. The specific requirements to verify documents vary depending on the country and type of document.
FAQ#4: What Documents are Used for Verification?
The type of documents used for verification varies depending on the purpose or context of validation such as:
Identity Verification:

Driver's licence, passport, national identity card, or other government-issued ID documents 

Address Verification:

Bank statements, utility bills, and lease agreements

Employment Verification:

Pay stubs and employment contracts

Education Verification:

Transcripts, degree certificates, diplomas

Financial Verification:

Tax returns, bank statements, and credit reports 

Legal Verification:

Court orders, marriage certificates, and divorce decrees
It's essential to note that the documents required for authentication may vary from organisation to organisation or entity that is performing the verification.
FAQ#5: How Do I Check if a Document is Real?
To check whether the document is genuine or not, you can check out security features like holograms, watermarks, or special paper. You can compare the document with the genuine one to see if the data matches. Furthermore, you can consult a  government agency specialising in the field or professional experts in document verification.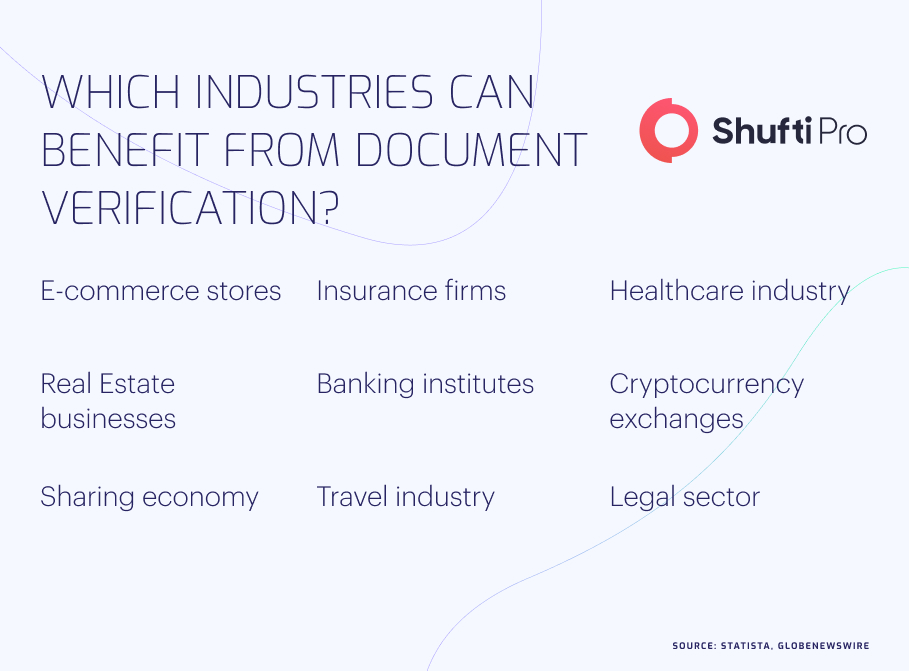 FAQ#6: What is the Process of Document Verification?
Verifying any document usually involves several steps to check that it is authentic and accurate. Here are some basic steps to authenticate a document:
Check the source of the document and ensure it is legitimate

Check out any errors, inconsistencies, or omissions which show that the document is fake

Look for security features such as watermarks,  holograms, or special to verify their authenticity

Cross-check the information with other sources to ensure its accuracy

Consult an expert in case you are not sure about the authenticity of a document
It is important to understand that the specific steps to verify a document may vary based on the document type and the purpose of its use.
FAQ#7: Which Documents Can be Used as Proof of Address?
Several types of documents can be used as Proof of Address (PoA) including:
Recent utility bills, typically not older than 3 months

Recent bank or credit card statements, usually not older than 3 months

Government-issued documents such as a national ID card, driver's licence, or passport

Lease or rental agreement

Tax documents like income tax returns, property tax bills, or assessment notices

Insurance documents that include renters' or homeowners' insurance policies
It is important to note that documents accepted as a PoA may vary depending on the entity or organisation requesting the verification. 
FAQ#8: What Documentation is Required for DBS Check?
For a DBS check, individuals usually need to provide personal identification documents like a driver's licence or passport, PoA documents such as a bank statement or utility bill, and a completed application form. Other documents may be required based on how comprehensively verification is conducted in the organisation requesting it.
FAQ#9: What Type of Documentation is Needed When Verifying Invoices?
When authenticating invoices, it is crucial to have supporting documents like contracts, purchase orders, and packing slips to ensure that services or items were billed and delivered accurately.
FAQ#10: How to Verify Documents for DBS?
To authenticate documents for Disclosure and Barring Service (DBS) in the UK, here are the steps that need to be followed.
Obtain the real documents

Check whether the documents are genuine or fake 

Verify the identity of an individual by checking their Personally Identifiable Information (PII) such as name, Date of Birth (DOB), and address.

Make a clear and legible copy of the verified documents

Sign and date the copy to assure that you have checked the real documents and verified the individual's identity 

Send the documents to the DBS for additional checks and to issue a certificate if genuine
It is critical to understand DBS verification guidelines prior to authenticating any documents.
Want to Learn More? Contact Shufti Pro
If you have any questions regarding document verification, Shufti Pro is your go-to option. The team of professionals at Shufti Pro not only answer your queries related to a document verification solution but also help you customise a verification process that perfectly fits your use case. The globally trusted IDV solution provider helps you to stay compliant with regulations, reduce fraud, boost customer experience, and generate greater revenue.
Still have any queries about real-time document verification?